Action heats up at NAPHL event in Blaine heading into Day 3
December 2, 2018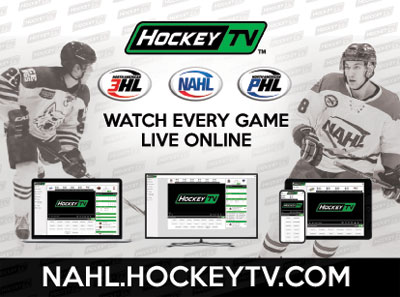 The 10th anniversary season of NAPHL hockey continues this weekend with the fourth event of the 2018-19 season at the Super Rink in Blaine, Minnesota.
Saturday featured all teams in the Showcase, Prep, and Elite Divisions taking to the ice with a full slate of games. Over two dozen scouts, including those from NAHL Central Scouting, have checked in to the first two days.
The action continues on Day 3 on Sunday, December 2nd as all teams will be in action again.
All games will be broadcast live through
HockeyTV
, the official broadcast provider of the NAPHL.
To check NAPHL scores from your mobile device, download the
NAHL App
(
iOS
-
Google Play
)
Helpful Showcase Links:
18U Division
Geneva Cyclones 4 @ Fernie Academy 1-Three first-period goals ultimately lifted the Cyclones to a 4-1 win over Fernie on day two, with Zach Lupori, Tommy Purton, Brandon Bolf and John Hamilton finding twine in Geneva's win. Nick Greco stopped 17 pucks between the Cyclones' pipes. Lyndon Ewen scored for Fernie, and Ben Sigurdsson stopped 30 pucks in the defeat.
Naperville Sabres 3 @ Texas Tigers 2-Jack Pomillo scored twice as Naperville jumped out to an early 3-0 lead, then held off a furious Texas comeback bid to drop the Tigers 3-2. Michael Viola scored as well for the Sabres. Roman Piatas and Carson Loos scored in a third-period flurry for the Tigers, but fell just short of the tying effort. Ryan Park picked up the victory in goal for Naperville.
Mission Arizona 3 @ McKinney North Stars 5-Four third-period strikes helped the North Stars erase a 3-1 deficit and take a 5-3 victory over Mission Arizona. Gavin McAllister scored the lone McKinney goal through 40 minutes, then netted the game-winner as he and Roman Di Domizio combined to usurp the Mission lead in a span of 30 seconds midway through the third. Cameron Siebert and Ty Zimmerman added insurance tallies later, and Weston Walker shut the door on 12 of 15 shots for the win. Mission received goals from Brian Baier, Nick Weber and Kevin Trent, as well as 18 saves from Taz Joplin in the loss.
Chicago Hawks 1 @ Chicago Bruins 2-Trevor Behrendt netted the game-winning tally in the second period as the Bruins topped the cross-town rival Hawks 2-1. Joseph Miniscalco opened the scoring for the Bruins, while Matthew Megazzini got the Hawks within a goal late in the contest. Andrew Meyer picked up the win in the Bruins' crease.
Affton Americans 4 @ Kenosha Komets 3-Joe Schulze's hat-trick paced the Americans' attack as they knocked off the Komets 4-3 on Saturday. Henry Kasten scored as well for Affton, while Shaw Johnson (2) and Kevin Keating provided the offense for Kenosha. Brendan Rasch, reigning Showcase Peak Performer, stopped 28 pucks in the win, countering Anthony Moreno's 26 stops for Kenosha.
Highland Park Falcons 8 @ West Dundee Leafs 1-Back-to-back four-goal outbursts for the Falcons sandwiched a lone Leafs tally as Highland Park dumped West Dundee 8-1. Jack Burke and Austin Kessem each scored twice — with Kessem netting his league-leading eighth goal in the process — and Mack Knutson, Brett Candra, Sam Bryant and Ben Letto found twine as well in Highland Park's victory. Cole Shane earned the win in the Falcons' cage with 14 stops. Matthew England scored for the Leafs, who received 27 saves from Nolan Hawkes.
Tampa Lightning 0 @ Romeoville Huskies 5-Five different skaters found twine as the Huskies coasted to a 5-0 shutout win over the Lightning. Tyler Larsen, Dylan McNichols, Matt Garcia, Sam Behland and Sam Braun provided the Romeoville offense as Trevor Poetzinger shut the door in the Huskies' cage.
Valley Forge Minutemen 0 @ Chicago Blues 4-Nick Zinanni stopped all 20 shots he faced and the Blues offense erupted as they dropped the Minutemen 4-0. Three skaters notched multiple points, as Blake Vaca and Sebastian Szeliga bagged 1g-1a apiece and Tyler Maggio potted three helpers. Nicholas Helf, and Clay Seltzer scored as well for the Blues. Valley Forge's Troy Percival stopped 20 pucks in the loss.
Thunder Bay Kings 4 @ Arizona Bobcats 0-Jordan Smith earned the shutout and four different Thunder Bay skaters found twine as the Kings topped Arizona 4-0. Nicholas DeGrazia, Travis Hensrud, Dawson Lampi and Nikolas Campbell lifted Thunder Bay to victory with a goal apiece against Bobcats netminder Anthony Bonaldi, who turned aside 12 shots.
Wenatchee Wolves 7 @ Pursuit of Excellence 2-Hayden Masterson and Andrew Nieusma notched two goals apiece to pace Wenatchee's high-octane offense in a 7-2 win over POE on Saturday. Jackson Tillinghast, Tae Jean Evans and Owen Miley scored as well for the Wolves, who matched POE goals by Umino Kaito and Aiden Robson. Austin Ryman recorded the win between the pipes for Wenatchee, while his POE counterpart Ashton Billesberger took the loss.
Colorado Springs Tigers 5 @ Shattuck St. Mary's 2-A combined four goals by Liam Bland and Lev Bure helped lift the Tigers to a 5-2 win over Shattuck St. Mary's on Saturday. Taber Gutschick tallied as well for Colorado Springs, who featured 25 saves from Doug Wakelyn in goal. Jazz Kristov and Aaron Eberhardt scored for Shattuck, who received 32 saves from Noah Altman.
Nashville Jr. Predators 2 @ Florida Alliance 5-The Alliance netted five straight goals after falling behind early to ultimately skate to a 5-2 win over Nashville. Zack Hauxholder put the Predators ahead just 93 seconds into the contest, but Jared Parks' pair of goals alongside markers from Erik Stroze, Matthew Williams and Wyatt Englemann put Florida's win on ice. Jack Charles netted a late effort for Nashville as well, and netminder Derek Voell stopped 8 shots in the loss. Florida's Daniel McCarthy earned the win with 10 saves.
Northstar Academy 8 @ Lake Tahoe Academy 1-Ben Casey led the way with a hat-trick as Northstar coasted to an 8-1 decision over Lake Tahoe in a tussle atop the Prep Division. Joey Dosan, Jackson Vercellono, Jakob Stender, Zachary Barros and Connor Kemp also tallied goals for Northstar, easily eclipsing Brett MacNicoll's lone strike for Tahoe. Camdyn Barber took the win with eight saves, while reigning Peak Performer Cameron Dunnigan suffered the loss with six stops.
Fountain Valley 2 @ St. Rita 1-Andrew Shimek and Hayden Goldstein tallied in the second period and Fountain Valley held on for a 2-1 over St. Rita on Saturday. James Larkin scored for St. Rita late in the second, but Fountain Valley's Connor Edwards shut the door the rest of the way to pick up the win. Kyle Gustafson took the loss in the St. Rita net.
Pilot Mound Buffaloes 11 @ St. Mary's 1-Four skaters posted two goals apiece and Michael Turell stopped 17 pucks as the Buffaloes blitzed St. Mary's 11-1. Colby Bear, Brett Tataryn, Matty Harrold and Josh Bear each bagged two markers, with Philip Shapiera, Ayden Manningway and Tynan Ewart finding twine as well. Clayton Brown scored St. Mary's only goal, while netminders Tristan Telles and Sean Keough combined for 39 saves.
Prairie Academy 4 @ West Ranch 2-Two goals in the final 10 minutes of play helped Prairie break a 2-2 tie and vault past West Ranch 4-2. Noah Wills posted two goals, Kolby Kaban and Carter McKersie added tallies and Ryley Gross turned aside 19 shots for Prairie in the contest. Peter Lototsky and Logan Resendez lit the lamp for West Ranch, and netminder Nathan Donovan was dealt the loss despite an 18-save showing.
Fernie Academy 8 @ Chicago Hawks 3-Bryant Joseph starred with a hat-trick as Fernie lit up the scoreboard in an 8-3 victory over the Chicago Hawks. Ben Sigurdsson picked up the win in goal as Brady Stange, Justin Vanderlinde, Kael Perkins, Ashton Canaday and Carson Cecconi added to Fernie's goal total. Isaiah Brooks, Evan Torbica and Dmytro Shmidt provided Chicago's offense, while Brandon Keeney manned the cage in the loss.
Texas Tigers 3 @ West Dundee Leafs 1-Tigers netminder Jacob Sirkis was dominant in Texas' second matchup of the day, turning aside 52 of 53 shots to seal a 3-1 win over the Leafs for his team. Dominic Guerrieri, Peyton Chapa and Mitchell Clifton lit the lamp for Texas, while Nicholas Sladek did the same for West Dundee. Nolan Hawkes stopped 21 pucks for the Leafs.
Kenosha Komets 4 @ Valley Forge Minutemen 1-Trenton Kmiec scored twice, Carter Deinhammer stopped eight of nine shots and the Komets knocked off Valley Forge 4-1 on Saturday. Cole Niemi and Troy Cummings struck for a goal apiece as well in Kenosha's win, while Drew Gibson provided the lone Minutemen goal. Troy Percival stopped 27 shots in the Valley Forge cage.
McKinney North Stars 5 @ Tampa Lightning 1-Two goals from Gavin McCallister and six saves by Sean Triece paced McKinney's 5-1 win over Tampa. Cameron Seibert, Cole Enloe and Robert Langholff tallied as well in the North Stars' win, while Tucker Tassone put the Lightning on the board. Tampa's Troy Burkhart turned aside 11 pucks in defeat.
Pilot Mound Buffaloes 0 @ Naperville Sabres 6-Dean Dudzik followed up his four-goal effort from Friday with another five in Naperville's 6-0 shutout win over Pilot Mound on Saturday. Mateusz Fudala also scored for the Sabres while Ryan Park faced down all 24 shots he faced in the Sabres' cage, outdueling Pilot Mound's Jordan McGinnis, who stopped 22.
Chicago Blues 0 @ Prairie Academy 3-Josh Warkentin picked up the shutout victory with 18 saves as Prairie Academy knocked off the Blues 3-0. Noah Schindel, Kolby Kaban and Noah Wills potted the pucks for Prairie, putting away three goals on 26 shots against David Trapani in Chicago's cage.
Northstar Academy 4 @ Geneva Cyclones 3-Jackson Vercellono capped off his hat-trick with the game-winning tally as Northstar slipped past Geneva 4-3. Joey Dosan tallied as well for Northstar, while Jacob Carlson (2) and Tommy Purton paced the Cyclones' attack. Collin Soderholm stopped 27 shots for the win, countering Nick Greco's 26 saves for Geneva.
Chicago Bruins 3 @ Fountain Valley 6-Down 3-2 early in the second period, Fountain Valley deposited four straight goals to take a 6-3 victory over the Bruins. Hayden Goldstein and Nathan Adler potted a pair apiece alongside individual goals from Jackson Matthews and Tommy Bittner as Juho Veikkolainen blocked 29 pucks in the win. Dylan Walker (2) and Dominic Melone scored for Chicago, who received 24 saves from Andrew Meyer between the pipes.
Lake Tahoe Academy 4 @ Highland Park Falcons 5-Luke DiMarco nabbed the game-winner to cap off Highland Park's three-goal outburst in the final 10 minutes of play as the Falcons stole an impressive 5-4 comeback victory over Lake Tahoe. Jack Burke tallied twice for Highland Park, as 18U Showcase scoring leader Austin Kessem and Mack Knutson found twine as well. Lake Tahoe received foals from Brett MacNicoll (2), Jonah Fleisher and Tyler McNeil as Anthony LoRe stopped 22 pucks in the loss. Max Hetman picked up the win with 21 saves for Highland Park.
St. Mary's 1 @ Mission Arizona 9-Joseph Banaña put St. Mary's on the board first, but Mission lit the lamp nine straight times after that to take the 9-1 win on Saturday. Jorden Werner bagged a hat-trick, Nicolas Coppola and Christopher Fritz scored twice apiece, and Benson Middendorf and Joel Tessmer potted individual tallies in Mission's romp. Chase Golden turned aside 29 shots for the win, countering Tristan Telles' 30 saves in the St. Mary's cage.
Shattuck St. Mary's 1 @ Wenatchee Wolves 2-Wenatchee fell behind early, but responded with a pair of goals to take a 2-1 win over Shattuck St. Mary's as Saturday's action wound down. Chance Coger and Landon Bartels lit the lamp for the resurgent Wolves, eclipsing Cullen Vinar's early goal for Shattuck. Austin Ryman and Luke Newell combined for the Wenatchee win, while Darius Bell suffered the loss in Shattuck's crease.
Florida Alliance 4 @ Arizona Bobcats 6-Connor Bottrill and Truman Hirschy bagged two goals apiece and Austin Schwab picked up the win with 30 saves as the Bobcats topped Florida 6-4 in a 10-goal thriller. Mason Tully and Carson Kuche scored as well for Arizona, while Jack Cohen, Andrew Diaz, Erik Stroze and John Gromosaik tallied the Alliance goals. Jake Romney suffered the loss despite 17 saves for Florida.
Romeoville Huskies 5 @ West Ranch 3-The Huskies had a 3-0 lead erased in the second period but responded with two third-period strikes to take a 5-3 win over West Ranch. Tony Campise and Randy Apter scored twice to complement a goal by Dylan McNichols to comprise the Huskies' attack, as Mason Churpek, Luke Rodriguez and Corbin Zada struck for West Ranch. John Wagner picked up the win in the Romeoville cage.
Pursuit of Excellence 4 @ Nashville Jr. Predators 0-Cayden Hamming's 20-save showing and Jakob Jones' hat-trick stood out as POE toppled Nashville 4-0 on Saturday. Ryan Hofer scored as well as POE potted four goals on 37 shots against Nashville netminder JP Marinaro.
Colorado Springs Tigers 2 @ Thunder Bay Kings 1-Erik Gibboney put home the game-winning tally midway through the second period to push Colorado Springs past Thunder Bay 2-1 on Saturday night. Gareth Aegard put the Kings ahead early, but Hunter Pappas knotted the affair early in the middle frame to set up Gibboney's winner. Adam Bublitz earned the win between the pipes for the Tigers.
St. Rita 0 @ Affton Americans 9-Seven different skaters found twine as the Americans cruised to a 9-0 victory over St. Rita in the final action of Saturday. Cam Nowak and Henry Kasten each scored twice, Tim Pazdernik, Jake Blessing, Noah Scrum, Jacob Kasten and Will Gruener each nabbed a goal apiece and Brendan Rasch and Grant Goodson combined for a 20-save shutout, outdueling St. Rita goaltenders James Dolan and Kyle Gustafson, who blocked a shared 44 shots in the loss.
16U Division
Orland Park Vikings 4 @ Chicago Hawks 2-Jacob Faruzzi scored twice and Jack Webster stopped 17 shots to push the Vikings to a 4-2 win over the Hawks on Saturday. Orland Park's Ryan Plotke and Joshua Kendall each scored as well to pace the victory, while Michael Amato-Montanaro and Ethan Shoop buried goals for Chicago. Turhan Ramsey made 26 saves in the Hawks' cage.
Naperville Sabres 3 @ Green Bay Gamblers 5-Davis Hackbarth starred with two goals as Green Bay exploded for five tallies in the second period to ultimately take a 5-3 win over the Sabres. Bret Benson, Cooper Anderson and Logan Millhausen also found twine for the Gamblers, while Jack Lee, Drew Bresingham and Mike McCormick potted the Naperville markers. Holly Gruber picked up the win between the pipes for Green Bay.
West Dundee Leafs 8 @ Texas Tigers 1-Two goals apiece from Luca Goulding, Joseph Zullo and Jacob Rock paced the Leafs' attack as they romped past the Tigers 8-1 in Blaine. West Dundee potted five goals from Rock, Goulding, Zullo and Cameron Pathana before Jacob Arnold put Texas on the board. Zullo and Spencer Messina then lit the lamp to seal the Leafs' win, which was backstopped by Andrei Ballack. Anthony Falzone stood tall between the pipes for the Tigers, but took the hard-fought loss.
Ventura Mariners 0 @ Chicago Bruins 6-Carter Crokin starred in the Chicago crease and six different Bruins scored in a 6-0 shutout victory over the Mariners. Aiden Schiff, Harrison Forsberg, Ethan Smiley, Will Nelson, Max Adams and Conor Handley were the goalscorers in the Bruins' romp, peppering Ventura goalie Trevor Sandoval and ultimately dealing him the loss.
Geneva Cyclones 6 @ Peoria Jr. Rivermen 1-Peoria's Kason Yamada turned aside 56 shots, but the Cyclones' attack proved too strong as Geneva took a comfortable 6-1 win on Saturday. Gianluca Nitti potted a hat-trick, Sammy Greco scored twice and Constantino Binetti added another strike for the Cylcones, with Gino Viscomi stopping 13 pucks in the win. Jackson Bihun scored the lone Rivermen goal.
Highland Park Falcons 6 @ McKinney North Stars 2-The Falcons found twine twice in the first three minutes of play and never looked back, ultimately winning out 6-2 over McKinney. Evan Detina and Andrew Slivka started the scoring, followed by Joe Hill, Chris Kondiles, Jake Ratner, Christian Bachman and Niko Liavas in the final 40. Jordan Gachman scored for the North Stars, who featured 18 saves from Camden Pendleton in goal. Gabe Detina earned the win with 14 saves in the Falcons' cage.
Tampa Scorpions 2 @ Vernon Hills Icedogs 4-Nate Hammond netted the eventual game-winner 7:12 into the second period as the Icedogs dropped the Scorpions 4-2. Matthew Koepke, Matthew Kreczman and Brian Fiddes scored as well in Vernon Hills' win, while Zachary Fleer-Wilsie and Max Weinstock provided the Tampa offense. Joey Urbanczyk picked up the win to stay perfect in four starts this season, while Jacob Sanders was dealt the loss.
Chicago Blues 2 @ Littleton Hawks 1-Stone Grant was a wall with 39 stops and Brock Alvers provided the game-winning strike early in the third period to help the Blues edge the Hawks 2-1. Brendan Kerins opened the scoring for Chicago in the second period before Littleton's Benjamin Ford responded in the same frame to send the game into the third stanza knotted at one. Ryan Burke took the loss in the Hawks' cage.
Affton Americans 0 @ Wenatchee Wilderness 3-Tucker Inabinet turned aside each shot he faced as the Wilderness shut the door on Affton 3-0. Zac Johnson scored twice and Drake Flynn added another marker to seal Wenatchee's victory, dealing Affton's Andrew Yocum a loss in the process.
Anaheim Jr. Ducks 2 @ Chesterfield Falcons 7-The Falcons rattled off five unanswered goals to break a 2-2 deadlock in the second period and take a 7-2 win over the Ducks on Saturday. Michael Lane netted twice, with Paul Malacarne, Kyle Brauch, Braden Harwell, Christian Bates and Tommy Ramer finding twine as well for Chesterfield. Kiril Yampolsky and Anthony Oviedo tallied early in the second period for Anaheim to level scores at two before Chesterfield's onslaught. Mac Beatrice picked up the Falcons' win in goal, while Kyle Northrup suffered the loss.
Colorado Springs Tigers 1 @ Pursuit of Excellence 3-Noah Cameron and Yuji Akimoto tallied in the final frame to help POE surge ahead to a 3-1 win over the Tigers. Yusaku Ando had put POE ahead early in the contest before a second-period tally by Colorado Springs' Jake Parent leveled scores heading into the third. Aaron Kaner earned the win with 11 saves for POE, countering nine stops from the Tigers' Nicholas Junkin.
Thunder Bay Kings 3 @ Arizona Bobcats 1-Gage Stewart stole the show with 31 saves to backstop the Kings' 3-1 victory over Arizona on Saturday. Jeremy Dunmore, Hunter Matyasovszky and Nolan Desjardins each scored to fuel Thunder Bay's win, while Deven Wang put the Bobcats on the board. Caleb Wall stood tall in Arizona's crease as well despite the loss, stopping 33 pucks in the contest.
Florida Alliance 4 @ Nashville Jr. Predators 2-Florida's Clint Levens and Nashville's Kolton Watts put forth dueling two-goal efforts, but it was the Alliance coming out on top 4-2 thanks to other goals by Nick Humanra and Mason Mara. Blake Valli turned aside 20 shots in the win, countering Sam Woessner's 12 stops for the Predators.
15U Division
Everett Silvertips 1 @ Arizona Bobcats 5-Three unanswered goals in the first 22 minutes got Arizona started on the right foot in this contest as the Bobcats knocked off the Silvertips 5-1 in the opening day of 15U action at the December event. Grayson Keller netted a pair, as Brendon Manning, Gavin Wick and Nicholas Bonaldi struck as well for Arizona. Max Mudge scored Everett's lone goal, and Zac Reddy turned aside 28 shots in the loss. Stephen Gilson took the win with 21 saves in Arizona's crease.
Colorado Springs Tigers 0 @ Gentry Academy 15-Gentry continued its dominance at the 15U level with yet another comfortable win, this time 15-0 over Colorado Springs. Bennett Schimek (3), Chaz Lucius (2), Jack Harvey (2), Jake Martin (2), Zach Reim, Nick Sajevic, Bailey McGraw, Connor Kurth, Kaiden Hafele and Andrew Mosley kept the goal judge on their toes in this one, while Anton Castro picked up the shutout win for Gentry. Daniel Sanchez suffered the loss for the Tigers.
Florida Alliance 4 @ Nashville Jr. Predators 0-Kyle Gonzalez's pair of goals stood out as the Alliance coasted past Nashville 4-0. Max Resnick and Chase Benjamin scored as well, and Aiden Winslow faced down all 15 shots against for Florida, while his counterpart Logan Verpoort stonewalled 26 pucks for the Predators.
14U Division
Carshield 1 @ Thunder Bay Kings 3-The Kings put up three goals in a span of nine minutes to top Carshield 3-1 and clinch the top spot in Division 1, as well as a spot in Sunday's semi-finals. Caleb Labelle, E.J. Paddington and Zack Biniaris provided the offense for Thunder Bay, while Jack Wuertz broke Daniel Giardino's shutout with a late tally for Carshield.
Arizona Bobcats 4 @ Alaska All Stars 0-Max Geddes notched a 10-save shutout and David Dumesnil scored twice as the Bobcats bagged a 4-0 win over Alaska to conclude group play at the 14U level. Noah Moyer and Anthony White rounded out the scoring for Arizona, who peppered Alaska's Vaughn Makar with 35 shots.
Madison Capitols 4 @ Gentry Academy 5-Attila Lippai notched the game-winner as Gentry took a 5-4 win in a thrilling contest that will see a rematch in the 14U semi-finals on Sunday. Devin Cardenas, Brady Ingebritson and Grant Dietz put Gentry ahead 3-0 early before Madison's Jake Schaffner and JJ Wiebusch sandwiched another Gentry goal from Kaden Milles to send the Capitols into the third period down 4-2. Landon Fleming then netted two goals in 27 seconds to level the affair for Madison before Lippai's heroics. Wes Johnson picked up the win between the pipes for Gentry with 25 saves, while Madison's Jay Fairchild turned aside 39 shots in the loss.
West Coast Renegades 1 @ Chicago Hawks 6-It was a complete attacking effort for the Hawks as they featured five different scorers en route to a 6-1 win over West Coast and date with Thunder Bay in the 14U semi-finals on Sunday. Andrew Bencick (2), Patrick Dixon, Nathan Isoniemi, Jacob Fieldman and Zack Devine provided Chicago's offense, while Harris McAree found twine for the Renegades. Ryan Diaz stood tall in the Hawks' cage to earn the win, while Curtis Fritschler suffered the loss for West Coast.
Wenatchee Wolverines 1 @ Everett Silvertips 5-Kaden Shahan bagged a pair of goals, Daniil Rye stopped 13 shots and the Silvertips picked up a 5-1 victory over the Wolverines on Saturday. Jadon Kwiatkowski, Caleb Elfering and Tanner Kloczko scored as well for the victors, countering Cade Littler's goal for Wenatchee, who received 18 saves from Xaus Landry.
Sioux Falls Power 4 @ Nashville Jr. Predators 5-Kal Essenmacher's third-period strike — his second of the game — stood as the game-winner as the Predators toppled Sioux Falls 5-4 to close out group play on Saturday. Dylan Wegner also scored twice for Nashville, with Ben Biron adding a marker as well. Cooper Fredericks netted a pair for the Power alongside Jaxon Grosdidier and Zach Vockler, who posted a goal apiece. Xander Miceli's seven saves earned the win for Nashville, while Kamdon Carlson stopped 10 shots in the Power's loss.