Showcase, Prep and 14U Divisions highlight Day 1 in Blaine
December 1, 2018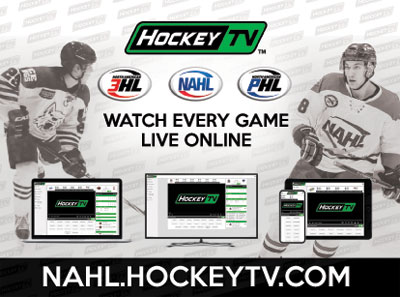 The 10th anniversary season of NAPHL hockey continues this weekend with the fourth event of the 2018-19 season at the Super Rink in Blaine, Minnesota.
Action began on Friday, November 30th with the debut of the 14U Division, along with the NAPHL Showcase and Prep Divisions. The 14U Division is new to the NAPHL this year and will feature 12 teams competing for the NAPHL's 14U crown.
The action continues on Day 2 on Saturday, December 1st as the 18U and 16U Elite Division teams take to the ice.
All games will be broadcast live through
HockeyTV
, the official broadcast provider of the NAPHL.
To check NAPHL scores from your mobile device, download the
NAHL App
(
iOS
-
Google Play
)
Helpful Showcase Links:
18U
SHOWCASE DIVISION OPENS PLAY AT DECEMBER EVENT
Seven of the eight 18U contests on day one featured big wins, as just one game was decided by fewer than two goals. The Chicago Bruins and Valley Forge Minutemen required a lengthy shootout to determine a winner, as Valley Forge's Russ Tedesco potted the clinching tally to seal a 3-2 win.
Elsewhere, West Dundee, Geneva and McKinney each nabbed shutout victories to open this weekend's action. The Leafs knocked off Affton 3-0 thanks to 29 saves by Nolan Hawkes; Miles Haberek scored twice and Reid Peterson faced down 20 pucks to lead the Cyclones past Kenosha 4-0; McKinney struck twice in the third period to take a 2-0 win in what was a tight defensive showdown against the Chicago Hawks, as Weston Walker stopped 15 of 15 shots for the win.
The Chicago Blues, Highland Park Falcons, Naperville Sabres and Romeoville Huskies each won comfortably on the day. Chicago stretched a 2-1 advantage to 4-1 with a pair of late tallies to drop the Texas Tigers; the Falcons featured a hat-trick by Jack Burke, two goals from Mack Knutson and a stunning seven other individual scorers as the coasted past the Tampa Lightning 10-2; Naperville's Dean Dudzik stole the show with four goals in a 7-3 victory over Fernie Academy; Sam Braun and Josh Gilbert netted two goals apiece to lift Romeoville to a 6-3 win over Mission Arizona.
16U
DEFENSE LEADS THE WAY AS 16U SHOWCASE TEAMS TAKE THE ICE
Each of the 20 Showcase and guest 16U teams saw action twice on Friday, and half of the 20 games on the day were won by teams flexing their defensive muscles to limit opponents to one goal or fewer.
The Chicago Bruins were the biggest winners on the day, dropping the Tampa Scorpions 10-1 and picking up a 4-0 shutout win over Affton, while Littleton, Wenatchee and McKinney also nabbed shutouts of their own. Three games required extra time on Friday — Wenatchee dropped Orland Park 3-2 in OT to make it two wins out of two on Friday; Naperville skated to a 4-3 OT decision over Anaheim after potting the tying tally to force a fourth period midway through the third; Vernon Hills and Ventura faced off in the weekend lidlifter Friday morning, a 3-2 Icedogs win that took a Brian Fiddes shootout winner to be decided. Fiddes, the reigning 16U Showcase Peak Performer, also scored in regulation time to pace his team's victory.
Overall, seven teams won both of their matchups on day one, with three extending previously-held winning streaks. After dropping its first two games of the season, Littleton has surged to the top of the Showcase American division with four straight wins, including a 3-0 shutout of Ventura and a 5-2 win over Highland Park on Friday. McKinney, who started strong at the December showcase with a 9-2 win over Peoria and 4-0 shutout of the Chicago Hawks, has now won three straight to match Littleton's pace with a 4-2-0 record through the season thus far. In the Chicago division, the Bruins' record is yet to be tarnished as two more wins on Friday lifted them to a perfect 6-0-0 start to the season. Vernon Hills continues to nip at their heels with just one OT loss this year, and Naperville trails just one point behind them with a single regulation loss this season.
14U
14U PLAYOFFS PICK UP AT DECEMBER EVENT
The NAPHL 14U playoffs are also featuring at the December showcase, with 12 teams vying for the championship.
Day one saw the Thunder Bay Kings, Chicago Hawks, Gentry Academy and Madison Capitols pick up wins in both contests played to take the inside track to the semi-finals. The Kings dealt losses to Arizona and Alaska, leapfrogging both to take over control of Division 1 with one game left to play for each team. The Hawks handled Nashville and Sioux Falls, and hold the top spot in Division 2 with 0-2 West Coast left to play. In Division 3, Gentry and Madison will face off on Saturday to determine the division victor after both dropping Everett and Wenatchee to boast 2-0 records. Each team's division-winner will move on to the semi-finals, with one wild card team earning a shot at the title as well.
On an individual level, several players stood out on day one. Madison's JJ Wiebusch and Landon Fleming notched six and four goals in two games, respectively, to set a blazing early pace for the rest of the age bracket while Madison netminder Michael Bashaw was the only goaltender to pick up multiple wins on day one, stopping 65 pucks in the process. Nashville's Ben Biron posted a hat-trick in his team's victory, joining Wiebusch and Fleming as the only skaters to do so on Friday. Alaska's Vaughn Makar stood out between the pipes as the only goaltender to post a shutout, stopping 13 pucks in a 2-0 win over Carshield AAA.