15U Division concludes play on Sunday
November 12, 2018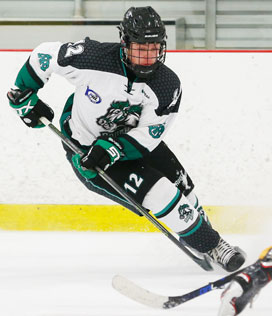 The NAPHL's High Performance and Elite divisions continued the action at each age level on Sunday as they continued the 2018 November Showcase in Frisco and McKinney, Texas.
The 15U Division concluded play on Sunday, while the 18U and 16U Divisions play their final games of the event on Monday, November 12th.
All games will be broadcast live through
HockeyTV
, the official broadcast provider of the NAPHL.
To check NAPHL scores from your mobile device, download the
NAHL App
(
iOS
-
Google Play
)
Helpful Showcase Links:
15U Division
RIDERS STAY PERFECT; MEIJER, CARSHIELD WIN IN NAILBITERS
Day three of the November Showcase saw each 15U team in action once to close out play at that level for the weekend, as Rocky Mountain continued their strong play with a fourth straight victory on the weekend, while Carshield AAA and Meijer AAA each took one-goal victories in their respective contests.
Rocky Mountain has roared up the High Performance standings with a 4-0-0 weekend, capped off by Sunday's 7-0 shutout of the Everett Silvertips. Lawrence Jaxon Letey stopped six pucks between the RoughRiders' pipes. Joseph Cesario netted a goal and a helper, and boasts two points or more in each of his team's four outings in Texas (5g-5a-10pts total). Liam Cox-Smith and Cal Osterberger also boast points in four straight, recording 5g-3a-8pts and 2g-6a-8pts at the event, respectively.
Carshield used third-period goals from Jake Lange and Walt Baumstark to stave off a Sioux Falls comeback bid and notch their second win on the weekend. Holding a 3-1 lead after 40 minutes, Carshield stretched its lead to three after Baumstark's tally before coughing up two goals in the following 1:57. Lange righted the ship and restored the two-goal lead with just over five minutes to play, only for the Power to light the lamp 18 seconds later and make for a tense finish.
Sutter Muzzatti and William VanSumeren were the heroes for for Meijer, scoring second-period markers that ultimately lifted their team to victory, despite a late goal by Esmark. George Prielipp starred in the Meijer cage, stopping 23 of 24 pucks and shutting the door late to seal the win.
16U Division
DOMINANT PERFORMANCES HIGHLIGHT DAY THREE ACTION
After yesterday's set of close finishes, most of day three's 16U winning teams found their trials far simpler, with seven of the eight winners ending up three or more goals ahead of their opponents when the final buzzer sounded.
Thunder Bay, Nashville and Dallas Stars Elite each posted shutouts, as the Kings dumped Pursuit of Excellence 6-0, the Predators defeated Arizona 5-0 and Dallas romped to a 6-0 decision over Carshield. Each team featured a two-goal scorer; Thunder Bay received a pair from Jack Michaelis, who snapped a five-game pointless skid; Nashville's Landry Schmuck bagged a brace of his own, following up on Friday's hat-trick; and the Stars got on the right foot early with two first-period strikes by Nathan Butler.
Florida, Sioux Falls, Meijer and Alaska also recorded big wins on Sunday. The Alliance broke a 2-2 deadlock with three goals in the final frame to win 5-2 over Colorado Springs; Sioux Falls posted three goals in both the second and third periods to skate past Valley Forge 6-3; Logan McGivern scored twice to lead Meijer past Esmark 6-2; and Alaska relied on a pair of Cooper Morris markers to break a 1-1 tie and take lead for good in the second period in a 7-1 win over Everett.
Rocky Mountain and Madison played the closest contest of the day, with the Roughriders running out as 4-3 winners in a shootout. Madison's Jaxson Ezman nabbed his second of the game late in the third period to force extra time, but Erik Brink scored the lone shootout goal in the third round to earn the win for the Riders. Each team's netminder stood tall, with Madison's Ethan Mork turning aside 33 pucks and Rocky Mountain's Jackson Dylla stopping 28.
18U Division
GOALS ABOUND ON SUNDAY AS 18U PLAY CONTINUES
Each time took the ice, and each team lit the lamp on Sunday as the 18U High Performance and Elite divisions continue to take shape. Much like the 16U division, offense was on full display at the 18U level as each team scored at least once in each game.
High Performance teams were in action twice on Sunday, two of which required extra time, as Jack Michels netted the OT winner for Madison in their 6-5 victory over Everett and Esmark dealt Carshield a rare loss on the back of a Giovanni Palombo shootout winner. The Silvertips bounced back later with a 2-1 win over Sioux Falls, who dropped Valley Forge 6-2 in the morning, while Esmark then took down Madison 6-3 to close out Sunday's play. Rocky Mountain earned a split, falling to Meijer AAA 4-2 in the morning before responding with a 6-1 romp past Valley Forge thanks to a Zachary Purcell hat-trick.
In Elite play, Thunder Bay's Peter Hannula netted a hat-trick of his own to help the Kings to a 8-1 win over Nashville, Pursuit of Excellence dropped Shattuck St. Mary's 5-2 with a standout 27-save showing by netminder Cayden Hamming, Colorado Springs erupted for three goals in the middle 20 to beat Arizona 4-1, and Riley Ott added another hat-trick to his torrid goal-scoring pace this season in Wenatchee's 8-1 win over Florida. Ott now boasts 13 goals in 12 games, which leads all 18U skaters.
Stay tuned to @NAPHL on Twitter and NAPHL.com for updates from the final day of the November Showcase!