Close competition in cross-over games highlights Day 2 in Texas
November 11, 2018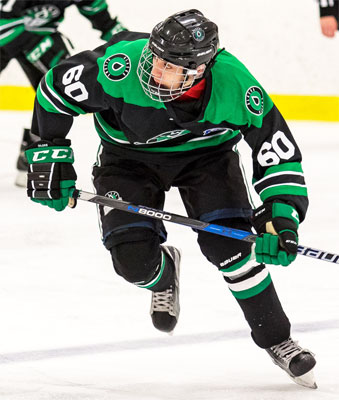 The NAPHL's High Performance and Elite divisions continued the action at each age level on Saturday as they continued the 2018 November Showcase in Frisco and McKinney, Texas.
The Dr Pepper StarCenter's in McKinney, Frisco, and Plano are hosting games for this event. This marks the first time since the 2011-12 season that the NAPHL has held an event in North Texas.
All games will be broadcast live through
HockeyTV
, the official broadcast provider of the NAPHL.
To check NAPHL scores from your mobile device, download the
NAHL App
(
iOS
-
Google Play
)
Helpful Showcase Links:
ROUGHRIDERS ROLL INTO DAY TWO; POWER, CARSHIELD PICK UP KEY WINS
The six 15U teams at the NAPHL November event each took the ice once on Saturday, with Rocky Mountain, Sioux Falls and Carshield AAA notching some statement wins on day two.
The RoughRiders remained perfect on the weekend with their third consecutive win, knocking off Esmark by a 5-1 margin after the Stars tallied a pair of shutouts on Friday. Joseph Cesario continues to star for the RoughRiders, posting another two goals and a helper in Saturday's victory to bring his weekend total to 4g-4a-8pts in three games.
Sioux Falls dropped Meijer AAA 5-2 on the back of a stout 21-save effort from netminder Christopher Chirico. After going down 2-0 early, the Power responded with five unanswered goals by Aiden VanRooyan, Jacob Olson, Blake Bakey, Casey Winders and Owen Vilhauer to seal the win.
Carshield AAA responded well to a pair of defeats on day one, shutting out Everett 4-0 in Saturday's action. Jordan Behnen took the win between the pipes with 27 saves, with Eli Baumstark potting a pair of goals alongside markers by Jake Lange and Tyler Loughman.
COMPETITION HEATS UP WITH 16-GAME SATURDAY SLATE
The NAPHL's 16U division had plenty of time in the spotlight on day two, and featured one-goal finishes in nearly half of the day's matchups.
Everett and Colorado Springs went down to the wire in a 2-1 OT Silvertips win as Alex Bolshakov found twine; Dallas Stars Elite downed Meijer AAA with a 1-0 win in OT on the back of Hayden Cox's strike in extra time; Sioux Falls handed Colorado Springs their second loss of the day in a marathon 11-round shootout ended by Dawson Pasternak; Florida Alliance defeated Rocky Mountain 3-2 thanks to Jackson Bennett's game-winner; David Matousek led Valley Forge to a 4-3 win over Thunder Bay; Everett stunned Madison with a 2-1 comeback victory which included a last-second GWG from Keiton Klein; and the final game of the day went down as a 4-3 win for Dallas Stars Elite over Esmark with Luke Adams netting the winner.
In addition to the Stars' OT win, the Alaska Oilers and Carshield AAA also picked up wins without conceding a goal. Edward Makar backstopped Alaska's 5-0 decision while Matt Smith helped Carshield to its 5-0 victory with 12 saves.
Jon Hippen of Madison, Jack Vockler of Sioux Falls, Nathan Cote of Rocky Mountain and Nikita Asylaev of Alaska each starred in wins for their respective teams, notching hat-tricks (or more) to pace the standout offensive efforts for the day.
COLORADO COMEBACK KIDS ROAR BACK; NEW TEAMS NOTCH SHUTOUTS
On a day chock-full of action, the 18U contest between Everett and Colorado Springs stood out as the Tigers erased a three-goal deficit late in the game before eventually winning in a shootout. Nico DeVita (2), Jake McNeil and Garrett Wood lifted the Silvertips to a 4-1 lead midway through the final frame, but Brice French, Gage Garcher and Eric Gibboney had other ideas as they rattled off three goals (in addition to Hunter Pappas' first-period marker) to force extra time in a remarkable comeback.
Elsewhere, Dallas Stars Elite notched a 2-1 SO win of their own over Carshield AAA thanks to Austin Lidster's third-period goal and subsequent shootout winner, following their earlier 6-3 win over Meijer AAA. The Madison Capitols, Rocky Mountain Roughriders and Wenatchee Wolves also notched wins on Saturday.
Meanwhile, shutouts continued to be common practice on day two, with four of the 10 games ending with a goose egg on one side of the scoreboard. Esmark, Carshield AAA, Pursuit of Excellence and Shattuck St. Mary's each kept clean sheets.
The Stars notched a 12-0 win over the Arizona Bobcats thanks to eight saves by Danny Mitchell and a hat-trick by Matsvei Kurylovich; Carshield relied on four saves from Ted Stevens and three different two-goal outings in a 10-0 victory over Nashville; Ashton Billesberger stole the show with a 40-save shutout between the pipes for POE, helping them drop Sioux Falls 2-0; Shattuck received 34 saves from Darius Bell and two goals by Joshua Silverman in its 3-0 shutout victory over Valley Forge.
***
Stay tuned to @NAPHL on Twitter and NAPHL.com for updates from day three of the November Showcase!