NAPHL recap of Day 1 in Texas
November 10, 2018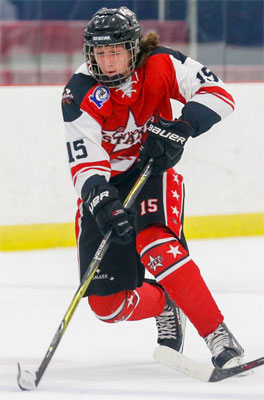 The NAPHL's High Performance and Elite divisions kicked off action at each age level on Friday, marking the start of the 2018 November Showcase in Frisco and McKinney, Texas.
The Dr Pepper StarCenter's in McKinney, Frisco, and Plano will all host games for this event. This marks the first time since the 2011-12 season that the NAPHL has held an event in North Texas.
All games will be broadcast live through
HockeyTV
, the official broadcast provider of the NAPHL.
To check NAPHL scores from your mobile device, download the
NAHL App
(
iOS
-
Google Play
)
Helpful Showcase Links:
STARS SHINE AS DICKEY SHUTS THE DOOR; ROCKY MOUNTAIN RIDES EARLY MOMENTUM
Each of the six 15U teams were in action on Friday, playing two games apiece. The Esmark Stars and netminder Nathan Dickey stole the show, shutting out Carshield AAA and the Sioux Falls Power in successive contests. Dickey backstopped both victories with sterling showings, turning aside each of the 47 total shots he faced. Conall Quish, Liam Varmecky and Alexander Keller tallied the goals for Esmark in its two wins.
Elsewhere, the Rocky Mountain RoughRiders also won each of their two outings, dropping Meijer AAA 4-3 in the morning and posting an 8-2 rout of Carshield AAA in their afternoon tilt. Liam Cox-Smith (3g-1a-4pts), Joseph Cesario (2g-3a-5pts) and Cal Osterberger (2g-3a-5pts) paced the RoughRiders attack as 15 different skaters recorded at least one point across the two contests. Netminders Brant Kragel (23 saves) and Lawrence Jaxon Letey (17 saves) split duties between the pipes, picking up wins in their respective starts.
Prior to its defeat at the hands of Esmark, Sioux Falls kicked off its slate of games with a 5-1 win over Everett, while Meijer AAA bounced back from its early loss to also defeat the Silvertips 4-1.
CLOSE CONTESTS HIGHLIGHT DAY ONE OF NOVEMBER 16U ACTION
Just four matchups were slated for the first day of action at the 16U level, three of which were photo finishes. In what may have been the game of the day between Nashville and Thunder Bay, Landry Schmuck netted a hat-trick for the Jr. Predators, but was matched by the Kings' Dalton Mayes, Shaymus Stevenson and Alex Atwill in regulation time, followed by Jeremy Dunmore finding twine just 48 seconds into extra time to lift Thunder Bay to a 4-3 win.
Earlier, Arizona held on for a 3-2 victory over Colorado Springs thanks to a third-period strike from Logan Hawley to cap off earlier tallies by Deven Wang and Cameron Anderson. Christian Howanitz scored both tallies for the Tigers. Luke Fundator took the win with 23 saves in the Arizona cage.
Pursuit of Excellence netminder Aaron Kaner posted a 5-0 shutout of the Florida Alliance in the first action of the day, stopping 27 pucks behind goals from Yusaku Ando (2), Kaelen Cosgrove, Trevor van den Heuvel and Jake Watson.
Finally, in the nightcap, the Rocky Mountain RoughRiders fell to Dallas Stars Elite 2-1 in a tense matchup. Nathan Butler and Brent Johnson put Dallas ahead early, and netminder Ryan Whittaker shut the door the rest of the way, allowing a single goal to Trace Norwell of Rocky Mountain to seal the win.
SHUTOUTS REIGN SUPREME DURING OPENING ACTION
Four of Friday's nine 18U matchups resulted in shutouts, with two more being decided by two goals or fewer. Arizona, Thunder Bay, Colorado Springs and Rocky Mountain each kept their opponents off the scoresheet on day one, combining for a total of 12 goals across their games.
Arizona dropped Nashville 2-0 on the back of Austin Schwab's 26 saves; Thunder Bay defeated Wenatchee 5-0 and featured two goals apiece by Jordan Baranesky and Nicholas DeGrazia in front of 20 saves by Jordan Smith; Lev Bure scored to lift Colorado Springs to a 1-0 win in front of Adam Bublitz's 20-save effort; Rocky Mountain required 26 saves from Logan Gorbitz in its 4-0 shutout of Dallas Stars Elite.
Elsewhere, Pursuit of Excellence was in fine form in its win over Florida Alliance, dropping a decade of goals on the Alliance in a 10-4 win. Shattuck St. Mary's picked up a pair of wins over Florida and Arizona, both by a final score of 5-2. Colorado Springs fended off a late comeback by Wenatchee for a 4-2 win in its other game of the day, while Thunder Bay used a late-game strike to boost itself to a 3-2 decision over POE.
Stay tuned to
@NAPHL
on Twitter and NAPHL.com for updates from day two of the November Showcase!