Bismarck goalie Roberts makes NCAA DI commitment
October 25, 2018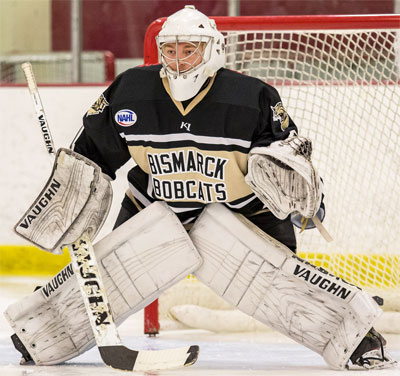 By Paul Teeple
The Bismarck Bobcats of the North American Hockey League (NAHL) are pleased to announce that veteran goaltender John Roberts has committed to play NCAA Division I hockey at Northern Michigan University in the WCHA, starting in the fall of 2018.
"It's an amazing feeling, knowing that I'll be playing college hockey next year," stated Roberts, who is in his third year of play in the NAHL. "On one hand, it's a relief to have 'what's next?' off my mind, but on the other hand it makes me want to play even harder to prove Northern right for betting on me."
A captain of the Bobcats, Roberts is currently tied for the lead in the NAHL with two shutouts and is tied for third in wins at six; in six divisional games in 2018-19, he has a .949 SV% and a 1.81 GAA with 206 saves on 217 shots.
"For our staff, there's not a better feeling than seeing a guy like Johnny, one of the hardest working players to ever put on the black and gold, rewarded with a Division I opportunity," said Bobcats head coach and general manager Layne Sedevie, himself a former D-I netminder. "When you look at his work ethic and add in the numbers he's been able to put up in three seasons of junior hockey, Northern got a heck of a hockey player."
The Lansdale, Pennsylvania, native is just the latest player to climb the North American Hockey League ladder of success: Roberts played in the NAPHL in 2015-16 for the Valley Forge Minutemen 18U before moving onto the NAHL, starting with the Shreveport Mudbugs before being traded to the Bobcats.
Ultimately, for the third-year veteran, the draw of a potential starting job proved the difference-maker.
"There were a lot of factors that went into my decision but the chance to earn playing time as a freshman was what sealed the deal for me," noted Roberts who, as a 1998 birthyear, is in his final year of junior eligibility.
Northern Michigan plays in the WCHA; the Wildcats are coached by second-year bench boss Grant Potulny, a former long-time assistant at the University of Minnesota. Former Bobcat head coach Byron Pool is the associate head coach at Northern.
With Roberts' commitment, the Bobcats have now had goalies from 14 consecutive teams commit to play Division I hockey: Tim Krystosek (2005-06, 2006-07, Air Force); Jake Kremer (2007-08, Minnesota); Matt Grogan (2007-08, 2008-09, UConn); David Bosner (2008-09, Air Force); Ryan Faragher (2009-10, 2010-11, St. Cloud State); Ryan Massa (2009-10, Nebraska-Omaha); Jake Williams (2009-10, Mercyhurst); Tommy Burke (2010-11, 2011-12, Bowling Green); Aaron Nelson (2011-12, 2012-13, 2013-14, Minnesota State); Hunter Shepard (2014-15, 2015-16, Minnesota-Duluth); Will Ulrich (2016-17, Air Force); and Ryan Ullan (2017-18, Northern Michigan).
His is also the seventh current Bobcat to earn a Division I commitment, joining Jacob Marti (Air Force), Mitch Walinski (Air Force), Adam Stacho (AIC), Kirklan Irey (Bemidji State), George Grannis (Clarkson) and Clark Kerner (UMass-Lowell).