NAPHL Blaine II event comes to a close
October 23, 2018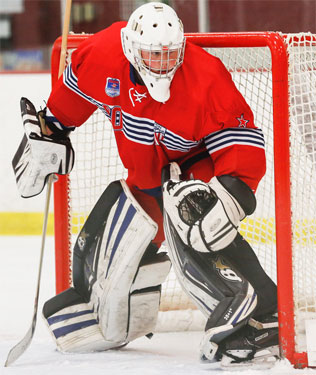 The second event of the 2018-19 NAPHL season came to a close on Monday, October 22nd at the Super Rink in Blaine, Minnesota.
In total, 94 teams took to the ice over the course of the four-day event.
There was a very nice turnout of scouts at the event with over 50 scouts checking in. That included scouts and coaches from the NCAA Division I and Division III levels, in addition to dozens of NAHL coaches, including NAHL head coaches. NAHL Central Scouting was also out in full force, evalutating the players. The NAHL tender signing season begins November 1st.
"There was a lot of positive feedback from the event and we were very pleased with the scout turnout. Not only was there great representation from the NCAA, but it was nice to see NAHL head coaches in the building," said NAPHL Director Tony Zasowski. "All the scouts I spoke with were complimentary on the level of play and amount of talent the NAPHL has to offer."
Click here for picutres from the event
HIGH PERFORMANCE, ELITE DIVISIONS CAP OFF NAPHL'S OCTOBER EVENT
18U
Meijer rounded out its strong weekend with its sixth consecutive win, a 2-1 victory over HP rival Madison Capitols on Monday. Carshield moved its point streak to six games despite falling in a shootout to the Everett Silvertips, and trail Meijer by a single point through eight games.
In the Elite division, the Wenatchee Wolves have roared back to life after dropping their opening contest of the season, rattling off seven consecutive victories including a 1-0 decision over the Arizona Bobcats to close out competition at the October event. Thunder Bay notched a 7-2 win over Florida Alliance to go out on a high note in Blaine, and boast two straight wins as they look to gain on Wenatchee.
Colorado Springs' Eric Gibboney scored in each of the Tigers' four outings at the October event — the first time(s) he has lit the lamp this season — while Thunder Bay's Nikolas Campbell boasts points in each of his last five games, a run that has boosted him into a six-way tie for second place in scoring behind Riley Ott of Wenatchee.
16U
After being dealt just their second loss of the season, the Alaska Oilers regained their form through the weekend, culminating in Monday's 4-3 OT win over Meijer. Led by September NAPHL Peak Performer Bret Link, the Oilers boast five of the top seven point-getters at the 16U level as they sit atop the High Performance division. Nipping at their heels are the Rocky Mountain Roughriders, who picked up a 4-2 win over Everett on Monday and whose only loss on the weekend came against the Oilers. Elsewhere in the HP division, the Madison Capitols have picked up a pair of consecutive wins following Monday's 4-2 victory over Esmark.
The Thunder Bay Kings still hold control over the Elite division despite falling in a shootout to the Carolina Jr. Hurricanes on Sunday, as they rebounded on Monday with a 2-0 shutout over Colorado Springs to move a point ahead of the surging Nashville Jr. Predators and three ahead of the Arizona Bobcats, both of whom have won two straight contests.
Kolton Watts of Nashville leads the 16U level with 11g-8a-19pts in just eight games, and managed to light the lamp in each of the Jr. Predators' four outings last week. Between the pipes, Julien Lefebrve starred for Thunder Bay, stopping 26 of 27 shots in the loss to Carolina on Sunday, and shutting out Colorado Springs on Monday.
15U
The Sioux Falls Power flexed their muscle once again on Monday, knocking off the previously-undefeated Valley Forge Minutemen of the Guest division 3-1 to notch their fifth consecutive victory and remain two points ahead of Meijer, who dropped the Nashville Jr. Predators 5-1 in their final game of the event. Carshield stymied the Arizona Bobcats 4-2 to pick up their second win in a row and get back to a .500 record as well.
Florida Alliance continue to dominate the Elite division, having taken three wins in a row after a 4-1 decision over Everett on Monday, and sit at least seven points above each of the remaining three teams in their division. After winning their opening contest of the 2018-19 campaign, Colorado Springs has slipped to 1-6-0-1 after a loss to Esmark, who climbed to within three points of Sioux Falls back in the HP division.
The true standout of the 15U level, however, continues to be Gentry Academy, who posted another dominant performance with a 7-2 win over Rocky Mountain to close out the event. The two goals they conceded in that contest were the first ones given up since defeating the Minnesota Blizzard 9-2 on Sept. 23. Gentry currently sits at 9-0-0-0 with a +77 goal differential, and feature the top six point-getters at the 15U level in their lineup in Chaz Lucius (24g-16a-40pts), Bennett Schimek (13g-12a-25pts), Cruz Lucius (4g-21a-25pts), Jack Harvey (8g-14a-22pts), Nick Sajevic (9g-7a-16pts) and Connor Kurth (10g-5a-15pts), with each having featured in just nine games.
Max Resnick starred for Florida during the event, posting 4g-6a-10pts in four games, including a goal and an assist in Monday's win over Everett, to move into seventh in league scoring. Between the pipes, Florida's Aiden Winslow has also impressed, recording four wins in four starts and allowing two goals or fewer in each contest.