NAPHL enters final day of Blaine II event
October 22, 2018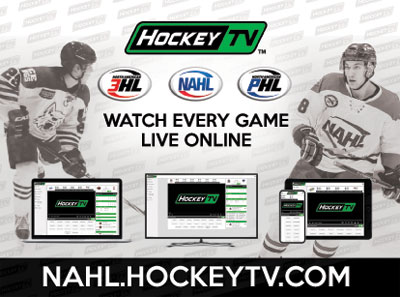 The 10th anniversary season of NAPHL hockey continues this weekend with the second event of the 2018-19 season at the Super Rink in Blaine, Minnesota.
The event continues on Monday, October 22nd in the final day of action as the High Performance and Elite Divisions, along with some guest teams, play in their final games of the event. Over 40 scouts have checked into the event, which includes scouts from the NCAA Division I and III levels in addition to NAHL and USHL scouts and coaches.
All games will be broadcast live through
HockeyTV
, the official broadcast provider of the NAPHL.
To check NAPHL scores from your mobile device, download the
NAHL App
(
iOS
-
Google Play
)
Helpful Showcase Links:
NORTHSTAR, LAKE TAHOE ONCE AGAIN COME OUT ON TOP IN 18U PREP PLAY
The Prep division capped off its weekend with a quartet of morning games on Sunday. The division made its debut at the NAPHL's October event with eight teams to lay the groundwork for future expansion.
Northstar Academy and Lake Tahoe Academy showed their talent throughout the event, going a combined 8-0 through four outings apiece. Northstar rounded out its weekend campaign with a 6-0 win over Valor HS on Sunday, featuring another pair of goals by Jens Richards, while Lake Tahoe dropped Prairie Academy 5-3 on the back of a Brett MacNicoll double and 20 saves by Anthony LoRe.
Pilot Mound and Fountain Valley also faced off, with the Buffaloes taking the win thanks to a third-period winner by Samson Leifer. Finally, the St. Rita Mustangs and St. Mary's capped off the weekend's prep action in a 3-2 decision for the Mustangs, as Andrew Capuano's game-winner denied St. Mary's its first win of the weekend.
Jaedon Little and Noah Wills of Prairie Academy led all Prep skaters with nine points apiece, followed closely by Northstar's Jens Richards, Connor Kemp and Joey Dosan who each found the scoresheet eight times. Collin Soderholm and Camdyn Barber each posted two wins between the pipes for Northstar, as did Cameron Dunnigan of Lake Tahoe to lead the divisional goaltenders.
HIGHLAND PARK, MN HP AND BLUE ARMY STAY PERFECT IN 18U SHOWCASE DIVISION
Sunday also saw the conclusion of 18U and 16U Showcase division play for the October event. Highland Park Falcons, MN HP and Blue Army were the only teams to post perfect 4-0 records on the weekend. On Sunday, the Falcons dropped the Anaheim Jr. Ducks 5-1, Blue Army rolled to a 7-0 shutout over the Chicago Bruins and MN HP snatched a thrilling 4-3 victory over the Naperville Sabres that required a seven-round shootout following a late tying effort from Minnesota.
Elsewhere, the Littleton Hawks picked up their second straight win after dropping their opening two contests of the event, the Green Giants hit their stride to extend their win streak to three games and the West Dundee Leafs notched their first victory of the weekend. Sixteen of the 18 total 18U Showcase teams notched at least one win in the tightly-contested division, as the Texas Tigers and McKinney North Stars were the only sides to fall just short of notching a win.
Lucas Wahlin and Quinn Rudrud of Blue Army concluded the weekend atop the scoring leaderboard, with 1g-10a-11pts and 7g-3a-10pts, respectively, just ahead of Geneva's Zach Pearce with 6g-3a-9pts and the Chicago Blues' Tyler Maggio with 7g-1a-8pts. Bennett Weestrand of Blue Army posted three wins in three starts at the event, including a .964% save percentage and a stunning .033 GAA.
LITTLETON NOTCHES FIRST WIN, THREE TEAMS UNBEATEN IN 16U SHOWCASE
Like its 18U counterpart, the 16U Showcase competition featured three undefeated teams at the conclusion of play on Sunday. Chicago Bruins, Blue Army and Minnesota Blizzard each stood at 4-0 when all was said and done — the Blizzard used a Cole Antcliff hat-trick to spring forth to a 10-3 win over the Peoria Jr. Rivermen, while Chicago and Blue Army boasted a 6-1 win over the Anaheim Jr. Ducks and a 4-1 decision over the Orland Park Vikings, respectively.
The Highland Park Falcons picked up their third straight win with an 8-2 victory over the Texas Tigers on Sunday after dropping their opening contest, while the Littleton Hawks nabbed their first victory in Showcase play — 1-0 over the Wenatchee Wolves, thanks to a late-game strike from Jacob Strawn.
Tommy Ramer of Chesterfield (6g-3a-9pts) and Vernon Hills' Brian Fiddes (5g-4a-9pts) paced the division's attackers on the weekend, with Blue Army's Tim Urlaub and Chesterfield's Gage Vierzba close behind with eight points apiece. Between the pipes, Naperville's Carter Windborne, Blue Army's Connor Nelsen, Highland Park's Detina Gabe, Minnesota Blizzard's Matt Syverson and Chicago Bruins' Matt Svoboda each recorded two wins in as many starts, and each finished off event play with a save percentage of .925% or higher.
HIGH PERFORMANCE, ELITE, GUEST DIVISIONS ROLL INTO DAY TWO
18U
Carshield and Meijer continue to run the High Performance division, with each notching its fifth-straight win on Sunday. Carshield took a close win over the Madison Capitols, thanks to a final-frame game-winner by Austin Cleveland, while Meijer featured five different scorers in a 5-1 win over the Minnesota Magicians.
Wenatchee picked up its fifth and sixth wins in a row to strengthen its hold atop the Elite division, knocking off both Shattuck St. Mary's and the Nashville Jr. Predators on Sunday. Riley Ott tallied a hat-trick in their win over Shattuck, and leads both divisions with 9g-2a-11pts in 7 outings.
Elsewhere, the Esmark Stars shut out Sioux Falls 3-0 to gain ground in the HP division, as forward Tyler Stewart recorded an assist to move into a tie for second in points among HP and Elite skaters with 4g-6a-10pts. Stewart boasts a goal and three assists in three outings during the NAPHL's October event.
16U
Teams continue to jockey for position in the dense 16U divisions. Each team has recorded multiple wins in the young campaign, with just eight and seven points separating first from last in the HP and Elite divisions, respectively. Alaska Oilers picked up two crucial wins atop the HP division, while Sioux Falls took a step back with a 3-1 loss at the hands of Meijer and a 3-2 SO loss to Esmark, who moved into a tie for second place with the Power after a pair of wins of their own on Sunday.
Thunder Bay lost for just the second time this season, as the Elite division leaders fell in a shootout to the Carolina Jr. Hurricanes, who have begun NAPHL play in the Guest division with three consecutive wins at the October event. The Colorado Springs Tigers won 3-0 over the Minnesota Magicians on Sunday, marking their second in a row and bringing them to 10 points on the season.
Nashville's Kolton Watts scored twice on Sunday to lift his event total to four goals, three assists, and take over the 16U lead with 17 points in seven games alongside Pursuit of Excellence's Yusako Ando, who boasts 9g-8a-17pts in the same span. Together, the duo leapfrogged the Alaska Oilers' quartet of Bret Link, Nikita Asylaev, Cameron Morris and Aiden Westin who, despite falling off of their torrid pace set at September's event, still rank in the top six in 16U scoring in the young NAPHL season.
15U
Sioux Falls' third and fourth straight wins (5-0 over Colorado Springs and 3-2 over the Arizona Bobcats in a shootout) skyrocketed the Power to the top of the HP 15U division as Meijer stumbled with a pair of losses on Sunday. In the Elite division, Florida Alliance notched a pair of wins Sunday to widen the gap to five points between themselves at the top and second-place Colorado Springs, who sit tied with Arizona in the division after dropping their sixth consecutive game.
Gentry Academy tallied its eighth straight win to keep its nose ahead of the Valley Forge Minutemen — who have won seven in a row to kick off the season — in the Guest division. Chaz Lucius recorded seven goals and four assists in Gentry's two wins on Sunday, and leads all 15U skaters with a stunning 24g-15a-39pts mark in just eight games. Between the pipes, Valley Forge's tandem of Jake Stern and Luca Scaglione has starred with a combined seven out of seven wins and just eight goals allowed on 135 shots.