NAPHL event in Blaine enters Day 3
October 21, 2018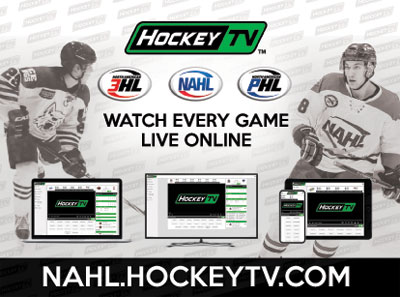 The 10th anniversary season of NAPHL hockey continues this weekend with the second event of the 2018-19 season at the Super Rink in Blaine, Minnesota.
The event continues on Sunday, October 21st as all NAPHL members will be in action. Over 30 scouts have checked into the event, which includes scouts from the NCAA Division I and III levels in addition to NAHL and USHL scouts and coaches.
All games will be broadcast live through
HockeyTV
, the official broadcast provider of the NAPHL.
To check NAPHL scores from your mobile device, download the
NAHL App
(
iOS
-
Google Play
)
Helpful Showcase Links:
LAKE TAHOE, NORTHSTAR ACADEMIES STAY PERFECT IN PREP WITH DAY 2 WINS
The 18U Prep division teams continued to showcase their talents on day two of the October NAPHL event, playing just once apiece ahead of a final contest for each team on Sunday.
Lake Tahoe Academy maintained its 3-0 record on the weekend with a tense OT victory over Fountain Valley, marking the second win in extra time for Lake Tahoe after dropping Valor HS in four periods on Friday. Brett MacNicoll played hero on Saturday after Kaden Krueger's heroics the night prior. Northstar Academy also remained perfect with another dominant win, this time by a 5-0 margin over the St. Rita Mustangs. Ben Strinden lit the lamp twice and Collin Soderholm turned aside eight out of eight shots between the pipes to earn the shutout win. Northstar has now outscored its opponents this weekend 18-2 across three outings.
Prairie Academy and the Pilot Mound Buffaloes also showed up in the "W" column on Saturday, with each notching its second win at the event. Prairie rode a pair of strikes by Jaedon Little to erase a 2-1 deficit and ultimately win 4-2 over St. Mary's. Meanwhile, Pilot Mound featured three different scorers in a 3-1 win over Valor HS, as Carson McGinnis, Ayden Manningway and Colby Bear found twine and the Buffaloes held off a late comeback attempt by Valor to notch another victory.
?Prairie's Noah Wells surpassed teammate Little atop the Prep division scoring leaderboard Saturday, notching 2g-7a-9pts and 3g-5a-8pts, respectively. Jens Richards and Connor Kemp of Northstar follow close behind with 3g-2a-5pts apiece through three outings.
Keep an eye on NAPHL.com and @NAPHL on Twitter for scores, highlights and more as the Prep division rounds out its event competition on Sunday.
18U SHOWCASE ACTION ROLLS ON
With each team now boasting three games under its belt, a few teams have begun to separate themselves in the 18U Showcase division. Highland Park Falcons, Naperville Sabres, MN HP and Blue Army carry the only 3-0 records in the competition after Saturday wins.
The Littleton Hawks notched their first win of the weekend, 6-0 over the Texas Tigers, while the Chicago Bruins and Chicago Blues were dealt their first losses of the event. Blue Army joined Littleton with a shutout on Saturday as well, skating past the West Dundee Leafs 3-0 to stay perfect.
Lucas Wahlin and Quinn Rudrud of Blue Army continue to lead the way on the scoresheet with 1g-8a-9pts and 5g-2a-7pts, respectively, followed closely by Zach Pearce of Geneva with four goals and three helpers across three outings.
The 18U Showcase action continues on day three in Blaine, be sure to check NAPHL.com and @NAPHL on Twitter for updates.
16U SHOWCASE TEAMS CONTINUE TO JOCKEY FOR POSITION ON DAY TWO
After a high number of close contests on day one, the new 16U Showcase division featured new matchups, new storylines and plenty of split records. Each of the 20 teams have now seen the ice at least twice at the NAPHL's October event, and only the Chicago Bruins (3-0), Peoria Jr. Rivermen (2-0), Blue Army (3-0) and MN Blizzard (3-0) boast perfect records through two days of play.
Saturday featured a few more of the close contests seen on Friday — including a 4-3 OT win for the Ventura Mariners over the Geneva Cyclones, a 4-3 win in a shootout for the Vernon Hills Icedogs as they dropped the Anaheim Jr. Ducks and another 4-3 OT victory for the Minnesota Magicians Elite over the Alaska Oilers — but also saw its fair share of dominant showings, as the Blue Army (6-0 over the Chicago Hawks), Chicago Bruins (4-0 over the Texas Tigers) and Highland Park Falcons (7-0 over the Wenatchee Wilderness) each notched massive shutout victories on day two.
Ethan Smiley of the Chicago Bruins (3g-5a-8pts) and Tommy Ramer of the Chesterfield Falcons (6g-1a-7pts) continue to set the scoring pace for the division, while Matt Syverson (MN Blizzard), Michael Svoboda (Chicago Bruins), Carsten Lardy (Blue Army) and Joey Urbanczyk (Vernon Hills) have each logged two wins in as many starts between the pipes.
Stay tuned to NAPHL.com and @NAPHL on Twitter for live updates throughout the 16U Showcase division action on Sunday.
NAPHL HIGH PERFORMANCE AND ELITE DIVISIONS KICK OFF OCTOBER PLAY
October competition kicked off for the High Performance and Elite divisions of the NAPHL on Saturday, as the two sections participated in their second event of the season.
18U
Carshield, Madison Capitols, Meijer AAA and Sioux Falls all kept their strong starts rolling in the High Performance division, each notching their fourth consecutive win on Saturday except for Madison, who earned their fifth in a row. In the Elite division, the Wenatchee Wolves continue to pick up steam with their fourth straight victory to move into a tie with the Thunder Bay Kings, who also won on Saturday, atop the group.
Tyler Stewart of Esmark boasts 4g-5a-9pts through six contests this season, including a tally and two helpers on Saturday. Wenatchee's Riley Ott scored once on Saturday, and has found the scoresheet in each of his five outings to bring his season total to 6g-2a-8pts.
16U
The top two teams in their respective divisions came out firing at the NAPHL's October event, as Sioux Falls (High Performance) notched its fifth consecutive win with a 7-1 decision over Everett and the Thunder Bay Kings (elite) defeated their two opponents by a combined 10-3 on Saturday. A third consecutive win for the Minnesota Magicians Elite — 4-3 in overtime over the Alaska Oilers — and a pair of 4-1 Carolina Jr. Hurricanes victories highlighted the Guest team action.
Despite their defeat, the Alaska Oilers still boast a quartet of strong individual performers, as Bret Link (6g-9a-15pts), Nikita Asylaev (8g-6a-14pts), Cameron Morris (1g-12a-13pts) and Aiden Westin (5g-7a-12pts) rank in the top six point producers at the 16U level through six skates apiece.
15U
Meijer AAA strengthened its hold atop the High Performance division with a fourth straight victory, this time dropping the Arizona Bobcats 5-1 on Saturday. In the Guest division, Gentry Academy's hot start continued with an 8-0 decision over the Esmark Stars to make it six wins in a row and bring Gentry's goal differential to a whopping +53 in just six outings, while Valley Forge picked up its fifth straight win to keep pace with high-flying Gentry.
Gentry boasts the top six scorers at the 15U level as Chaz and Cruz Lucius continue their rampage with 17g-11a-28pts and 2g-18a-20pts, respectively, and Bennett Schimek (10g-9a-19pts), Jack Harvey (8g-8a-16pts), Connor Kurth (7g-4a-11pts) and Nick Sajevic (4g-7a-11pts) play a strong supporting role. Valley Forge's Dylan DeAngelo remains close behind with 7g-2a-9pts of his own, and Meijer's Sutter Muzzatti has posted 6g-4a-10pts in the young campaign.