NAPHL Showcase, Prep Divisions thrill on Day 1 in Blaine
October 20, 2018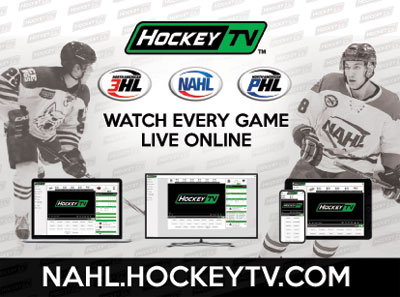 The 10th anniversary season of NAPHL hockey continues this weekend with the second event of the 2018-19 season at the Super Rink in Blaine, Minnesota.
The event continues on Saturday, October 20th as all NAPHL members will be in action, including the start of the High Performance and Elite Divisions.
All games will be broadcast live through
HockeyTV
, the official broadcast provider of the NAPHL.
To check NAPHL scores from your mobile device, download the
NAHL App
(
iOS
-
Google Play
)
Helpful Showcase Links:
OFFENSE ON DISPLAY AS PREP DIVISION KICKS OFF
The NAPHL October Showcase got underway at the Schwan Super Rink in Blaine, MN on Friday with the introduction of the 18U Prep division. Eight high-flying teams faced off on the opening day of action, lighting the lamp a combined 30 times across the four games.
Northstar Academy blitzed Fountain Valley 7-1 as Jens Richards netted the game-winning tally and the Northstar defense limited their opponent to just seven shots. Noah Schindel played the hero for Prairie Academy, notching the overtime winner to help his team to a 6-5 win over the Pilot Mound Buffaloes. Lake Tahoe Academy flew out of the gates with a 6-0 shutout win over the St. Rita Mustangs, thanks to a pair of goals by Leon Biller and 10 saves by Cameron Dunnigan. Valor HS earned its first win of the weekend as well, as Colby Browne tallied two markers and an assist and Trey Herschfield stopped 12 of 14 pucks to lead their team to a 5-2 win over St. Mary's.
In the second set of Prep games, Northstar kept its momentum rolling strong, knocking off Prairie Academy 6-1 on the back of another two goals and an assist by Richards. Pilot Mound and St. Rita faced off in a tense affair that saw the Buffaloes take a 2-1 shootout win over the Mustangs, with Matty Harold, Brett Tataryn and Colby Bear netting in the breakaway battle. Lake Tahoe took down Valor HS 5-4 in overtime, after Kaden Krueger's game-winner and a pair of markers from Jonah Fleisher and Tyler McNeil. Finally, Fountain Valley rounded out the first day of Prep action with an 8-1 romp past St. Mary's.
Stay tuned to NAPHL.com and @NAPHL on Twitter for continued updates throughout the weekend.
*****
16U SHOWCASE DIVISION MARKED BY CLOSE CONTESTS
With the introduction of the 18U Prep division came another new addition: the 18U and 16U levels now feature a Showcase division, both of which kicked off on day one as well.
The standout feature of the 16U Showcase division was a number of tight affairs. Of Friday's 20 total matchups, 14 were decided by two or fewer goals, including one-goal victories for the Geneva Cyclones, Peoria Jr. Rivermen (twice), Ventura Mariners, Chesterfield Falcons, McKinney North Stars and Minnesota Blizzard.
Five teams also notched shutout wins, as the Chicago Hawks, Blue Army, Chesterfield Falcons, Naperville Sabres and Highland Park Falcons each shut the door on their opponents.
Ethan Smily of the Chicago Bruins paces all 16U Showcase skaters with 2g-4a-6pts through a pair of games, followed by Tommy Ramer of Chesterfield (4g-1a-5pts), Brett Quinn of the Chicago Blues (3g-2a-5pts) and Hunter Jones from Blue Army (1g-4a-5pts). Mac Beatrice of Chesterfield, Carter Windborne of Naperville, Detina Gabe of Highland Park, Conner Nelson of Blue Army and Turhan Ramsey of the Chicago Hawks posted shutouts for their respective sides on Friday.
Stay tuned to NAPHL.com and @NAPHL on Twitter for continued updates throughout the weekend.
18U SHOWCASE GOES DOWN TO THE WIRE
Offensive firepower was on full display Friday night as the new 18U Showcase division got underway. Eighteen teams took the ice twice for 18 total games on opening day, with winners of 14 out of those 18 games tallying at least four goals in their victory.
Six of the 18 teams also managed wins in each of their two appearances on Friday. The Chicago Bruins, Highland Park Falcons, Blue Army, Naperville Sabres, Chicago Blues and MN HP kicked things off in perfect fashion, while the Bruins and Blue Army will face off against one another on Saturday afternoon.
Blue Army's Lucas Wahlin and Quinn Rudrud stole the show individually on day one, notching 1g-7a-8pts and 5g-2a-7pts through two games, respectively. Netminder Bennett Weestrand joined the Chicago Bruins' Andrew Meyer as the only Showcase goaltenders to log two wins in two games thus far. The Anaheim Jr. Ducks saved the best for last as they scored with just :13 remaining in regulation to tie their game against Affton, and then win it in overtime just :14 seconds in during the final game of Day 1.
Stay tuned to NAPHL.com and @NAPHL on Twitter for continued updates throughout the weekend.