Topeka forward Tulik makes NCAA DI commitment
October 12, 2018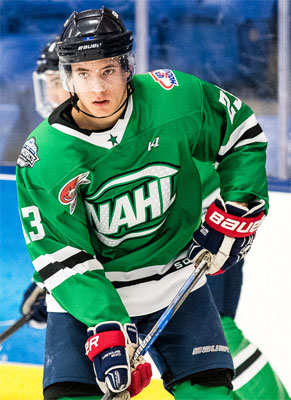 Eleven games into the 2018-2019 season, the Topeka Pilots of the North American Hockey League (NAHL) are proud to announce their first college commitment.
Forward and Assistant Captain Dallas Tulik, a native of Kalamazoo, Michigan, has committed to play NCAA Division I hockey for Ferris State University. The Bulldogs are members of the Western Collegiate Hockey Association (WCHA) and play their home matches in Big Rapids, MI which is just 100 miles from Tulik's home.
"I've always wanted to play NCAA Division I college hockey and after visiting their campus and meeting with the coaches it seemed like a good fit for me. I liked everything about the school and hockey program and I've heard nothing but good things from friends and former teammates that go there," Tulik said.
Tulik, 20, has started the 2018-19 season strong for the Pilots, leading the team with 12 points and is tied for the NAHL lead in goals with seven.
"This is an exciting event for Dallas and his family, with all of the hard work and effort he's put in so far," Pilots head coach Simon Watson said. "This is a testament to his work ethic and his character."
This is Tulik's (5'10/185) second year in Topeka, playing last season with the RoadRunners. Tulik amassed 13 goals and 12 assists in 44 games and is on pace to surpass that this season.
He also was selected to and played in the 2018 NAHL Top Prospects Tournament, Tulik tallied a goal and an assist in two games for the South Division team.
"He's been turning a lot of heads with his play at last season's Top Prospects Tournament and with the start of this season," Watson said. "Not only is his offense improving, but he's showing what he can do with his defense and his attention to detail in his game."
Prior to playing in the NAHL, Tulik spent two seasons developing in the NAPHL for the Meijer AAA program from 2013-15.
Several Topeka hockey alumni currently play for Ferris State University, including defenseman Justin Smith and forward Dominic Lutz. Pilots assistant coach Justin DeMartino also played collegiate hockey with the Bulldogs.
"Justin has been a huge advocate of Dallas, having coached him the last two seasons, and I know he's excited this has come together this way," Watson said.
With much of the NAHL season still to play, Watson has big hopes for Tulik to continue to grow and raise his game before next season. "We're hoping he can continue to elevate his game through the rest of the season," Watson said. "We know he's prepared and will be ready for the challenge."
Tulik also has high hopes for the rest of this season to prepare him for next. "My goals for the rest of the season are to finish as the top team in the south division and win the Robertson cup and continue to work on small areas of my game that I need to improve on," Tulik said. "I'm very excited to get the chance to play college hockey in my home state and to be able to play hockey for 4 more years."