NAPHL Rewind, Day 4 in Blaine
September 24, 2018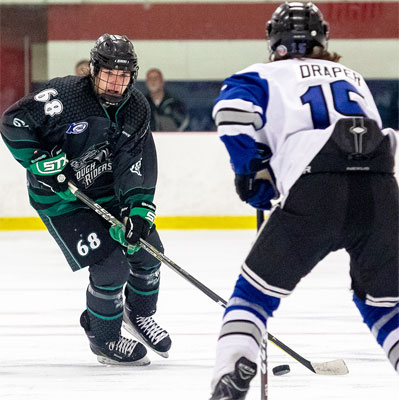 The first event of the 2018-19 NAPHL season wrapped up on Sunday, September 23rd in Blaine, Minnesota. A total of over 370+ scouts, including all 24 NAHL teams were on hand for the event to watch the next potential crop of players do their thing.
18U
GOING OUT IN STYLE: Six of Sunday's nine winning teams won by three or more goals on the final day of NAHL Showcase action. TPH Thunder, Lake Forest Academy, MHA Michigan, Iowa Wild, Janesville Jets and Pilot Mound Buffaloes won big, with TPH, MHA Michigan and Iowa Wild making up three of the five teams to finish the week with a perfect, undefeated record.
LATE BREAKTHROUGHS: After being frustrated through the opening three days of competition, the Nashville Jr. Predators, Janesville Jets and Metro SW Lakers each notched their first win with victories on Sunday. Nashville dropped the Metro NW Green Giants 2-1 thanks to a third-period goal from Michael Schroeder, Janesville bested the Northwest Blue Ox 11-1 featuring eight different scorers and the Metro SW Lakers rode a 33-save performance from netminder Sam Shopbell to a 3-2 victory over Metro SE Moose.
16U
CLASH OF THE TITANS?: In Sunday's final contest, the undefeated Alaska Oilers and Sioux Falls Power faced off in a game of Goliaths. The Oilers had utterly dominated opponents to that point, putting up a +32 goal differential in just four outings and earning a 10-0 win over the Iowa Wild earlier that day, while the Power had to grind out a couple of high-scoring close wins earlier in the week but still found ways to win and stay perfect. Sioux Falls' defensive prowess shone through against the high-flying Oilers, particularly between the pipes as Christopher Jackson backstopped his team with a 29-save shutout showing to allow Blake Arneson's second-period strike to serve as the 1-0 game-winner. Alaska even had two power-play opportunities in the third period, but Jackson and the Power shut the door and remained steady atop the NAPHL's High Performance 16U division.
FOUR FIVE-STAR PERFORMANCES: ?Despite the loss, Alaska's rampage through the start of the 2018-19 NAPHL season is highly notable. The Oilers and Power will undoubtedly battle for the division lead throughout the season, but boasting four of the top-five highest scorers thus far is a fine start for the Oilers. Bret Link (6g-8a-14pts), Nikita Asylaev (7g-5a-12pts), Cameron Morris (1g-11a-12pts) and Aiden Westin (4g-7a-11pts) pace the high-octane Oilers — and the rest of the league.
15U
THREE'S COMPANY: A trio of young stars stood out on Sunday, netting hat-tricks for their respective teams. Sean Karaman notched each of the Minnesota Blizzard's three tallies in a 6-3 loss to TPH Thunder, while Marcus Miller nabbed three for Sioux Falls in its 9-1 win over Nashville. Chaz Lucius once again blew away the competition, though, with back-to-back hat tricks in Gentry Academy's two outings Sunday afternoon, helping his team 12-1 and 9-2 wins over Carshield AAA and the Minnesota Blizzard. Lucius now boasts an astounding 17g-9a-26pts through the first five games of the campaign.
OPEN DOOR POLICY: After three consecutive days of competition with at least one shutout, Sunday saw each team with a game notch at least one goal. Nashville boasted a single goal in its first three games, but got on the board on Sunday as well to continue building momentum. Meanwhile, TPH Thunder, who had managed just four goals through the first three days, nearly doubled their total thanks to the aforementioned Karaman hat-trick.