Sioux Falls rebranded and renamed the Power
July 19, 2018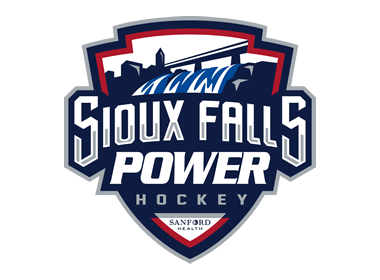 The Sioux Falls Junior Stampede of the North American Prospects Hockey League (NAPHL) has joined the Sanford POWER team and has changed its name to Sioux Falls Power Hockey.
The hockey program started in 2014 and is entering its fifth season. The program consists of teams at the U14, U15, U16 and U18 levels. The teams compete under USA Hockey's Tier 1 designation – the highest level of amateur competition in the United States. The teams play more than 60 games per season against opponents from the east coast, Detroit, Chicago, Minnesota, and Colorado.
"We are very excited to partner with Sanford Health and the Sanford POWER program. This sponsorship reflects the close working relationship we have had with Sanford POWER since the beginning," said Matt Tobin, director of Sioux Falls POWER Hockey. "Our players become better athletes because of POWER - no question about it. We are truly grateful for this relationship, and for what it means to our players and our program."
The teams have been doing extensive training with Sanford POWER strength and conditioning coaches and the Sanford Sports Science Institute at the Sanford Fieldhouse since the inception of the program in 2014.
"We are proud to have the Sioux Falls POWER Hockey teams represent Sanford Health as they travel across the country," said Nate Blessen, senior executive director of orthopedics and sports medicine at Sanford Health. "The program is a model of how we see our integrated approach to sports performance and health working together."
The goal of the Sioux Falls POWER Hockey program is to prepare players both on and off the ice to play junior, college and even professional hockey.