Exclusive: Opportunity for Commitment
June 11, 2018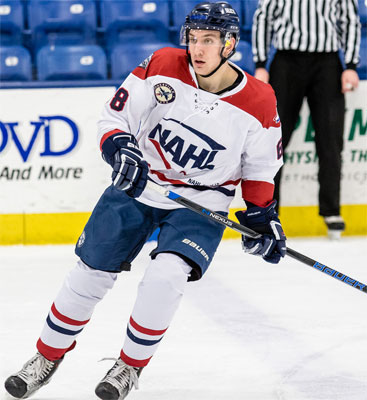 By Joshua Boyd, USA Junior Hockey Magazine
Don't be surprised if you wander into the North American Hockey League (NAHL) and hear The Beatles' "Getting Better" on a loop.
After all, every day, there seems to be a new NCAA commitment – or more than one – being announced from across the 24-team NAHL, the only USA Hockey-sanctioned Tier-2 junior hockey league.
"It's Getting Better all the time."
For example, from May 21-31, which was following the NAHL's Robertson Cup Championship, the NAHL announced 14 NCAA commitments – and this stretch included a major holiday, Memorial Day. Those 14 commitments included three to NCAA Division 1 schools, and brought the league's total NCAA commitments for players competing in the 2017-18 season to 276, with 213 of those being to NCAA Division 1 institutions.
"I think the NAHL is one of the top junior leagues in all of North America. Just take a look at the impact its players have made in NCAA hockey, and that tells you how good the league is," said Bemidji State (WCHA) head coach Tom Serratore. "We all want skill, we all want kids who can skate, we all want kids who can think the game," added Serratore. "The NAHL has great players in that league. You can find any kind of player."
The NAHL is close to breaking its 2016-17 record of 306 commitments, and that could potentially happen in June, or possibly as late as July.
"We are on a pace to beat our commitments from last year. Out of our first 276 commitments, close to 80 percent of those were to Division 1, and that is a record," said NAHL Commissioner and President Mark Frankenfeld.
The NAHL, he added, prides itself on its close and constructive relationships with NCAA hockey coaches across the country. Another great example was when Brett Larson, the new head coach of St. Cloud State University in the NCHC, came to the Robertson Cup tournament in Blaine, Minn., and spoke at the Dinner of Champions. Larson was previously on the coaching staff of the University of Minnesota-Duluth and helped the Bulldogs to two NCAA championships.
"I remember some of the most impactful players on each of those NCAA Championship teams came from the North American Hockey League," said Larson. "I remember they each had a spirit of never giving up in their time leading up to becoming an NCAA Division I hockey player and helping us to win a National Championship. The NAHL is a league full of those players who have that little something extra that we coaches are looking for. I have a great deal of respect for everything the NAHL stands for. Players are well coached and the competion is at a very high level. Some of the best players I've ever been able to recruit have come out of the NAHL."
"St. Cloud State and Minnesota-Duluth are two great examples of the dozens of NCAA Division I programs that have done really well with NAHL payers," said Frankenfeld. "College coaches know they can find good players here, and they're taking more players for their programs now."
St. Cloud State had three commitments and Bemidji State had four commitments in 2017-18 from NAHL players, for example.
"The level of play is great. I have been recruiting in the NAHL for almost 20 years, and it has always produced players," added Serratore. "We have been able to get players from the NAHL that have played many roles for us. Traditionally, we get older kids out of the NAHL, usually 19-or 20-year-olds. The players we have gotten from the NAHL are hungry and excited to play Division 1 college hockey."
Dominick Procopio got the best of both worlds this year – a NAHL Robertson Cup championship and an NCAA Division 1 commitment. The Shreveport Mudbugs' captain is moving on to the University of Massachusetts at Lowell.
"The NAHL does a great job of promoting the players, whether they're going to play NCAA DI or DIII hockey," Procopio said. "I really do believe it is the 'League of Opportunity.'"
Procopio was very nearly headed for the NAHL Top Prospects Tournament, which annually showcases the league's best uncommitted players, but the River Hawks swooped in and got his commitment just before that February showcase.
"In mid-February, I got a call from their assistant coach Andy Jones, just kind of a feeling-out process. He called me again and we talked longer, about hockey but also about life away from the rink," Procopio said. "They told me they were interested and for me to keep playing my game. Everything unfolded in a good way for me. UMass-Lowell had taken my first-year Mudbugs teammate Croix Evingson, and he had nothing but good things to say about the program."
"Between the regular season games, the NAHL league-wide events and showcases, and the Robertson Cup – any given night you could have a big name school in your building."
NHL Draft down the road
NCAA commitments are the measuring stick for NAHL success, certainly, but college coaches aren't the only hockey operations folks interested in players from the league.
There are 12 players with NAHL ties who are listed among the Final Rankings for the 2018 National Hockey League Entry Draft. The Draft this year will happen not far from the NAHL's headquarters in Frisco, Texas – the Dallas Stars are the 2018 hosts.
Among these rankings is the 16th-ranked North American Goaltender, Mitchell Gibson, of the Lone Star Brahmas. The Brahmas are also located close to Dallas, in North Richland Hills. Gibson saw his stock rise during the season, especially during the second half of the year with a couple of great games at the 2018 NAHL Top Prospects Tournaments and the 2018 NAHL Robertson Cup Playoffs.
"I was happy with it," said Gibson, a Harvard recruit for 2019, about the ranking. "It's a little bit of a testament to what I've been doing the second half of the year. I moved up a little [from 18th in the Mid-Term Rankings], so I'm proud of that."
Three of the four ranked players who skated in the NAHL in 2017-18 are goaltenders, which is no surprise for a league with alumni such as Ben Bishop, Ryan Miller, Craig Anderson, Keith Kinkaid and Connor Hellebuyck.
"We've always had a great representation in goaltenders for a number of reasons. Our skater numbers are not as high as other leagues, but a lot of that has to do with the older age of our league," Frankenfeld said.
Five of the eight alumni who were in the Final Rankings are skaters, and six of the eight alumni played in the USHL this past season, following USA Hockey's Ladder of Development from Tier-2 to Tier-1.
Growth with a Vision
The NAHL is happy to bring its product to college and pro coaches, as well as dedicated fan bases, to locations as far flung as Alaska, Louisiana, Michigan and – most recently – Maryland.
The Maryland Black Bears will be the NAHL's 24th team, returning to that number after being a 23-team league in 2017-18. Since 2014, the league membership has vacillated between 22 and 24 – the NAHL never being interested in expansion for expansion's sake.
"Adding the Black Bears will even up our alignment with six teams in each of the four divisions. They have an ownership group that is very experienced in hockey, and are very intelligent businessmen," Frankenfeld said. "They will play out of the Washington Capitals' former training facility, and they have a history of operating other successful hockey teams. They are good partners and share our mission of what we're trying to accomplish in terms of player development under the USA Hockey banner."
"Maryland happened really fast and unexpectedly. The NAHL wanted a sixth team in the East and then accelerated the process when they found out we were interested," said Mike Weiss, President of the Black Bears. "The NAHL is one of the best junior hockey leagues in the world. The quality of play has increased and there's more interest than ever from Canadian and international players who want to go to U.S. colleges. It's a new level for us, and there hasn't been this level of junior hockey in our area, ever."
The response in Maryland has already been strong – the Black Bears held a camp in New Jersey and got almost 90 participants out on the ice. They said their camp over the first weekend of June in the Chicago area was also loaded with talent.
"We are the only NAHL team with 30 open spaces on our protected list," Weiss added.
Second-year success
"When I walked into the Hirsch Coliseum, with training camp two days away, they were still putting the rink up," said Procopio, remembering the start of his life as a Shreveport Mudbug in 2016. "At first, I was thinking 'what am I getting myself into?' Then I saw Tommy Scott, the owner, in cargo shorts and a T-shirt, sawing a 2x4. I thought 'Wow, this is what it's all about – everyone is all in,'" said Procopio. "The first few meetings weren't about X's and O's. They were about the tradition in Shreveport with the Mudbugs, and how hockey means a lot to the people there. Since we weren't pro, people still had some questions, but we could play and the fans fell in love with the Mudbugs all over again."
Procopio and his teammates finished second in the South Division in their first year, prior to winning the South, finishing second overall in the NAHL and capturing the first Robertson Cup in their two-year history.
They became the fourth second-year NAHL team to win the Robertson Cup. Chuck Robertson's own team was the first, when his Paddock Pools Saints won it all in 1976, their first of seven straight.
Obviously, recent expansion has worked out very well for the NAHL. Aside of the Mudbugs' success, the Philadelphia Rebels made the Robertson Cup finals in 2016, defeating the established Johnston Tomahawks to get there.
"Just in general this year, we had three teams out of the four at the Robertson Cup that were first time teams there, and two first-time teams in the final, as well," Frankenfeld said. "Shreveport does a wonderful job with the players and their development, which resulted in winning the championship. But it's everything else off the ice that makes them special, too, with what they do in the community, and how they take care of the players."
Procopio will never forget his time in Shreveport, and that's not just because of the Robertson Cup. "It's unbelievable – the whole South Division is a special thing, and unique in junior hockey," he said. "A lot of the guys are from up north or east, and thinking 'No way! I'm in flip-flops outside and it's January.'"
The mission reaches 44 years
When the puck drops on the first 2018-19 season games, the North American Hockey League will be in its 44th year, making the NAHL the oldest continuously operating junior hockey league in the United States.
"It's crazy that it's been that long – I remember the 25th season logo, the 30th," said Frankenfeld. "What I'm most excited about in this 44th season is that all of our ownership groups across the league are really in sync, and really focused on making the league better. More teams than less have now been around eight or 10 years. They're excited about hitting 306 commitments last year and closing in on that this year, and that makes me excited about the role I'm in. That helps make the wheels on the bus go round and round."
While every season certainly seems cyclical, the league still likes to think vertically – especially with the family of leagues including the midget North American Prospects Hockey League (NAPHL and the Tier-3 NA3HL.
"The three-league model is really fantastic. We've seen a lot of success from the NAPHL as a Tier-1 15U, 16U and 18U league," Frankenfeld added. "We had a lot more teams this year than in the past reach USA Hockey Nationals, which tells us they are among the best in the United States."
"In regards to the NA3HL, we are providing more and more opportunities for development and exposure for the players, making it an enviroment where in just eight short years, we have a quantifiable and proven pathway of advancement," Frankenfeld said. "We are focused on player first in both the NAPHL and NA3HL, and we believe they are as competitive as ever and both reflect a great avenue for development of future NAHL players."
In closing, he adds that as well as everything is working, the NAHL has to walk a fine line with putting forth a first-class product and not tinkering with it too much.
"You have to be careful with 'if in ain't broken, don't fix it.' We believe in our core principles and we believe in making those stronger. We'll continue to put together some of the best events, like the NAHL Showcase in Blaine, Top Prospects and the Robertson Cup," Frankenfeld added.
"With our NCAA commitment success and NHL draft prospects, there is more and more interest in our league than ever before."