2018 NAHL Draft takes place on Tuesday
June 5, 2018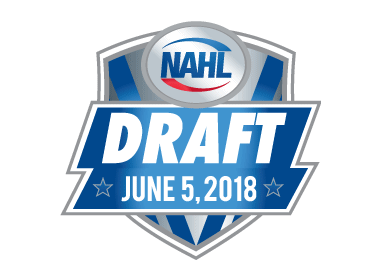 The 2018 NAHL Draft is set to go and will take place on Tuesday, June 5th at 1pm (central) and will be conducted online at nahl.com
Fans and players will be able to follow the draft one of three ways:
3)
Listen to a free live broadcast of the draft on
HockeyTV
Here are some important reminders and informational bits about the draft as it approaches:
-Eligible NAHL Clubs shall make selections in each round in reverse order of their finish in the 2017-18 regular season standings. New Clubs shall have their order of selection determined by coin flip or lottery as the circumstances dictate. If there is only one new member Club, it shall have the first selection in each round.
-The NAHL Entry Draft shall consist of the number of rounds necessary for each Club's protected list to reach 30 total players. The 30 players shall be made up of veteran players, tendered players and drafted players. Each eligible NAHL Club shall be entitled to one selection per round unless it has acquired or lost selections due to approved trades with other NAHL Clubs.
2018 NAHL Entry Draft Order (minus any traded picks):
1. Maryland Black Bears
2. Topeka RoadRunners
3. Kenai River Brown Bears
4. Chippewa Steel (formerly the Coulee Region Chill)
5. Johnstown Tomahawks
6. Brookings Blizzard
7. Bismarck Bobcats
8. Amarillo Bulls
9. Minot Minotauros
10. Northeast Generals
11. Corpus Christi IceRays
12. Minnesota Magicians
13. Wilkes-Barre/Scranton Knights
14. New Jersey Titans
15. Odessa Jacklapes
16. Minnesota Wilderness
17. Springfield Jr. Blues
18. Austin Bruins
19. Aberdeen Wings
20. Janesville Jets
21. Lone Star Brahmas
22. Philadelphia Rebels
23. Shreveport Mudbugs
24. Fairbanks Ice Dogs
Who is eligible for the NAHL Entry Draft?
Amateur players less than 21 years of age on December 31, 2018 who are not listed on an NAHL team roster or are listed on an NAHL team roster but played less than (10) NAHL regular season and/or playoff games during the 2017-18 season and did not accept a tender from an NAHL team prior to the 2018 NAHL Entry Draft are eligible for selection in the draft.
Does a player have to register for the draft?
No. If you are eligible for the draft, each team will draft individual players largely based upon scouting throughout the season and in pre-draft tryout camps based upon a team's needs.
How many players can each team select in the NAHL Entry Draft?
The number of players each team is able to draft varies on that team's current roster (protected list) minus the number 30. Each team's roster is comprised of veteran players and signed tenders only. For example, if a team has 15 veterans rostered and 8 tenders (23 total), that team is allowed seven (7) draft picks.
Do prospective NAHL players have to register for the NAHL Entry Draft?
No, there is no registration process to be eligible for the NAHL Entry Draft.
Are drafted players eligible to try out for other NAHL teams?
Unless agreed upon in writing by the two NAHL teams, tendered or drafted players are not eligible to try out for other NAHL teams.
Are drafted players eligible to try out for teams in other junior leagues?
Yes, all tendered and drafted players are eligible to try out for any team in any league other than the NAHL in the U.S. and Canada.
Will the results of the NAHL Entry Draft be posted on NAHL.com?
Yes, the results of the NAHL Entry Draft will be posted on NAHLDraft.com in alphabetical order in its entirety upon completion.
Will the NAHL Entry Draft be broadcast?
Yes, the NAHL Entry Draft is scheduled to be broadcast with FREE live round-by-round coverage on HockeyTV, official broadcast partner of the NAHL.
Will all NAHL tenders signings be posted on NAHL.com?
No, all tender signings will not be posted on NAHL.com. NAHL teams may make their tender signings public, but are not required to do so.
What if a prospective player is not drafted, but is still interested in playing the NAHL?
Players not drafted but who still want to play in the NAHL are encouraged to attend individual team's open tryout camps. NAHL tryout camp information
Additional Notes:
All NAHL rosters must be reduced to 25 players by September 1.