Fairbanks defenseman Wilson makes NCAA DI commitment
May 22, 2018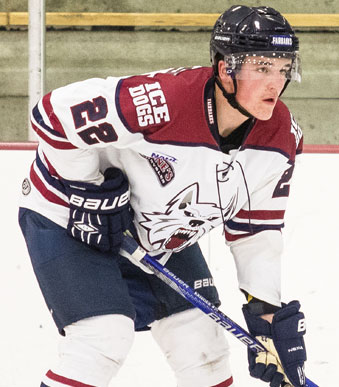 By Brad Joyal, News-Miner
Fairbanks Ice Dogs and North American Hockey League (NAHL) defenseman Noah Wilson figured the opportunity to play hockey at Army West Point might come one day. He just didn't anticipate the U.S. Military Academy would offer him an NCAA Division I scholarship so soon.
"I got a call after our last Robertson Cup game," Wilson said during a phone interview. "Their head coach, Brian Riley, offered me a commitment and I was taken aback, I wasn't really expecting that. I thought maybe an opportunity might be there for me, but when it came, I was really excited."
Wilson, who manned the blue line for the Ice Dogs as a rookie last season, was familiar with Army's program, which competes in the Atlantic Hockey Conference alongside nine other schools.
His older brother, Michael, starred for the Black Knights as a sophomore forward last season. He finished with 30 points — tied for the most on the team — with 18 goals and 12 assists, and helped Army finish 16-15-6 (12-10-6 ACH).
The brothers skated together at Fond du Lac High School in Fond du Lac, Wisconsin, and Noah is already eager for their relationship to continue to grow.
"When I came into high school as a freshman, he was a senior and our captain," Wilson said. "That was a special experience. It could end up being the same situation when I get there, which would be really cool."
During his first season with the Ice Dogs, Wilson and Fairbanks forward Daniel Haider visited West Point, New York, to see what the school and program were all about. Haider eventually committed to Army, and the prestige of it all — even the no-nonsense structure and early-morning wake-up calls — made a strong impression on Wilson.
"In December, me and Daniel Haider both went out there for a visit," Wilson said. "It was kind of cool, because we got to go with my brother and some of the guys and they walked us through the life out there. When you think about the Army part of it, it's pretty cool. There are so many opportunities there, so I'm really excited to get there."
Fairbanks head coach Trevor Stewart said Wilson will be in good hands at West Point. He believes Riley, who took over Army's program in 2004 after serving as an assistant for 14 years while his brother Rob led the program, does a great job of attracting the right players.
"The Rileys are legendary at that school," Stewart said. "First and foremost, they need to find people who fit the criteria — who can get into the school and program. After that, they're looking for a hockey player. Noah checked the box on the first two and has obviously proven himself as a hockey player."
Wilson made his mark during his first year with the Ice Dogs. He finished with five goals and 12 assists, though his impact on the team often extended beyond the scoresheet.
"He was very consistent for us this season," Stewart said. "As a rookie defenseman, he was one of the guys didn't miss much time. I think he only sat as a lesson learned or healthy scratch one time. There was a stretch for two or three weeks where he was probably our most consistent defensemen."
Before he takes his game to the next level and begins his college career, Wilson will be back in Fairbanks for the 2018-19 season. Stewart said he'll expect the Wisconsin native to take on a greater leadership role and provide some scoring to a new crop of defensemen.
"He's going to have to continue being in a similar role, but he's going to have to take a bigger offensive approach," Stewart said. "He's going to get some power play time and we'll need him to expand his game at the offensive end. He's proven that he can do that with the numbers he put up this season with limited opportunities. Now he just needs to expand on that."
Wilson said he's already working on taking his game to the next level.
"Throughout the offseason, it's going to be a lot about strength and speed," he said. "I want to push the puck a little bit more and be able to contribute a little more at the offensive end."
Although he'll reconnect with Haider at Army for the 2019-20 season, Wilson is also excited to compete against some of his former Ice Dogs teammates in college.
Fairbanks had 11 players commit with Division I programs this year, and six of them landed at Atlantic Hockey Conference schools.
In addition to Wilson and Haider at Army, goaltender Josh Benson will play at Sacred Heart University, and forward Erkka Vanska is headed to Holy Cross. Defensemen Luke Orysiuk is going to Bentley College, while fellow D-man Nolan Schaeffer is set to play at Robert Morris University.
"There is going to be a lot of us in there," Wilson said of the AHC. "There's a lot of good guys in that conference, that's for sure."
Even though Stewart will get to spend one more season with Wilson in Fairbanks, the Ice Dogs coach expects the defenseman eventually will thrive at Army West Point.
"He's very loose and very easy going in the locker room," he said. "But the way he plays the game, he competes. I'm fully confident he'll be able to adjust to that lifestyle at Army. Knowing his family, I have no doubt he'll have success."