Janesville defenseman Semandel makes NCAA DI commitment
April 13, 2018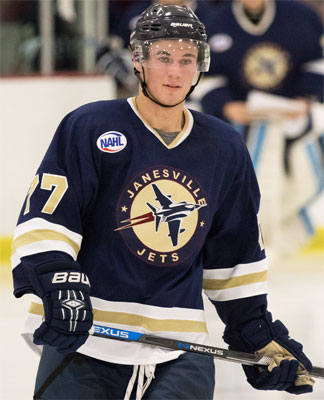 The Janesville Jets, proud members of the North American Hockey League (NAHL), are pleased to announce that defenseman Alec Semandel has committed to play NCAA Division I hockey for the Lake Superior State University Lakers of the Western Collegiate Hockey Conference.
"It was always my dream to play Division I college hockey," Semandel said. "For that dream to finally come true was surreal."
Semandel, 19, has been a success story in the NAPHL to NAHL to NCAA pipeline and is currently in his second season with the Jets.
As one of Janesville's veteran blueliners, Semandel (6'3/200) is second among Jets defensemen in scoring with four goals and 13 assists for 17 points on the season. Two of his goals have come on the power play and one was a game-winner.
Semandel's presence on the ice has proved to be a positive one. He is tied for fourth on the team in plus/minus with a plus-17 rating and has also served as a leader in and out of the locker room for the Jets as one of this season's alternate captains. He played in all but two regular season games with Janesville. The ability to aid in offensive situations as well as holding down the back end is an asset that will boost LSSU.
"Lake State was kind of looking for that defenseman that you can use in key situations at the right time, and Alec fit the bill there," Jets head coach Gary Shuchuk said. "They can put him out for the penalty kill or the last minute of the game that's going to get the job done. "If Alec can keep progressing that way, he's going to have a great collegiate career."
Semandel participated in the 2018 NAHL Top Prospects Tournament for Team Midwest and played in two games. Though he didn't tally any points, he came out with a plus-3 rating and the tournament was a good indicator of what kind of role Semandel could serve on a college squad.
"Everybody thinks it's about points and that you've gotta have production, but I told him, 'With somebody your size and your style of play, all you've got to worry about is being a shut down D and play that way,'" Shuchuk said. "That's what he worked on and I think it showed at Prospects and carried over to the rest of the year, through his commitment to Lake State."
Semandel tallied four goals and nine assists in 43 games last season for the Jets. He was a plus-13 on the season and was Janesville's fourth-top scoring defenseman.
Prior to joining the Jets, the Waunakee, Wis. native played in the NAPHL with the Madison Capitols 18U program. He played 25 regular season games with five goals and 10 assists, good for second among defensemen. He also played in six playoff games with the Capitols en route to their 2016 NAPHL U18 Championship and tallied three assists.
Lake Superior State is Michigan's smallest public university, but hockey is big. Men's ice hockey is LSSU's only Division I sport, and some of its notable alumni include Jim Dowd, John Grahame, Brian Rolston and Steven Oleksy.
Mitch Hults, who spent time with the Jets during the 2011-12 season, played at LSSU from 2015-2017 and is currently within the Anaheim Ducks association, primarily with the San Diego Gulls of the AHL. Lakers head coach Damon Whitten is a NAHL alum and played for the Detroit Freeze in 1995-96, and played collegiate hockey with Michigan State before turning pro in the ECHL.
"What drew me to Lake State had to be the coaches and their excitement about the program," Semandel said. "I know a few people who have gone there and they had nothing but great things to say about the school."
While the Lakers have had less success in recent years, the program has no shortage of prestige. LSSU has three NCAA Championships in its history since it joined the NCAA in 1974, and has appeared in the tournament 10 times, most recently in 1996.
The Lakers joined the WCHA from the CCHA in the 2013-14 season. With Semandel joining the Lakers next season, he'll come across many familiar guys in conference play.
Former Jets teammate and captain Adam Roeder currently players for the Northern Michigan Wildcats, while current teammate TJ Polglaze will join the Michigan Tech Huskies next season. Brenden MacLaren is committed to play for the Ferris State Bulldogs within the next two seasons, and is from Sault Ste. Marie, Mich., where LSSU is located.
"I always enjoy playing old teammates," Semandel said. "It's fun to see a familiar face on the opposing team."
Semandel joins Garrett Nieto (Union), MacLaren, Carter Ekberg (Air Force), Kip Hoffmann (Robert Morris) and Polglaze in Jets to make Division I commitments this season, while Jakov Novak (Bentley University), Luke LaMaster (Wisconsin), Sam Renlund (Colorado College) and Ian Malcolmson (Northern Michigan) round out the NCAA group with previous commitments. Semandel is the second defenseman to commit to a Division I school this season, and his marks one of six Division I commitments during Shuchuk's first season as head coach.
The philosophy that Semandel has set for himself to succeed as a college hockey player also applies in finishing out his junior career with the Jets' Robertson Cup run.
"I hope to be a defenseman that can be trusted in any situation the coaches choose to play me in," Semandel said. "Playing for the Jets, I have learned to take advantage of every opportunity you're given, to to never become complacent. Always be looking to improve."