Former NAHL, NAPHL goalie Delia starts and wins NHL debut
March 30, 2018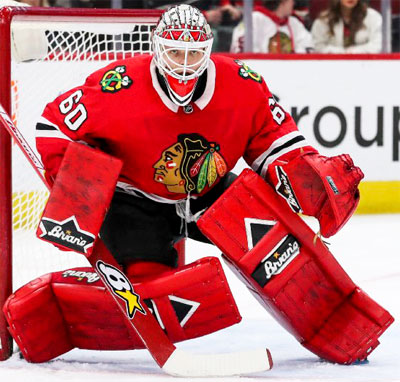 It was a memorable night in Chicago for a variety of reasons, but in the end former NAHL (Amarillo Bulls) and NAPHL goalie Collin Delia made and won his NHL debut with the Chicago Blackhawks in their 6-2 win over the visiting Winnipeg Jets.
On Wednesday, Delia was recalled from the AHL's Rockford Icehogs, but wasn't expected to make his NHL debut on Thursday as Anton Forsberg was expected to start against the Jets, but sustained a lower-body injury before the game. That injury then thrust Delia into the starting role in quick fashion.
Delia, who was very solid in his first NHL game, got the win in his NHL debut by saving 25 of 27 shots. However, with just over 14 minutes remaining in the 3rd period, Delia made a save and then appeared to be in immediate discomfort with an injury. He would end up leaving the game with what would later be determined as cramps 5:59 into the third period.
"Collin did a nice job for starting last minute. It was a different routine for sure for him, so he did as good as expected," said Blackhawks head coach Joel Quenneville. "Collin will be fine for the next game as it was a cramping problem that took him out of the game. I liked the way he competed. He moved well and made some big saves early."
''I know it's a process,'' Delia said. ''I know things don't come easy, especially at this level of the pro game. It's a lot different than college, especially for a goalie. I think it's good, though, to have some trials and tribulations. [Then] you can enjoy these moments that much more after being there. So it's pretty special.''
After Delia got hurt, Blackhawks emergency back-up goaltender Scott Foster, who is a 36-year-old accountant by day, had to come into the game in relief and ended up stopping all 7 shots that were fired his way as he preserved the 6-2 win for the Blackhawks.
"It was Opening Day for baseball, but we had to go to the bullpen a couple times today," Quenneville said. "One of those interesting things you don't see very often. What a moment for both Collin and Scott."
As for Delia, he is expected to be available against the Colorado Avalanche on Friday, but Quenneville said Anton Forsberg likely is done for the season because of a lower-body injury. That means Delia will likely finish the season in the NHL with the Blackhawks.
Delia is the picture perfect example of a ladder of development success story. He began his quest in the 2010-11 and 2011-12 seasons playing in the NAPHL for the California Titans and Orange County HC 18U teams respectively.
That then led to an opportunity in the NAHL with the Amarillo Bulls. Delia would end up playing two seasons with the Bulls, helping them win a Robertson Cup Championship during the 2012-13 season and then a year later he would win the NAHL's Community Service award and also committed to play NCAA Division I hockey at Merrimack during that season. In his two year NAHL career, Delia would end up playing in 50 career games and posted a 33-9-2 record with 10 career shutouts.