Knights forward Morrissey makes NCAA commitment
March 20, 2018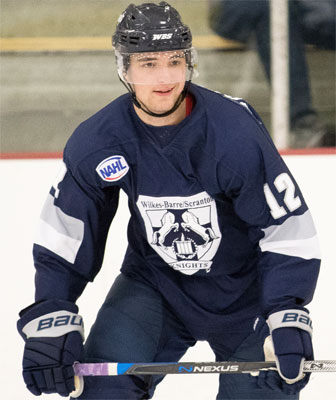 One of the longest-tenured Knights is heading off to college. Michael Morrissey, a 20-year old forward and veteran of the Wilkes-Barre/Scranton hockey program since its second season, announced his decision to play NCAA Division III hockey for Colby College. He'll join former Knights forward Joe Schuler as on the roster for the 2018-19 season.
An assistant captain and veteran presence, Morrissey is in the midst of his finest season of junior hockey, recording 11 goals and 17 assists through 54 games played. He was also selected to and played in the 2018 NAHL Top Prospects Tournament for the East Division team.
Coincidentally, the Colby Mules are in the midst of one of their best seasons in their proud history, playing out of the NESCAC Conference in NCAA DIII hockey.
The Mules made waves around the hockey world last Saturday night, when they bested the Geneseo Ice Knights in the final second of regulation to move onto the Frozen Four. That same night, Morrissey scored the game-tying goal, before providing the screen on the game-winner for his Knights against the New Jersey Titans.
"I really liked the coaching staff," said Morrissey. "Coach Hall, their assistant coach did a great job recruiting me. Blaise MacDonald, the head coach, spent a long time coaching in Hockey East, and has a few national championships to his name. Colby has top-of-the line academics and highly-competitive hockey, so it's the best of both worlds for me."
The Mules will travel to Lake Placid this weekend to vie for their first-ever national title, taking on St. Norbert at 6:30 pm EST this Friday. The winner of that contest will play Saturday in the National Championship against the winner of Salve Regina's and Wisconsin-Stevens Point's competition earlier in the afternoon. The aforementioned MacDonald has led the Mules to their first NCAA Frozen Four berth since 1996, when then coach Jim Tortorella-brother of John-came up just short of achieving the program's ultimate goal.
"I've been following their run over the past few weeks," said Morrissey. "It's pretty exciting-their guys are talking about spending spring break in Lake Placid. It's really cool to see them make the final four."
The Knights in the meantime are preparing for a postseason run of their own, having clinched a playoff spot this past weekend. They can enter the playoffs as high as the second seed in the East Division should they finish the year on a strong note.
"I think some of our guys were in a bit of a slump to start the second half, but we've returned to playing simple hockey lately," he said. "We went back to the basics, getting pucks on net and we've been able to find some success. We're looking to carry that into our series with Northeast this weekend."
Hockey has been a whirlwind ride for Morrissey, a native of nearby Bethlehem, Pennsylvania, who's played with and against NHL talent to develop his own strong skill-set.
"I would say I bring it every night," he said. "I play an intense, two-way game, and I think I'm a play-making center. I've played a lot of years here and each one has been special. I won a national championship with our team in 2012, so that ranks high on the list for me in terms of best memories, but this last year has been great."
With a high number of players committed to college from this year's roster, Knights head coach Tom Kowal is thrilled to see the fruits of the program's efforts result in so many player advancements, but Morrissey's is one that has been a long time coming.
"Mike's been here longer than I have," laughed Kowal. "He's been a member of some special teams here at the youth and junior level. He's also played a big part in why the teams he played on were successful. Mike's a hard-worker and one of the toughest players to play against I have ever coached. He brings a great two-way game to the ice, and it doesn't matter who we put on his wing, that player gets better next to him. We've leaned on him heavily this year and just like you saw against the Titans Saturday, he's capable of delivering in the biggest moments for us."
With the final games of his junior career ahead, and college on the way, Morrissey wants to leave the Knights on a high note, but he's not overlooking those who helped him along the way.
"I have a bunch of people that deserve a shout out, and a lot of special memories having played here," said Morrissey. "Of course, I want to thank my family and parents for supporting me all this time. My billet family, the Latimers, for taking me in and making me part of their family. I want to thank our coaching staff with the Knights-TK and Whitey have done a lot to help me, and our owner, Dr. DeNaples, for supporting me all the way back to youth hockey and always looking out for my best interests."
"I'm proud of Mike and the progress he's made in his career," said Kowal. "It will be a different place without him, but it'll be for the best reasons. I'll be cheering him on as he takes his next step with Colby in hockey and in life."