Sioux Falls 18U and 16U teams headed to USA Hockey Tier I Nationals
March 19, 2018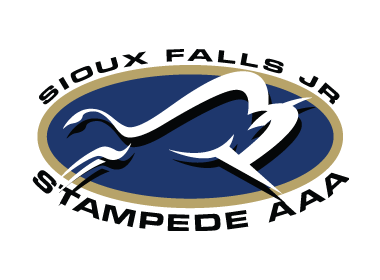 The Sioux Falls Jr Stampede Tier 1 hockey program of the North American Prospects Hockey League (NAPHL) will be sending three teams to the 2018 USA Hockey Tier 1 National Tournament April 5th - 9th.
The 18U and 16U teams, who are full time members of the NAPHL, will travel to Philadelphia, Pennsylvania for their National Tournament, while the 14U team will travel to Charlotte, North Carolina. Each of USA Hockey's districts and three at-large bids will round out the sixteen-team tournament that will feature the top youth teams in the country.
The Jr Stampede will represent the Northern Plains District, which includes South Dakota, North Dakota, Montana, and Wyoming.
The two Tier 1 Programs in the Northern Plains District include the Sioux Falls Jr Stampede and Team North Dakota. This season, the Jr Stampede 18U team received an automatic bid to the National Tournament due to Team North Dakota 18's choosing not to declare for Nationals. This will be the third year in a row the 18U team will participate at the National Tournament.
The Jr Stampede 16U and 14U teams traveled to Fargo, ND this past weekend to compete in the District Playoff against Team North Dakota. The Jr Stampede 16U team won the series in two games with a 5-1 and 4-1 commanding sweep. The 14U team also won in the first two games of the series, both games were clutch overtime victories.
As a program, the Jr Stampede will now have six USA Hockey Tier 1 National Tournament appearances in 3 years. "While it is a very special time, and something to celebrate, the work continues for all three teams. Our program goal isn't just to go to Nationals, it's to compete and win at Nationals," said Jr Stampede GM, Matthew Tobin.