Esmark Stars 16U team advances to USA Hockey Tier I Nationals
March 13, 2018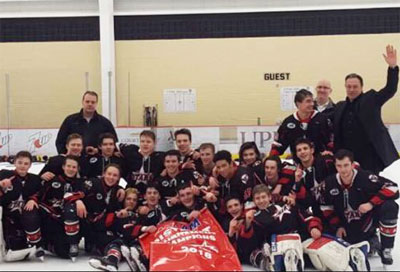 The Esmark Stars 16U AAA team, proud members of the North American Prospects Hockey League (NAPHL), captured the Mid-American District Championship with a 2-1 win over the Pittsburgh Penguins Elite U16 AAA club at the UPMC / Lemieux Center in Cranberry Township, Pennsylvania, on Sunday, March 11.
The win in the Mid-Am District championship game advances the Stars to the USA Hockey Tier I National Championships in Philadelphia, PA, April 5 - 9, 2018.
At that event, USA Hockey's 12 District Champions, as well as a host team (Philadelphia Jr. Flyers) and three at-large bids (selected from teams ranked the highest in the www.myhockeyrankings.com poll who do not win their respective district title) will compete for USA Hockey's National Championship.
The Mid-Am Championships consisted of the top six teams within the District (western Pennsylvania, Ohio, Indiana, West Virginia and Kentucky) in each Tier I classification (U18, U16, U15 and U14).
The six teams were then seeded, based upon the rankings, and participated in round-robin tournament with the top two teams advancing to their respective age bracket championship.
In round-robin play, Esmark defeated the Ohio AAA Blue Jackets (3-2), Tri-State (OH) Spartans 6-1 and Cleveland Barons (2-1) to advance to championship. Likewise, the Penguin Elite advanced undefeated to the championship with wins over the Tri-State Spartans, Ohio AAA Blue Jackets and the Culver Academy Eagles in round-robin play.
"I am so very proud of these boys," said U16 Head Coach Yuri Krivokhija. "They fought hard all weekend ... and all season long ... to give themselves an opportunity to compete for a National Championship ."
This is the second Stars team under Krivokhija to earn a spot in the National Championships.
Esmark will bring a record of 38-20-3-2 into Philadelphia.
Also at the Mid-Am Championships, Esmark's U18 squad advanced to the District Championship game before bowing out in a 7-3 defeat to the Culver Academy Eagles, the nation's number one ranked team.
The U18s had defeated the Ohio AAA Blue Jackets 7-3 and Gilmour Academy Lancers 6-1, as well as dropping a 3-1 decision to Culver, in round-robin play and earned the number two seed and a spot in the Championship game. The Cleveland Barons and the Pittsburgh Penguins Elite rounded out the U18 field.
"Our guys fought hard," said Stars U18 head coach Dave Kosick, "but Culver was a tough mountain to climb. We battled them hard from the opening face-off to final horn in both the round-robin game and championship game, but they are ranked number one in the nation for a reason," Kosick added.
The U18 Stars, who previously had captured the NAPHL's Playoff U18 Dixon Cup Championship, closed the season with a 36-17-2-6 record.