Knights forward Gelatt makes NCAA commitment
March 8, 2018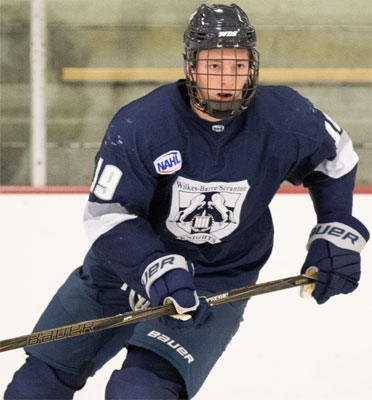 Just 217 miles separate Middletown, New Jersey and Saratoga Springs, New York, but Mike Gelatt's hockey career has taken him much farther. Over 140 games played in the North American Hockey League have sent him to destinations as far as Minnesota and Alaska, but have also allowed him the benefit of developing his game in and around his hometown. At the start of this week, the 1997-born forward committed to Skidmore College where the Thoroughbreds play NCAA Division III hockey in the NEHC conferrence.
"It's a really nice area," said Gelatt. "The town the school's in, Saratoga Springs, is beautiful. It's an awesome school academically, and they take their hockey seriously. That's everything I wanted in a school."
Gelatt will enter the college ranks after completing his 2017-18 season with the Knights, a team that's been his home for the past two years.
"Mike Gelatt is a guy we brought in in our second season in the NAHL," said Knights head coach Tom Kowal. "We had his brother on our blue line so we were familiar with the family, and Mike had played us a number of times with the New Jersey Titans. We saw a big-bodied, hard-working forward that could score. Mike's been that for us over the past two years while growing into a strong leader in our locker room."
"I would say I'm a big, power forward," said Gelatt. "I like to hit, I like to get in deep and get involved on the forecheck. I'm maybe not the most skilled player, but I am a hard worker, and I think that allows me to be a good player."
Gelatt grew up in Middletown, New Jersey, the home of the New Jersey Junior Titans hockey organization of the NAPHL. When the program added a team in the NAHL in 2015, Gelatt quickly established himself as a regular, scoring seven goals and 20 points in his first 43 games. The following offseason he joined his older brother Tim with the Knights as a part of a draft day trade.
"It's been fun place to play," said Gelatt of his impression of the Knights. "It's a great organization with a great group of players and staff. You get treated well as a player and you're given freedom here."
In two seasons, Gelatt has been a consistent source of grit and production, logging minutes on the power play and penalty kill, while upping his scoring to 26 goals and 35 assists in 96 games. He credits the NAHL for helping him grow as a player.
"The North American Hockey League is one of the top developmental leagues in the country," he said. "I've grown so much here. It's a league that makes you work hard for everything. There's so much skill and really good players on every roster. You have to earn everything."
"Mike's a guy who's sets a tone for our team," said Kowal. "I think naturally you have our younger guys looking up to him, knowing that he's logged a lot of games at the junior level. Mike's a versatile guy, we've been able to pair him with a lot of other guys and get positive results. That's a valuable player and person to have in your building, and we're happy that he's been a Knight for the past two years. I'm excited for him, and look forward to rooting him on as he progresses through college and life."
With the final month of the regular season underway, Gelatt and the Knights are looking to finish the year out strong as they prepare for a playoff run.
"I want to see each and every one of the rest of our '97's commit to a division-I program," he said. "Of course on the ice, our goal is to win a Robertson Cup, and to do that we have to carry the way we played this past weekend the rest of the way. I'm excited."
With such a strong family and support team that have helped him throughout his journey, Gelatt was sure to acknowledge those closest to his journey.
"First and foremost I want to say thank you to my family," he said. "I'd also like to thank Coach Tom, Coach Whiteside, Dr. DeNaples, the Titans organization that I grew up with, and Mr. Randy Walker, who all made this possible."