Topeka forward Granowicz makes NCAA DI commitment
January 23, 2018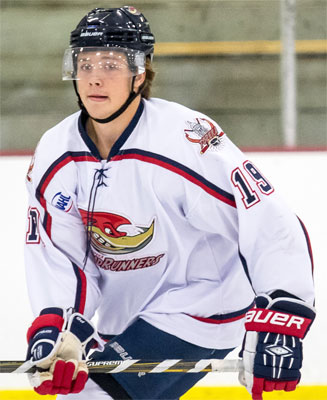 Growing up in Macomb, Michigan, Nick Granowicz knew the state of Michigan loved hockey. He'll now get to see that love from on the ice.
Granowicz, 19, who played in the NAHL for the RoadRunners for the first half of this season (2017-18) and all of last season (2016-17), announced his commitment to play NCAA Division I hockey for the University of Michigan. The Wolverines compete in the Big 10 and are currently 12-10-2 on the season.
In December, Granowicz was called to the United States Hockey League (USHL) to play for the Cedar Rapids RoughRiders.
"Growing up, my dad would always take me and my hockey teammates to the GLI (Great Lakes Invitational) Tournament, and we'd get to see Michigan and Michigan State play," Granowicz said. "As a kid, I knew I wanted to play for one of those teams, and it's an awesome feeling to now know that I can."
While hockey was a top priority heading into college, Granowicz said academics were also a major contributor to his selection to be a Wolverine. After being contacted by the Michigan coaching staff, he said he toured the school, and the connection was instant.
"Academics are big with my family and me, so I was looking at that aspect first," Granowicz said. "With that and the reputation that Michigan has for helping players move on to the next level after collegiate hockey, I knew it was the best opportunity for me."
As a RoadRunners' forward, he tallied 19 goals and 35 assists in his year and a half in Topeka. This season, he led the Runners with 12 goals and 18 assists at the time of his call to Cedar Rapids. He also has three goals in 11 games with the RoughRiders.
Prior to playing in the NAHL, Granowicz played in the North American Prospects Hockey League (NAPHL) for the Detroit Falcons 18U and 16U teams during the 2013-14 seasons, recording 21 points in 28 games played.
"Nick deserves every bit of the success he's had," RoadRunners head coach Justin DeMartino said. "He's an outstanding person and an even better hockey player. The University of Michigan really gained a valuable piece to their program with his commitment."
DeMartino stated events like this just help attest the North American Hockey League's and the RoadRunners' goals of helping its players succeed and carry on to the next level.
"We are a league of advancement," DeMartino said. "It's the reason we do what we do. Cedar Rapids got a great player, and now the University of Michigan will be getting a great player. We are super excited for him."
And even while in Cedar Rapids, Granowicz said he stills stays in contact with a lot of his former teammates from his time with the RoadRunners and is thankful for his time with Topeka.
"My time in Topeka was wonderful, and I can't thank the coaches, my teammates and the fans enough," Granowicz. "I was very happy to play there and that part of my hockey career could be in Topeka."