Rocky Mountain RoughRiders Alumni Drew Lennon makes NCAA DI commitment
November 22, 2017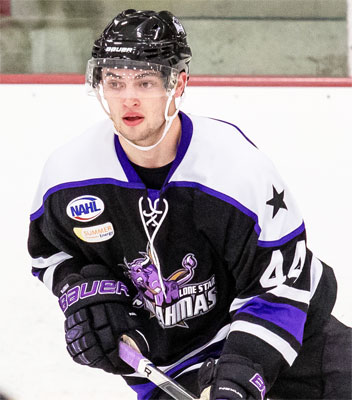 The Lone Star Brahmas, proud members of the North American Hockey League (NAHL), are pleased to announce that defenseman Drew Lennon has committed to play NCAA Division I hockey for the University of Alabama-Huntsville for the 2018-19 season.
The 6'3/180 lbs. defenseman and native of Bloomington, Illinois, was the Brahmas' first round draft pick this past summer, and he's certainly panned out. Head Coach Dan Wildfong liked what he saw of Lennon on film, and when Lennon made his way to Texas for main camp, liked what he saw of Lennon in person as well.
Throughout the season, Lennon has been a stable force on the Brahmas back end — something that can't be understated with the roster constantly in flux. He has played heavy minutes at even strength and is a key member of both the penalty kill and power play units, making him a bona fide all-situations player.
"Obviously, Drew has been a really good player for us all season long," Wildfong said. "He's very steady, good gaps, does a lot of things well that will translate well to college. We're very proud of him, very happy for him, and I think they got a heck of a player."
For his part, Lennon credits Wildfong with helping him move his game forward. Hockey is about constantly developing and becoming a better player, and Lennon has had the opportunity to do that here with the Brahmas. "Dan has helped me add more physicality to my game as well as the smaller details of defending so it's definitely helped," Lennon said.
Understandably, Lennon, 19, is glad to have a college commitment locked up. "It's exciting to see all your hard work has paid off and to be excited about where you're going to spend the next four years," he said.
The recruitment process was a quick one. Like Wildfong back in the summer, Alabama-Huntsville was sold on Lennon more or less from the start. "They watched me at the NAHL Showcase and about two weeks ago they called me for the first time," Lennon said. "Then they came out to watch this past weekend."
As it turned out, Alabama-Huntsville was a great fit for Lennon, who's got a good head on his shoulders and knew he wanted a good education alongside a college hockey career. "On the academic side they have a computer engineering program I'm interested in and on the hockey side there's a lot of opportunity to go in and play," Lennon said.
Lennon is also an alum of the Rocky Mountain RoughRiders organization, who are members of the NAPHL. During the 2014-15 season, he played for the RoughRiders 16U team.
"I'm enjoying being a Brahma a lot this year. Everything from the guys in the room to the fans has just been amazing," Lennon said.
With just under half the season in the books, Brahmas fans are lucky to have Lennon manning the blue line for the remainder of the 2017-18 campaign as the Brahmas defend their Robertson Cup title.