NAPHL Back in Action in Blaine
November 30, 2017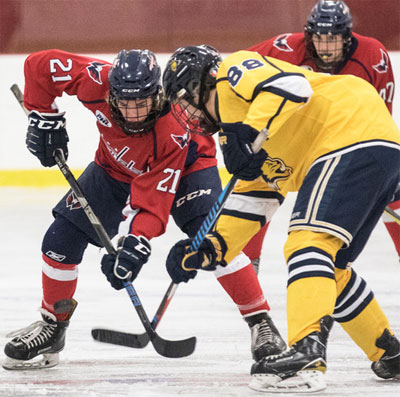 By: Sara Giles
BLAINE, Minn. - The North American Prospects Hockey League (NAPHL) gets back into action this weekend for the third time this season at the Schwan Super Rink in Blaine, Minnesota.
This weekend the 15U will battle for the Dixon Cup Championship while the 18U and 16U teams play four games during the event. The 16U and 18U championship will take place February 16-18, 2018 at the Troy Sports Center in Troy, Michigan.
The 15U Alaska Oilers head into the championship weekend as regular season champions who boast a 8-0-1 record. Not far behind them are the Omaha AAA with a 7-2-0 record.
All 13 NAPHL 15U teams will have the opportunity to win the Dixon Cup. Teams will be divided into four pools/divisions based on their finish in the 2017-18 regular season standings. The winners of the four pools after round-robin play will advance to the Semi-Finals, with the winners of the Semi-Finals advancing to the Championship Game on Sunday afternoon.
In the 16U Division, the Sioux Falls Jr. Stampede, Everett Silvertips Elite, and the Rocky Mountain RoughRiders all share the same 8-1-0 record for first place. Brett Reed of Sioux Falls was just announced the peak performer for offense for the month of November, as he leads all 16U players on scoring so far this season. Reed has tallied 21 points (13G,7A) in just 13 games played. Dylan Herzog of Everett was named the defensive Peak Performer for November as he leads all defenseman in points.
The 18U Sioux Falls Jr. Stampede head into the weekend in first place with a 10-1-0 record. Not far behind them are the Tampa Scorpions, who boast a 9-1-0-1 record so far this season. Scorpions forward Stepan Pokorny scored 11 points at the last event, helping the Scorpions to an undefeated weekend in Troy. Pokorny and Joe Winklemann of CarShield AAA lead the 18U division in points with 18 (8G,10A) each.
The NAHL Future Prospects Tournament will also be in play this weekend in Blaine. The FPT will bring together Tier I teams at the 18U, 16U, and 14U levels from across North America to compete.
For more information about the Future Prospects Tournaments, please go to nahlfp.com.
All games this weekend from the Schwan Super Rink will be broadcast live on HockeyTV.
Make sure to follow us on social media to get updated scores and behind the scenes access!