Lone Star defenseman Orgel makes NCAA DI commitment
November 22, 2017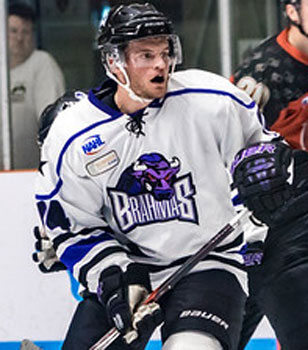 NAHL and Lone Star Brahmas defenseman Ryan Orgel announced that he has committed to play NCAA Division I hockey for the University of Denver in the NCHC and will leave immediately to join the reigning NCAA champions for the remainder of the 2017-18 season.
"It's a dream come true," Orgel said "It's something I've been working my entire career for and I'm very excited to be joining such a prestigious program."
"I think it's awesome for him and our program and the NAHL," Head Coach Dan Wildfong added. "For them to take a guy and trust that he would come in there and play right away it's awesome for everyone."
This commitment came around suddenly for Orgel. Denver, currently the top team in the country, was watching the Brahmas defenseman and his success closely ever since the home opening weekend and they finished the commitment process on Monday.
"Denver has kept tabs on me for a few weeks and they've watched me over the course of the season and one thing led to another and everything fell into place nicely," Orgel said.
Orgel went on to say it was a relatively easy decision for him to make.
"I've been to the campus a few times and I'm thrilled to get to Colorado and get things started with Denver University. It's also great that it's closer to home (than some other NCAA programs)."
Spending last season with the Wichita Falls Wildcats, Orgel skated in the United States Hockey League during the preseason before rejoining the North American Hockey League South Division. He joined the Brahmas after the NAHL Showcase and made an immediate impact upon his return to Texas.
The Los Angeles native scored five goals and added two assists in 11 games and was a critical component to the team's top line power play.
"He obviously has a pro shot. His brain and his puck handling skills are elite and we played against him in Wichita Falls and scored a lot against us and those are the kind of guys you want on your team. I feel he would have scored 15 to 20 goals with us here this year. They got a pretty good player. Anyone who's a d-man who can score like that, I believe he's going to be college ready," Wildfong said.
After spending a season playing junior hockey in Canada, Orgel flourished in the southern United States, scoring 39 points in 70 games.
"Playing in the South Division was extremely beneficial for me and my development. It took my game to the next level and really prepared me for college."
Familiar with the ladder of development, Orgel played major midget hockey in the NAPHL with the California Titans and produced at a point-per-game pace (7-15-22 in 20 games) before making his way to the Lone Star State.
The 5-foot-11 defenseman had nothing but good things to say about playing hockey growing up in his home state with the Titans and the Los Angeles Jr. Kings organizations.
"Those are two great hockey programs that are on the rise in Southern California and being able to develop with these programs and then continue on to my junior hockey career was the path that I took and the path that I would never change for the world," Orgel said.
Finally, Orgel wanted to say thank you to everyone who has supported him through his hockey journey.
"It was a great experience in Lone Star. I learned so much from the coaches there and I'm very excited and honored to be joining the Pioneer legacy," Orgel said. "I want to thank my teammates, my coaches, the staff and the fans of the Lone Star Brahmas for making my experience there so memorable."
"I also want to thank the Wichita Falls Wildcats. I had an amazing coach in Josh Nelson who really taught me how to carry myself on and off the ice and he was instrumental in this whole development process."
Orgel becomes the fourth player on this year's current Brahmas team to commit to an NCAA program and will be the first Brahma player to ever skate for Denver University.
Coach Wildfong said he is excited to watch Orgel play in Colorado and is looking forward to more of his players committing this season.
"We've got a lot of guys who have some offers out there and they are just waiting to see what they're going to take so Orgel is one of hopefully many to come and you just never know. It happened really fast so we'll see how the others go."
Orgel is expected to be on campus as soon as Wednesday, but there is no indication of when he will play his first game as a Pioneer. Denver's next game is December 1 when they travel to play a ranked opponent in Minnesota-Duluth.