Colorado Springs 18U forward Pietraszek signs NAHL tender
November 20, 2017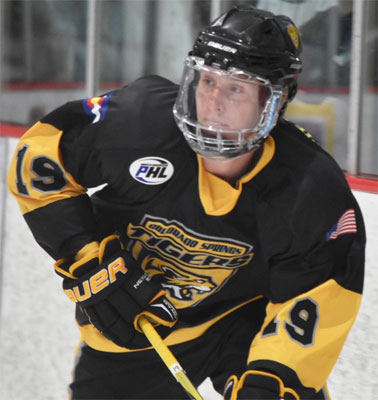 The Colorado Springs Tigers of the NAPHL are pleased to announce that 18U forward Marty Pietraszek has signed an NAHL tender agreement with the Odessa Jackalopes of the NAHL's South Division.
Pietraszek, 18, who is from Colorado Springs, Colorado, is in his second year with the U18AAA Tigers and has grown up playing in the Tigers organization.
"I put my trust in the organization and appreciate the support of my teammates, coaches and family," stated Pietraszek about his recent signing. When asked about the future with Odessa it was simple, "I'm excited to be a part of all of it."
Odessa Associate Head Coach Cody Campbell stated, "We are excited to bring Marty on as part of our organization and team for next season. He's a player we have tracked for over three years now and his work and trust in his development process has lead him to this point".
Pietraszek (6'0/170) is a senior at Cheyenne Mountain HS. He currently has 12 points (8 goals, 4 assists) in 13 NAPHL games played so far this season, which ranks him in the Top 10 in NAPHL 18U scoring.
"I am extremely happy for Marty and proud of his work and dedication to being a great student and leader on our U18 team. Marty believed in the process, put in a lot of work over the summer and that has propelled him to this point of our season" said Tigers head coach Kevin Holmstrom.
Holmstrom continued, "Coach Gatto and coach Campbell do a great job in Odessa and have done their homework on Marty. He has a great future and they will be very happy with what Marty brings to the Odessa club."
A tender is a contract, of sorts, a player signs announcing his intentions to play for that particular NAHL team and that NAHL team only. Once a player signs a tender with an NAHL team, his playing rights belong to that team within the NAHL and he may not be recruited by any other NAHL team. Each team is granted ten (10) tenders, which include two (2) tenders exclusively used on players from the NAPHL - plus or minus any trades - which became active on Nov. 1. Tendered players are not eligible for the NAHL draft, which will be held on June 5, 2018.