NAPHL alumni make NHL Central Scouting watch list
November 17, 2017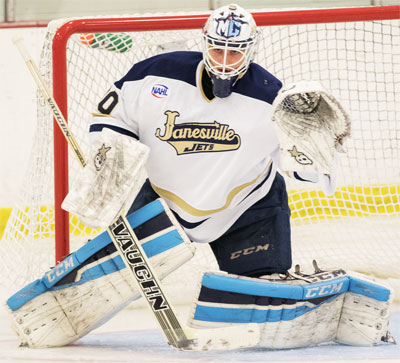 The NAPHL is pleased to announce that three former players were recognized on the National Hockey League's (NHL) 'November Prospects to Watch' list for 2018 draft-eligible players with the release of NHL Central Scouting's players to watch in North America and Europe.
This continues the recent trend of NAPHL alumni garnering recognition by NHL teams. Earlier this summer, two former players, Jeremy Swayman and Cole Hults, were selected in the 2017 NHL Draft.
During the past five NHL Drafts a total of 23 NAPHL alumni have been selected. All three alumni listed also played or are currently playing in the NAHL.
NAPHL Alumni on the list
Daniel Lebedeff, G, Janesville Jets/NAHL (Madison Capitols 18U, 2015-16)
Jake Kucharski, G, Des Moines Bucs/USHL (Austin Bruins, 2016-17 & Esmark Stars 16U, 2015-16)
Todd Scott, G, Vancouver Giants/WHL (Coulee Region Chill, 2016-17 & Omaha 16U, 2015-16)
The NAPHL has proved over the years that the league is a great stepping-stone for development and training for young hockey players looking to gain experience and knowledge to work their way up to the National level. In total, 46 NAPHL players signed tenders with NAHL teams throughout the course of the 2016-17 season. What's more impressive is that no other midget league had more players sign NAHL tenders than the NAPHL. In addition, 10 players with NAPHL ties were selected in the NAHL Draft. In total, 56 former NAPHL players now have their rights protected by an NAHL for the 2017-18 season. During the past two years, 120 NAPHL players have signed an NAHL tender or been drafted into the NAHL, a remarkable total.
The NHL Central Scouting list, comprised of "A," "B" and "C" players for the upcoming season in each of the major junior hockey leagues, are sent to NHL team scouts for the purpose of tracking the top draft-eligible players entering the 2017-18 season. All "A" skaters have been identified as potential first-round picks, while "B" players are considered second- or third-round candidates. The players on the "C" list are thought to be fourth-, fifth- or sixth-round possibilities. Central Scouting's preliminary rankings will be revealed in November. That list includes the top 25 prospects for each of the various leagues throughout North America and Europe.
NHL Central Scouting will release its midseason rankings of 2018 draft-eligible players in January, followed by its final rankings in April. The Dallas Stars will host the 2018 NHL Draft at the American Airlines Center in Dallas, Texas. Next year's Draft will be held over two days on June 22-23.