CarShield AAA 18U goalie McClellan signs NAHL tender
November 13, 2017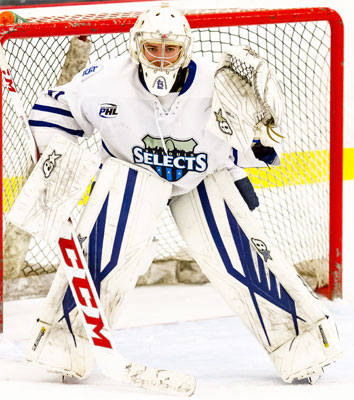 The CarShield AAA Hockey program of the North American Prospects Hockey League (NAPHL), are pleased to announce that 18U goaltender Kyle McClellan has signed an NAHL tender agreement with the Austin Bruins of the NAHL's Central Division.
McClellan, one of the top goaltenders in the NAPHL 18U Division this season, is 6'1/176 pounds and is an 18-year-old from from Manchester, Missouri.
"We are very excited to get a goaltender of the quality that Kyle has displayed the past two seasons in the NAPHL," said Bruins Associate Head Coach Al Rooney. "He has good size and good mobility around his net which I believe will help translate into success for him, and us, at the next level. His consistency has been outstanding and I'm really looking forward to getting the chance to work with him next season."
Now in his fourth year with the CarShield/St. Louis Selects AAA program, McClellan is currently 2nd among NAPHL 18U goaltenders with a .959 save percentage and his 1.00 goals-against average ranks third. His three wins ties him for the league lead. McClellan played nine regular season games at the U18 level last season, posting a 1.95 GAA and .922 SV%. He also appeared in two playoff games. Perhaps the most impressive stat of all, is McClellan's six shutouts in 16 starts this year (including non-league games).
"Everything Coach Rooney has told me about the city of Austin and the organization made it easy to determine it is the best choice for me," said McClellan. "His goalie history is amazing and I want to follow his past goalies and continue on to D1 and beyond."
Current Bruins forward and leading goal scorer Andy Willis played in front of McClellan for two seasons with the St. Louis Selects at both the U16 and U18 levels.
"Willis and I talk all the time and he's told me [Austin] is an awesome place to play," McClellan said. "The coaches are great as well as the exposure you get."
The news of McClellan's signing comes a week after the Bruins also tendered fellow CarShield player, forward Joe Winkelmann. According to Rooney, this pipeline has given the Bruins a leg up in building toward the future.
"When we already have the leading scorer of the NAPHL tendered (Winkelmann) and now we land arguably the top goaltender in the league, we feel we have gotten a head start on everyone else with our recruiting class for next season."
A tender is a contract, of sorts, a player signs announcing his intentions to play for that particular NAHL team and that NAHL team only. Once a player signs a tender with an NAHL team, his playing rights belong to that team within the NAHL and he may not be recruited by any other NAHL team. Each team is granted ten (10) tenders, which include two (2) tenders exclusively used on players from the NAPHL - plus or minus any trades - which became active on Nov. 1. Tendered players are not eligible for the NAHL draft, which will be held on June 5, 2018.