November 13, 2017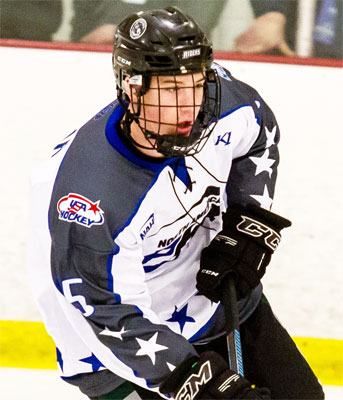 NAPHL 18U Recap: Day 3
Goin' Streakin
The Tampa Scorpions and the Sioux Falls Jr. Stampede are both undefeated after four games each this weekend. The Stampede are currently on a seven game winning streak and the Scorpions have won five straight. Forwards Stepan Pokorny and Peter Morgan have helped the Scorpions to wins this weekend with Pokorny recording nine points (3G, 6A) in four games and Morgan with eight points (4G, 4A) in four games, both leading the tournament weekend in points.
Bouncing Back
The New Jersey Jr. Titans are back in the win column after falling 4-1 to the Esmark Stars on day one of the tournament. The Titans boast a 4-4-1 record on the season and have won three straight since the first loss on Friday. The Valley Forge Minutemen also won three straight after falling 5-3 against the tournament undefeated Sioux Falls Jr. Stampede on Friday.
Chef Currie
Meijer AAA Forward Zak Currie is having quite the weekend tallying six points (1G, 5A) in four games. Currie scored the game-winning goal in the overtime win over the Everett Silvertips Elite Sunday. Currie recently signed a tender with Wilkes-Barre/Scranton of the NAHL.
Watch: Currie dangles his way to an OT-winner!
Shots Shots Shots
Goaltender Alex Kozic for Shattuck-St. Mary played in four games this weekend and saved 130 of 136 shots on goal. His GAA for the weekend is 1.77 with a .956 save percentage and a tournament record of 3-1-0.
Make sure to follow us on social media to keep up with everything NAPHL!
The NAPHL has proved over the years that the league is a great stepping-stone for development and training for young hockey players looking to gain experience and knowledge to work their way up to the National level. Through the initiatives such as NAHL Central Scouting, Top Prospect Tournaments, All-Star Games, and NAHL/NCAA Education Seminars, the NAPHL has the structure to help develop, educate and promote its players to the next level of hockey.
2017-18 NAPHL Schedule of Events
September 21-24, 2017 – Schwan Super Rink – Blaine, Minnesota
October 20-23, 2017 – Schwan Super Rink – Blaine, Minnesota
November 10-13, 2017 – Troy Sports Center – Troy, Michigan
December 1-4, 2017 – Schwan Super Rink – Blaine, Minnesota (15U Championship)
January 26-29, 2018 – Schwan Super Rink – Blaine, Minnesota (NAPHL 18U and 16U All-Star Games)
February 16-19, 2018 – Troy Sports Center – Troy, Michigan (18U and 16U Championship)