NAPHL 18U Recap: Days 1 and 2
November 12, 2017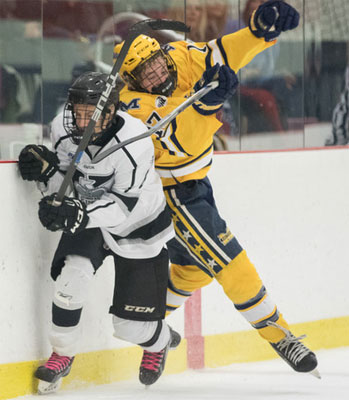 Recap: Day 1 & 2 of the NAPHL Showcase in Troy, Michigan – 18U
This weekend kicked off the third PHL event of the season, lasting from November 10-13 at the Troy Sports Center in Troy, Michigan. This event will feature the 18U and 16U teams playing five games as they push towards the Dixon Cup Playoffs.
Shining (Esmark) Stars
The Esmark Stars are shining bright as they kick off the showcase weekend. The Stars defeated the New Jersey Jr. Titans 4-1 in their first game on Friday. Saturday, the Stars defeated Little Caesars 3-4 in a shootout, and beat the Arizona Bobcats 6-2. Forward Andrew Murphy leads the Stars with 6 points(2G, 4A) in three games played this weekend. The Stars are one of the only teams who remain undefeated as they head into days three and four of the showcase. The other undefeated teams are Shattuck-St. Mary's, the Tampa Scorpions, and the Sioux Falls Jr. Stampede.
Shattuck Staying Hot
Shattuck-St. Mary's kicks off the showcase with a 3-0-0 record, defeating the California Titans 3-1 on Friday, the Colorado Springs Tigers 8-2, and Madison Capitols 6-1 on Saturday. Defensemen Derek Hessinger leads Shattuck in points in the first two days, recording one goal and five assists. Four assists came in the 8-2 win over the Colorado Springs Tigers on Saturday. Forward Husan Karpman is right behind Hessinger with two goals and three points in two games.
Meijer Mayhem
Meijer AAA had quite the start of the showcase with two shutouts in three games. Goaltender Gabe Rosek saved sixteen shots on net Friday night in a 4-0 win over the Arizona Bobcats. James Downie also saved all sixteen shots on goal in a 3-0 win over the Thunder Bay Kings on Saturday. Forward Brett Postula netted a hat trick in the 3-0 win over the Thunder Bay Kings on Saturday. Postula now has 8 points (5G, 3A) this season in nine games with Meijer. Zac Currie also had a great start in the first two games tallying four assists in three games played. Currie recently signed an NAHL tender agreement with the Wilkes-Barre/Scranton Knights.
Make sure to follow us on social media to keep up with everything NAPHL!
The NAPHL has proved over the years that the league is a great stepping-stone for development and training for young hockey players looking to gain experience and knowledge to work their way up to the National level. Through the initiatives such as NAHL Central Scouting, Top Prospect Tournaments, All-Star Games, and NAHL/NCAA Education Seminars, the NAPHL has the structure to help develop, educate and promote its players to the next level of hockey.
2017-18 NAPHL Schedule of Events
September 21-24, 2017 – Schwan Super Rink – Blaine, Minnesota
October 20-23, 2017 – Schwan Super Rink – Blaine, Minnesota
November 10-13, 2017 – Troy Sports Center – Troy, Michigan
December 1-4, 2017 – Schwan Super Rink – Blaine, Minnesota (15U Championship)
January 26-29, 2018 – Schwan Super Rink – Blaine, Minnesota (NAPHL 18U and 16U All-Star Games)
February 16-19, 2018 – Troy Sports Center – Troy, Michigan (18U and 16U Championship)