CarShield AAA 18U forward Winkelmann signs NAHL tender
November 6, 2017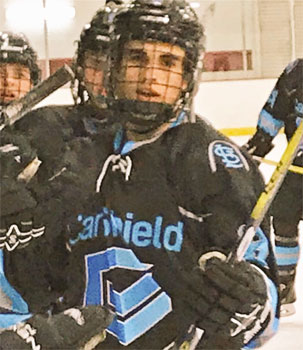 The CarShield AAA hockey club of the NAPHL is pleased to announce that 18U forward Joe Winkelmann has signed an NAHL tender agreement with the Austin Bruins of the NAHL's Central Division.
Winkelmann, 17, is currently playing in his first season with CarShield, and second season overall with the NAPHL. The St. Louis, MO native had a great first season last year and continues his success this year.
In just six games, Winkelmann is leading the league with 13 points (6 goals, 7 assists). Last year he had 35 points (14 goals, 21 assists) in 22 games with the St. Louis Selects 16U.
Overall in his NAPHL career, Winkelmann has played in 28 games and tallied 48 points. He is the first player from the CarShield AAA 18U team who has signed an NAHL tender this season.
Bruins associate head coach Al Rooney, who facilitated Winkelmann's signing, explained how the Bruins have had their eye on him since the start of the season. "We saw Joe play at the NAPHL Showcase in Blaine in September and were impressed with his ability to play in a variety of situations," said Rooney. "He's a multi-faceted player. Obviously, he can produce offensively, but he sees the ice well, has excellent puck-protection skills, and wins faceoffs consistently."
Rooney, who was also responsible for bringing fellow St. Louis Select/CarShield alumnus Andy Willis to the Bruins, went on to emphasize Winkelmann's character. "There are a variety of reasons we recruited Joe for, but in doing our due diligence on players and speaking with him and his Coach, we feel we are getting a quality person, not just player, that can join our organization," he said. "That's what put us over the top and helped make our decision easier, we're excited for him to be a part of the culture we are trying to create here in Austin."
Winkelmann also spent three seasons playing for St. Louis University High, where he finished strong with a 45-point campaign in 2016-17, leading the team with 27 goals – including three hat tricks. He then played 22 games for CarShield (formerly known as the St. Louis Selects) at the U16 level, and totaled 35 points, plus seven more in four playoff contests.
A tender is a contract, of sorts, a player signs announcing his intentions to play for that particular NAHL team and that NAHL team only. Once a player signs a tender with an NAHL team, his playing rights belong to that team within the NAHL and he may not be recruited by any other NAHL team. Each team is granted ten (10) tenders, which include two (2) tenders exclusively used on players from the NAPHL - plus or minus any trades - which became active on Nov. 1. Tendered players are not eligible for the NAHL draft, which will be held on June 5, 2018.