Two events complete for NAPHL teams as tender season looms
October 30, 2017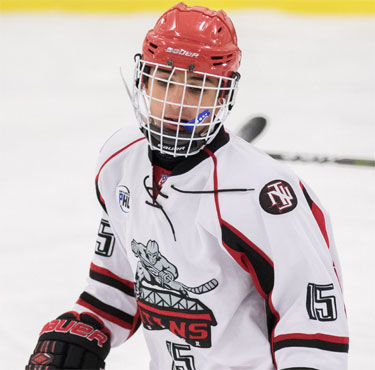 After two events of the 2017-18 NAPHL season, the competition is tight and balanced.
That was evident at the second event of the year at the Schwan Super Rink in Blaine, as 50 NAPHL teams took to the ice.
With the NAHL tender signing season getting underway on November 1st, October's event was important for NAPHL players and teams.
One of the big advantages of playing in the NAPHL this season is the exclusive NAHL Central Scouting system. It is one of the big reasons that the NAPHL is advancing more and more players on to the NAHL than ever before are the direct benefits associated being directly involved with one another, which includes NAHL Central Scouting. NAHL Central Scouting is dedicated to finding NAPHL hockey players, evaluating them in a true unbiased manner and then organizing and providing that information to NAHL teams. No other midget league in the United States has a system like it, where its primary mission is the advancement of players.
NAHL Central Scouting members, who are identifiable by their black NAHL Central Scouting Bauer jackets, were busy evaluating prospects during the entire event.
The NAPHL has proved over the years that the league is a great stepping-stone for development and training for young hockey players looking to gain experience and knowledge to work their way up to the National level.
The third NAPHL event of the 2017-18 season takes place in Troy, Michigan, from November 10-13.
15U Division
October was the final regular season event for the 15U Division and teams, who all played 9 games in the first two events. All 13 teams qualified for the Dixon Cup Playoffs, which will take place from December 1-4 in Blaine, MN. A playoff format will be announced in the near future. The Alaska Oilers clinched the regular season title with an 8-0-1 record. After that, Omaha AAA captured 2nd place with a 7-2-0 record. The Washington Little Capitals ended up in 3rd place with a 6-2-1 record. In 4th was the New Jersey Jr. Titans at 6-3-0. Elite Hockey finished in 5th place with a 5-3-1 record. Following that group was a group of three teams with 10 points each, including, Esmark, Meijer AAA, and CarShield. Rounding out the group is Rocky Mountain, Madison, Tampa, Arizona, and Colorado Springs. The 15U Division has been very balanced this season with each team suffering one loss and everyone having at least one win.
16U Division
After playing in exhibition games to begin the season at the September event, the NAPHL's 16U Division was in full swing during the October event. Three teams separated themselves from the pack early on with perfect 4-0 records at the latest event, including Rocky Mountain, Esmark, and Everett. Five teams (Madison, Arizona, New Jersey, CarShield, and Sioux Falls) sit at 3-1. Four more teams are even at 2-2, including Meijer AAA, Shattuck-St.Mary's, California, and Valley Forge. Pursuit of Excellence is in 13th at 1-2-1. Five more teams are still looking for their first win, including: Thunder Bay, Elite Hockey, Dallas, Washington, and Colorado Springs. Brett Reed from the Sioux Falls Jr. Stampede has the early scoring lead with nine points, followed by Everett's Cole Dubicki with eight points. Behind those two are a group of three players with seven points, including Rocky Mountain's Noah Decker, Jeremy Ambrose from New Jersey and Reid Pabich from Madison.
18U Division
The 18U Division may be the tightest of the three, even only after 5-6 games. Only one team (Elite Hockey) remains undefeated after the first two events. The defending NAPHL 18U champion Madison Capitols are one of three teams right behind in a tie for 2nd place with a 5-1 record, which also includes CarShield and Sioux Falls. At 4-1-1 sit both Rocky Mountain and Tampa. The Esmark Stars occupy 7th place with a 3-1-2 record. Shattuck-St. Mary's is in 8th place with a record of 3-2-1. In a cluster of teams with six points includes: Valley Forge, Pursuit of Excellence, Colorado Springs, Thunder Bay and Meijer AAA. Behind that group is Everett in 14th place with four points. At three points and with one win is New Jersey, Wenatchee and Arizona. Still looking for their first win is Dallas and California. Joe Winklemann from CarShield is the early scoring leader with 13 points in his first six regular season games. Right behind him is teammate Eric Brown with 10 points. Esmarck forward Parker Brown and Meijer AAA forward Zac Currie each have eight points.
As a reminder, the top 8 teams in the 18U and 16U Divisions will qualify for the Gold (Championship) Division of the NAPHL Dixon Cup Playoffs in February.