NAPHL season, Future Prospects Tournament faces off Friday in Blaine
October 19, 2017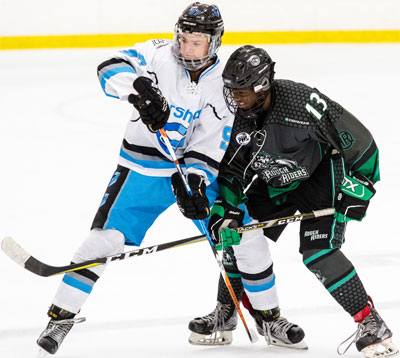 The second event of the 2017-18 NAPHL season takes place this weekend at the Schwan Super Rink in Blaine, Minnesota as all 50 NAPHL teams will be engaged in regular season action.
The North American Hockey League (NAHL) also proudly presents the 3rd Annual October Future Prospects Tournament (FPT) in Blaine, MN. The 2017 Blaine FPT will bring together Tier I teams at the 18U, 16U, and 14U levels from across North America to compete in cooperation with the North American Prospects Hockey League (NAPHL).
With a combined 90+ teams under the same roof at the Schwan Super Rink, the NAPHL and Future Prospects Tournament games will once again prove to be one of the most prominent Tier 1 tournaments of the season.
The North American Future Prospects (NAFP) Tournaments and Combines are driven by the North American Hockey League (NAHL) and operated by the NAHL professional staff in order to serve the most valuable asset to hockey… the players. The intent and goal is to provide the aspiring hockey player an opportunity while participating in the NAFP to take part in a one-of-a-kind experience that is designed to maximize exposure at grand-scale events and combines that provide a true look and feel of the genuine "NAHL EXPERIENCE."
One of the big advantages of playing in the NAPHL and Future Prospect Tournaments this season is the exclusive NAHL Central Scouting system. It is one of the big reasons that the NAPHL and FPT are advancing more and more players on to the NAHL than ever before are the direct benefits associated being directly involved with one another, which includes NAHL Central Scouting. NAHL Central Scouting is dedicated to finding NAPHL and FPT hockey players, evaluating them in a true unbiased manner and then organizing and providing that information to NAHL teams. No other midget league in the United States has a system like it, where its primary mission is the advancement of players.
All games will be broadcast live through
HockeyTV,
the official broadcast provider of the NAPHL.
Helpful Event Links:
In an effort to provide more opportunity to NAPHL teams in Blaine during the second event of the season, the
North American Hockey League and the office of the Director of Player Personnel is offering an education seminar
to teams and their families.
Tony Zasowski and Craig Barnett will be discussing "The Path" to NCAA Hockey. The seminar will include climbing
USA Hockey Develop Ladder, the levels of USA Hockey Juniors, and NCAA
opportunities within NCAA Division I, III, and ACHA hockey along with NCAA
compliance.
The 45-minute presentations are scheduled for Saturday, October 21st and Sunday, October 22nd and
will be located in the Grand Hall of the National Sports Center located in the
building directly to the right of the Schwan Super Rink.
NOTE: Parents are strongly encouraged to attend!
SATURDAY, OCTOBER 21
NAPHL 18U Teams:
3:00-3:45pm: POE/Rocky Mtn/California/Elite Hockey/Arizona/Tampa/Dallas/ Thunder Bay/Valley Forge
5:45-6:30pm: Esmark/Colorado /Madison/Everett/NJT/Meijer/CarShield/Sioux Falls/ Wenatchee/Shattuck
NAPHL15U Teams:
3:00-3:45pm: Arizona/Omaha
4:30-5:15pm: Colorado/Meijer/NJT/Esmark/Alaska/Tampa/CarShield/Washington/Rocky Mtn
FPT/Guest Teams:
10:15-11:00am: ALL FPT 14U/ 16U Teams
2:00-2:45pm: ALL FPT 18U Teams
SUNDAY, OCTOBER 22
NAPHL 16U Teams:
12:00-12:45pm: Shattuck/Everett/CarShield/Sioux Falls/Esmark/Colorado
2:00-2:45pm: Elite Hockey/California/Valley Forge/Thunder Bay/Washington/Arizona/
3:00-3:45pm: Dallas/Madison/NJT/Meijer/Rocky Mtn/POE