NAHL announces partnership with Bus.com
October 6, 2017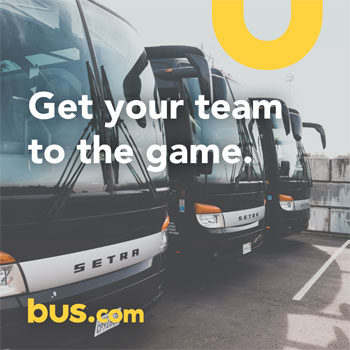 The North American Hockey League (NAHL) has announced a new agreement with Bus.com as the Preferred Bus Provider to the NAHL, NA3HL and NAPHL. This will include partnering for all remaining league-wide events that are being held during the 2017-18 season. The partnership will enable all teams in all three leagues to take advantage of special league-wide pricing and rates that have been established for the extensive amount of travel.
As the official transportation partner for the NAHL, NA3HL and NAPHL, Bus.com helps move hockey teams and coaches easily to tournaments across North America. Bus.com removes the stress of organizing affordable bus travel by making it easier for teams to plan tailored shuttle routes, including airport transfers and hotel pickups. Bus.com was founded with a sense of togetherness and an ambitious objective: help communities thrive by enabling groups to travel together effortlessly.
"Hockey teams need safe and reliable transportation – Bus.com is committed to providing this as well as unparalleled customer service in the charter bus space. We're excited and committed to this new partnership, and are looking forward to working with all leagues and teams within the NAHL," said Kyle Boulay, CEO of Bus.com.
With a choice of transportation varying from shuttles, school buses, or coach buses, Bus.com accommodates all group travel needs from airport transfers, hotel pickups, short distance, and long-distance trips. Teams will have access to comfortable top-of-the-line vehicles with space for all their hockey gear, so athletes arrive well-rested at their destination.
Through competitive pricing, Bus.com is able to provide affordable and reliable charter services, so that teams can get to games safely and on time.
Teams can request a free quote to book their bus rental. Or, reach out to the Bus.com partnerships team if they need more assistance: partnerships@bus.com or (844) 428-7568 x 5
"This is an exciting partnership for our family of leagues because of the sheer number of teams that utlilize busses for their travels throughout the hockey season. Bus.com not only will make it easier and more convenient to find the best option, but focus on customer service and safety is something that makes them a valuable partner," said Alex Kyrias, Director of Communications, Sales and Marketing for the NAHL.