NAHL Showcase keeps raising the bar
September 28, 2017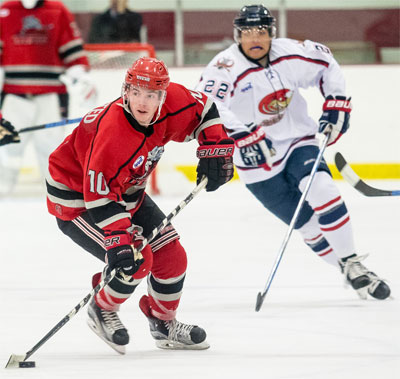 Every year when you think you have seen The Greatest Show on Ice at its best, it somehow manages to keep getting better, and that's exactly what took place this past week at the 15th annual NAHL Showcase.
The record-breaking 305 NCAA commitments this past season and 1,200 NCAA commitments in the last five years have coincided and are in direct correlation with the increased attendance of scouts at NAHL events, in particular, the NAHL Showcase. Not only did teams and players put on a great show during the five-day event, but the NAHL set a new standard and record for attendance, particularly attendance by the scouts.
In total, almost 370 scouts, coaches and evaluators were in attendance during the annual mega event. It once again broke a record and set a new standard for the league that seems to be making it a tradition to keep topping itself.
The numbers from the event were staggering. It included 54 NHL scouts, including 29 of the 31 teams sending at least one representative, and also included 169 NCAA Division I and III scouts and coaches.
In addition, almost 90 coaches and scouts from NAHL and USHL teams were in attendance evaluating the impressive competition and prospects at the NAPHL and HPHL levels.
"We know of no other event like this that brings together this many these kind of scouts and coaches at the same location and same time. Our mission is keep setting the bar higher and higher and events like the NAHL Showcase have become the gold standard for evaluating hockey's best prospects," said NAHL Commissioner and President Mark Frankenfeld.
"It is a thrill for us to see so many high-level hockey people in one place, and it is always a pleasure to get their feedback and catch up with so many of them who have been coming to our events for years. We remain humbled by their continued support and encouraging words about our league, its players and our mission as The League of Opportunity," continued Frankenfeld.
The proof behind why the NAHL Showcase is The Greatest Show on Ice, is in the testimonies of the scout and coaches who attend it and utilize its full range of benefits.
"Our staff has been here for so many years that it is hard to keep track, but one of the reasons that it has become the marquee event is because there is so much talent at all different age levels," said Ferris State Assistant Coach Drew Famulak. "We get a chance to evaluate players who are already committed to us that are playing in the NAHL, along with those players who may be 2-3 years out. We get to see a lot of players in all different levels who will ultimately make an impact for us at some point in the future. This vision and the model of the NAHL is working and thriving. The league has some incredible leadership with Mark Frankenfeld and his staff, who do things right and are led by a great group of committed owners, who are making an investment in the product. The right kids and playing in the right locations and we are getting to see players who come from all over the United States, so the options are almost unlimited," said Famulak.
Miami (OH) University assistant coach Nick Petraglia said that the event is a must-see for any NCAA program. "The NAHL Showcase is one of the signature events for both scouts and players alike and it keeps getting better every year. You can't beat the facility with eight sheets of ice and it happens at the perfect time at the start of the hockey season," said Petraglia. "Looking at the entire puzzle, it is important for us to view all different age levels. I think as a whole the NAHL has gotten a little younger and when you are able to see and evaluate those type of players at an event like the Showcase, that has resulted in a rise in NCAA commitments. No matter what age, the key is that there is an opportunity for everybody who is playing here. We have built on program on a lot of kids from the NAHL. The coaches to and unbelievable job at skill development and emphasizing hard work and good character," stated Petraglia.
Current Robert Morris assistant coach Michael Gershon, who is also a former NAHL head coach, said that the benefits and growth of the NAHL Showcase has been incredible. "It has been phenomenal to see how the league has grown and gotten better. I think it has a lot to do with the growth and stability of not only the NAHL, but the NAPHL and NA3HL as well. Every one is getting a look here because I think every team is prepared and wanting to play their best hockey. It is unique because all the games matter. These count for points in the standings and NAHL coaches are still making roster decisions, so we as NCAA coaches are seeing a player's best effort," said Gershon. "We know when we recruit a player from the NAHL that we are getting a player who is ready and prepared to play college hockey. The routine that we go through will not be overwhelming because they will be in shape, the will be ready to work hard, they will be used to travel and they are ready to be on the ice every day."