NAPHL enjoys another successful showing at USHL Draft
May 2, 2017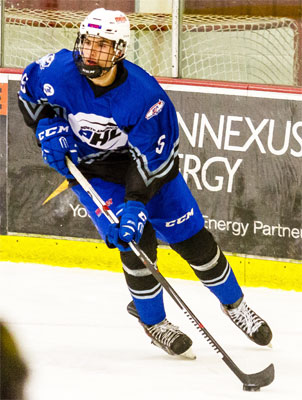 It was another successful year for the North American Prospects Hockey League (NAPHL) in the 2017 USHL Draft. The NAPHL had six players drafted in Phase I on May 1st, and 12 players drafted in Phase II on May 2nd. A total of 18 NAPHL players were drafted this season. 36 NAPHL players have been drafted in the past two years of the USHL Draft.
"The fact that our numbers remained exactly the same from 2016 to 2017 is very encouraging," said newly named NAPHL Director Tony Zasowski. "As somone who played in the USHL and coached in the NAPHL, I can tell you first hand that USHL teams are regulars at all our events and we have some great, young talent that will be future stars in junior hockey. This is a great first step for them and we hope to see even more draft picks and scouts at NAPHL events in 2017-18."
The NAPHL, which will be celebrating its ninth season in 2017-18, is composed of Midget Major (18U) and Midget Minor (16U and 15U) teams from across North America that compete at the USA Hockey Tier I level. The NAPHL has proved over the years that this league is a great stepping-stone for development and training for young hockey players looking to gain experience and knowledge to work their way up to the National level.
Phase I of the USHL Draft took place on May 1st, consisting of 10 rounds for the "Futures" age players, which are all 2001 birth year players only. This phase of the draft gives teams a chance to draft these younger players who may not necessarily be ready for the league that following season. This gives the players that have been drafted an opportunity to grow and develop while their respective USHL team still owns their rights as a player.
Phase II of the draft, which took place on May 2nd, is a chance for all other age eligible players to be drafted with no ties to another USHL team.
Here is a summary of those NAPHL players selected in the 2017 USHL Draft:
PHASE I
Leo Bacallao, F, Madison Capitols 16U (Round 4, #53) Madison Capitols
Max Mulawka, F, Pursuit of Excellence 18U (Round 4, #60) Youngstown Phantoms
Reid Pabich, F, Madison Capitols 16U (Round 6, #89) Madison Capitols
Adam Varga, F, Washington Little Caps 15U (Round 8, #113) Cedar Rapids RoughRiders
Max Ruoho, D, Madison Capitols 16U (Round 9, #133) Madison Capitols
Cullen Ward, F, Meijer AAA 16U (Round 10, #151) Lincoln Stars
PHASE II
Jared Kucharek, D, Meijer AAA 18U (Round 5, #68) Omaha Lancers
Aaron Swanson, F, Madison Capitols 18U (Round 7, #104) Madison Capitols
Sam Renlund, F, Omaha AAA 16U (Round 9, #143) Muskegon Lumberjacks
Trey LaBarge, F, Madison Capitols 18U (Round 10, #152) Madison Capitols
Jack Millar, D, Rocky Mountain RoughRiders 16U (Round 14, #212) Cedar Rapids RoughRiders
Tyrone Bronte, F, Meijer AAA 18U (Round 14, #226) Waterloo Blackhawks
Logan Will, F, Omaha AAA 16U (Round 15, #231) Omaha Lancers
Jake Osiecki, F, Madison Capitols 16U (Round 15, #232) Madison Capitols
Reid Leibold, F, Washington Little Caps 15U (Round 15, #242) Waterloo Blackhawks
Hunter Larsen, F, Madison Capitols 18U (Round 18, #280) Madison Capitols
Kyler Head, F, Northern Cyclones 18U (Round 18, #283) Green Bay Gamblers
Jake Vaughan, F, Shattuck-St. Mary's 18U (Round 21, #338) Waterloo Blackhawks