Watch: NAHL Now Alumni Series with Jacob Hetz
March 27, 2017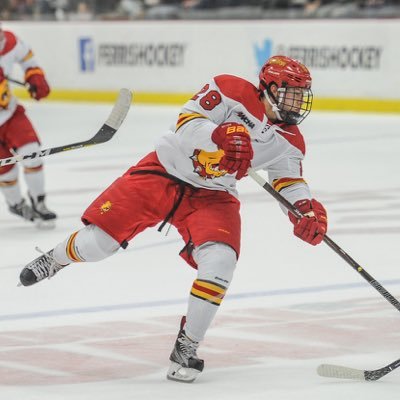 In a continuing video series for the 2016-17 season, the North American Hockey League (NAHL) is please to feature their extensive list of alumni in the NHL, NCAA and beyond in a new series entitled the NAHL Now: Alumni Series.
The NAHL Now: Alumni Series will be a regular video segment that highlights an alumni of the NAHL, who are currently playing in the NHL, NCAA or elsewhere as we try and catch up with their current situation, as well as, take a look back during their time playing in the NAHL.
We also try and get some feedback from coaches who constantly scout the league looking for players and who have made a lasting impact on the league
One of the NCAA Division I schools that has several NAHL alumni from season to season are the Ferris State Bulldogs in the WCHA. Head Coach Bob Daniels is a former NAHL player and former NAHL head coach. The NAHL recently stopped by to visit with some Ferris State players and NAHL alumni, which included former Fairbanks Ice Dogs and NAPHL forward Jacob Hetz.
Hetz has appeared in 53 NCAA games for Ferris State in two seasons and recorded 11 points.
"The game style is unlike anything I have ever seen. You really have to battle and work hard in the NAHL and that prepares you for the NCAA. The events have scouts everywhere and you never know who is watching. The more you put into your time in the NAHL, the more you are going to get out of it." -Jacob Hetz
A sophomore at Ferris State product of Glenshaw, Pennsylvania, Hetz spent the past three years with the Fairbanks Ice Dogs in the North American Hockey League (NAHL). During his three seasons in Alaska, he appeared in 173 games and tallied 119 total points on 58 goals and 61 assists in regular season play. Additionally, he played in 29 playoff games and had 19 points with 11 goals and eight assists.
Hetz had the best season to date of his career in 2014-15 as he tallied 63 points on a career-high 28 goals and 35 assists in 60 contests. He added seven points in six playoff games, including six goals, while ranking among the NAHL's leading scorers this year.
Prior to playing in the NAHL, Hetz played for the Esmark Stars 18U team in the NAPHL during the 2011-12 season. In 22 games, he registered 28 points. He was tendered by Fairbanks that season and spent the next three years in the NAHL prior to his NCAA advancement. He also appeared in the 2012 NAPHL Top Prospects Tournament