Watch: NAHL Now Alumni Series with Trevor Recktenwald
March 21, 2017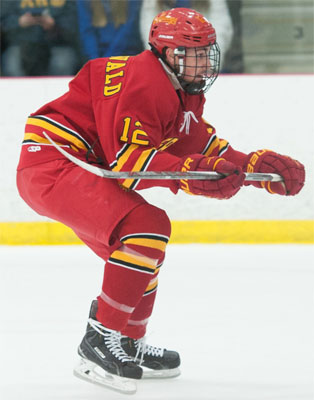 In a continuing video series for the 2016-17 season, the North American Hockey League (NAHL) is please to feature their extensive list of alumni in the NHL, NCAA and beyond in a new series entitled the NAHL Now: Alumni Series.
The NAHL Now: Alumni Series will be a regular video segment that highlights an alumni of the NAHL, who are currently playing in the NHL, NCAA or elsewhere as we try and catch up with their current situation, as well as, take a look back during their time playing in the NAHL.
We also try and get some feedback from coaches who constantly scout the league looking for players and who have made a lasting impact on the league
One of the NCAA Division I schools that has several NAHL alumni from season to season are the Ferris State Bulldogs in the WCHA. Head Coach Bob Daniels is a former NAHL player and former NAHL head coach. The NAHL recently stopped by to visit with some Ferris State players and NAHL alumni, which included former Johnstown Tomahawks forward Trevor Recktenwald.
"The NAHL prepares you for the lifestyle you have to live by in order to be a successful hockey player. You have to get used to being away from home and play a lot of games in a short period of time. The exposure that the league provides is second to none, be it at events or home games." -Trevor Recktenwald
Recktenwald just completed his sophomore season at Ferris State. In 25 games played this season, he recorded 6 points. Overall in his NCAA career, he has played in 46 games and recorded 13 points.
Recktenwald hails from Venetia, Pennsyvania, and played in the North American Hockey League with the Johnstown Tomahawks for two seasons. He reached the 40-point mark in 2014-15, potting 15 goals to go with 25 assists in 51 games. In 2013-14, Recktenwald had 21 points on 10 goals and 11 assists in 50 games.
Overall, he had 61 points in 101 NAHL contests and was selected for the 2015 NAHL Top Prospects Tournament. Made his commitment to Ferris State the week following the event on March 5, 2015.
The talented forward previously appeared in the 2013 North American Prospects Hockey League (NAPHL) Top Prospects Tournament before his transition to the NAHL. Recktenwald played two seasons in the NAPHL from 2011-13 for the Esmark Stars 18U team.