Championship Monday set in quest for the Dixon Cup
February 20, 2017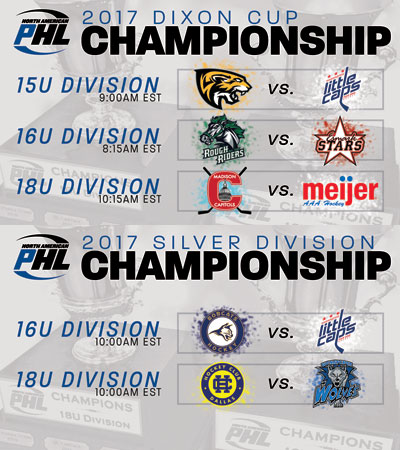 Championship Monday is set and ready to go as the NAPHL will crown its 2016-17 Dixon Cup Champions with three Gold Division and two Silver Division match-ups.
Fans can watch all the action on Monday on
HockeyTV
18U Gold Division
In the 18U Gold Division, it will be a rematch of a 2016 NAPHL 18U Championship Game as the Madison Capitols take on Meijer AAA. Madison advanced to the title game with a 5-2 win over Omaha AAA. Aaron Swanson had four points in the win, including a hat-trick. Meijer rode the continued hot goaltending of Liam Murray to a close 3-2 win over the St. Louis Selects. Murray made 22 saves in the win and Tyronne Bronte and Caleb Nieporte scored goals in the 3rd period as Meijer came from behind to win.
16U Gold Division
The 16U Division will crown a first time champion this season as both Esmark and Rocky Mountain will make an appearance in the title game looking for their first 16U Championship. The RoughRiders advanced by knocking off previously unbeaten Omaha AAA by a score of 1-0. Andrew Miller turned away all 31 shots that came his way and Nikita Krivokrasov scored the lone goal. Esmark took down the St. Louis Selects in the other Semi-Final, 2-1. Nico Pidro made 25 saves in the win and JT Schimizzi and Drew Murphy scored the Stars goals.
15U Division
In Sunday evening's Semi-Finals, the Washington Little Capitals and Colorado Springs Tigers won to advance to the title game. The Little Caps got goals from four different players in a 4-2 win over Omaha AAA, while the Tigers got a good game from goalie Addison Zeich and a multi-point effort from Tylor Greene in a 2-1 win over the Arizona Bobcats. The winner of Monday's Championship Game will be the first ever in the NAPHL 15U Division.
18U Silver (Consolation)
HC Dallas will meet the Wenatchee Wolves in the Consolation title game thanks to both teams riding good defensive efforts. HC Dallas got 15 saves from Jacob Ange in a 4-0 shutout of the Washington Little Caps, while Wenatchee got 20 saves from Hayden Chieffo and two goals from Jake Landers in a 4-1 win over Esmark.
16U Silver (Consolation)
In the 16U Consolation Championship, it will be the Washington Little Caps against the Arizona Bobcats. Washington got three points from Matt Hanlon and 13 saves from Drake Voell in a 3-1 win over the Northern Cyclones, while Arizona got a good effort from goalie Riley Morgan and two goals from Adam Bricker in a 3-1 win over HC Dallas.