Dixon Cup Semi-Finals set
February 19, 2017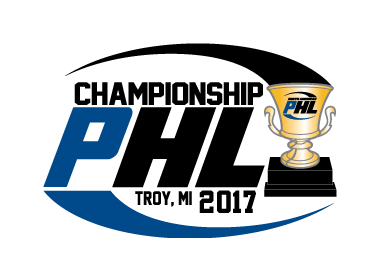 The 2017 NAPHL Dixon Cup Championships enter their third day on Sunday with the Gold Division Semi-Finals set in the 18U, 16U and 15U Divisions.
1. Washington
2. Colorado Springs
3. Arizona
4. Omaha
5. Rocky Mountain
6. Meijer
7. Esmark
8. Northern Cyclones
9. New Jersey
16U Gold
1. Omaha
2. St. Louis
3. Esmark
4. Rocky Mountain
5. Everett
6. New Jersey
7. Colorado Springs
8. Madison
9. Thunder Bay
10. Meijer
18U Gold
1. Meijer
2. Madison
3. Omaha
4. St. Louis
5. Rocky Mountain
6. Thunder Bay
7. New Jersey
8. Shattuck-St. Mary's
9. Northern Cyclones
10. Valley Forge
All games will be broadcast live on
HockeyTV
The top 10 teams from each of the NAPHL 18U and the 16U divisions qualified for the Gold Division of the playoffs. The remainder of the teams will compete in the Silver Division for the Consolation Championship. In the 15U Division, all nine teams will compete for the Championship.
Advancement to Semifinals: In the 15U Gold, 16U Gold, and 18U Gold Divisions: At the end of the play-in round, the top 4 teams based on points (and subsequent tie-breakers if necessary) will advance. In the 16U Silver, because of the seven (7) team division, teams will play 4 play-in games with the top two moving directly to the final. NO Semifinals for the 16U Silver Division. In the 18U Silver, the top two (2) teams in each pool will move on to Semifinals.
Overtime/Shootouts:
In the Semifinals and Finals teams will play five minutes of 5 v. 5, followed by five minutes of 3 v. 3, then a 3 man shootout, then a sudden-death shootout if necessary.
2016: 18U-Madison Capitols, 16U-Omaha AAA
2015: 18U-New Jersey Jr. Titans, 16U-Omaha AAA
2014: 18U-Omaha AAA, 16U-Lansing Capitals
2013: 18U-Indiana Jr. Ice, 16U-Omaha AAA
2012: 18U-California Titans, 16U-Indiana Jr. Ice, 14U-St. Louis Selects
2011: 18U-DC Capitals, 16U-Pikes Peak Miners, 14U-Rocky Mountain RoughRiders
2010: 18U-California Titans, 16U-Pikes Peak Miners