Omaha 16U forward Renlund signs NAHL tender
February 8, 2017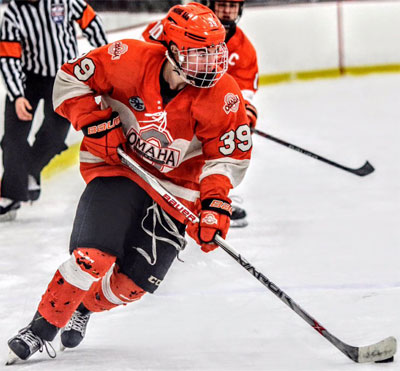 The Janesville Jets, proud members of the North American Hockey League (NAHL), have signed NAPHL and Omaha AAA 16U forward Sam Renlund to a tender contract.
Renlund (5'11/174) is a 16-year-old forward who just finished his second season with the Omaha AAA 16U program in the North American Prospects Hockey League (NAPHL). Last month, Omaha completed a perfect 22-0 season, the first team in NAPHL history to do so. Renlund played and scored in every game this season, and finished first in the NAPHL's 16U Division with 63 points an astounding 2.74 points per game. He also played in the 2016 NAPHL 16U All-Star Game in December.
"Obviously if you followed statistics alone, Sam's performance this year with a great hockey team stands out," said Jets head coach and general manager Joe Dibble. "Anytime a kid can rack up almost three points a game, that's going to open some eyes. But when we watched Sam play, we saw more than his offensive abilities. He's an incredibly smart hockey player who sees the game well in all three zones, and can even grind and play a heavy style. He fits what we're looking for."
Renlund becomes the latest tender Janesville has signed out of the NAPHL. This season's Jets include 88 players with NAPHL experience, including Alec Semandel (Madison Capitols U18, 2015-16), Jack Gates (Anaheim Jr. Ducks 16U, 2014-15), Keegan Miller (Lansing Capitals 16U, 2011-12), and TJ Polglaze, who, like Renlund, left Wisconsin to develop in the Omaha program. Polglaze played parts of three seasons in Omaha, and finished with 23 goals and 38 points in 63 games between the 16U and 18U teams.
"The NAPHL was really good for my development," Renlund said. "It sets you up well. You play a lot of games, a tough schedule, short turnarounds, lots of back to backs. It all gets you ready for the NAHL."
Renlund, a native of Verona, joined the Lancers in 2015 after an impressive freshman season at Verona Area High in which he tallied 38 points in 24 games. The winger committed to Colorado College two months ago, and is excited to sign a tender with a team so close to home.
"When I was looking at teams in the NAHL, this was the spot my parents wanted to see me play," Renlund said. "It would be nice to be just a few minutes from home."
"At the end of the day, we try to fill our roster and our prospect pipeline with the most talented and dedicated young men we can find, whether they're from Wisconsin or Jupiter," joked Dibble. "But it's always great when you can find talent from your backyard."
A tender is a contract, of sorts, a player signs announcing his intentions to play for that particular NAHL team and that NAHL team only. Once a player signs a tender with an NAHL team, his playing rights belong to that team within the NAHL and he may not be recruited by any other NAHL team. Each team is granted ten (10) tenders, which include two (2) tenders exclusively used on players from the NAPHL - plus or minus any trades - which became active on Nov. 1. Tendered players are not eligible for the NAHL draft, which will be held on June 6, 2017.