North Iowa forward Studioso gets call to the NAHL
December 27, 2016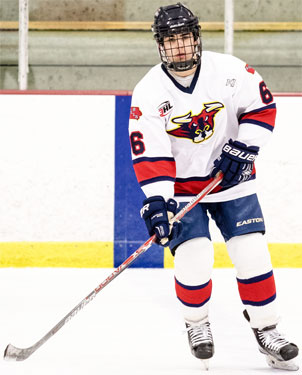 The teams in the North American Hockey League (NAHL) who have called players up from the NA3HL and North Iowa Bulls have certainly gotten a return on their investment this year. In fact, in Josh Benson's first NAHL win, a 5-1 Fairbanks Ice Dogs victory at the Northeast Generals on Dec. 17, former teammate Kohei Sato was the only opponent to get a shot past him.
The Ice Dogs are hoping they'll get the same kind of return on their latest Bulls call-up. It turns out Brendan Studioso was on Fairbanks's Christmas wish list, as evidenced by their call-up of the first-year Bulls forward on Monday. The Mukilteo, Wash. native becomes the fifth Bulls player called up to the NAHL this season and the second former Bull on the Ice Dogs roster, alongside Benson.
Studioso has quietly etched his name among North Iowa's top players this season, earning 14 goals and 12 assists in 24 games with Todd Sanden's team. He also has four points on the power play and has notched a +20 plus/minus rating for the year. While that 14-goal total is only tied for fourth on this year's Bulls roster, he would be the top goal-scorer on any of 17 NA3HL teams this season heading out of the Christmas break.
Studioso is an alumni of the NAPHL, having played for the Everett Jr. Silvertips 16U team during the 2014-15 season, where he recorded 20 points in 20 NAPHL games.
Studioso is expected to be in uniform for the Ice Dogs as they return from the break with a Friday and Saturday visit to the Johnstown Tomahawks. They'll return from the holidays right in the midst of a 14-game road stretch that has taken one of the league's two Alaska entries all the way to the East Coast. The North Iowa Bulls wish Brendan Studioso all success in the NAHL as a Fairbanks Ice Dog.