Metro goalie Gwillim makes NCAA commitment
December 22, 2016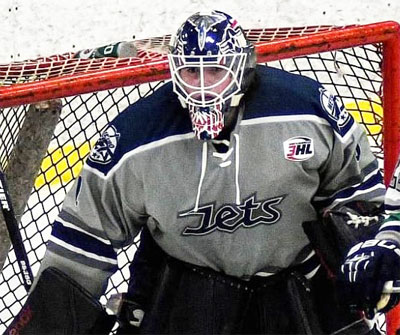 By Matt Mackinder, Metro Jets
Sometimes, timing is everything.
When the Metro Jets selected goaltender Jake Gwillim in the 2014 NA3HL Draft, team brass knew he had NAHL options and seeing the ice as a Jet was a longshot.
During the 2014-15 season, Gwillim played for the NAHL's Johnstown Tomahawks alongside NHL draft pick Ryan Bednard.
Last season, Gwillim was let go by Johnstown and pitched three straight shutouts after he reported to the Jets. He was then called up to the NAHL's Brookings Blizzard mid-season and stayed for the rest of this year.
Then came last summer.
"I had surgery that sat me out for most of the summer," said Gwillim, a 19-year-old out of Swartz Creek, Mich. "I called 'Q' (Jets coach-GM Justin Quenneville) and (assistant coach, goalie coach) Randy (Wilson) both to talk about my situation and ask for advice on what would be my best option. I ended up coming out to training camp and haven't looked back since.
"I'm thankful the whole organization welcomed me back in with open arms."
Gwillim has gone 11-0-0 this year with a 1.79 GAA and a .923 save percentage with one shutout. Three weeks ago, he was called up to the NAHL's New Jersey Titans and this past week at the NA3HL Showcase, committed to NCAA Division III Aurora University for the 2017-18 season.
"I had actually visited the school during the '13-14 season while I was skating with the Flint Jr. Generals," explained Gwillim. "Then I took a tour during the Silver Cup. A couple summers later, I met current assistant and goaltending coach Brian Dempsey at a camp. We've been in touch ever since. They asked for me to visit when I was able to early in the season, so the staff here gave me a weekend to head down before the showcase to check it all out once again and experience a game live.
"Aurora stood out to me for a few reasons. They are a newer program and play in the highly-competitive NCHA (Northern Collegiate Hockey Association). I have the opportunity to come in and make an impact right away. It's also pretty close to home and I have quite a few old teammates and guys I've played against on the team. Away from hockey, the campus is great and I look forward to furthering my education there."
Aurora's head coach is Canton, Mich., native Jason Bloomingburg, who played for Wayne State University when the school had a Division I program some 10 years ago.
Gwillim noted that he hasn't decided on a major yet, but is leaning toward something in the business field at the school located 40 miles west of Chicago.
"Jake is another great example of a Jet who bought into the process," Quenneville said. "He has a ton of talent and is an even better teammate. He was always humbled even after his stints in the NAHL. Jake never let his hurdles affect his goals of continuing to develop and play college hockey. He had many options and for him to make the decisions he has in his career, it now allows him to continue to focus on being the best teammate with any team he suits up for.
"For a generation that is always looking for a handout, he breaks the mold of hockey players who put themselves ahead of the team. Even when he had opportunities to move up to the NAHL this year, he made a mature decision to stay and help his team win. Aurora is getting a heck of a player and human being. In talking with the coaching staff there, they couldn't be more excited about the decision Jake has made."
Dempsey is certainly elated to have Gwillim joining the Spartans next fall.
"We would like to thank the Metro Jets for providing Jake with an opportunity this year as he recovered from offseason ankle surgery that kept him out of USHL and NAHL camps," Dempsey said. "As he has shown this year with Metro, he is completely healthy and once again showing his tremendous upside by dominating in the NA3HL. He has the size and athleticism to be a top goalie at the NCAA level. Jake clearly has plus-level ability and understands the opportunity here at Aurora University to come in and compete for the starting job as a freshman. We feel that Jake can be a key member of this recruiting class and can contribute right away.
"We would like to compliment the NAPHL, NA3HL and NAHL for providing an unbelievable ladder of development for Jake and hundreds of other players to prepare them for NCAA hockey and beyond."
And to think that Gwillim didn't start his career as a goalie.
"I originally became a goaltender because my dad is," explained Gwillim. "I would go watch his games with my family every week. Eventually, I started playing as a defenseman and then worked my way into the net."
Back with Metro, Gwillim is excited at how the first half has gone and is looking forward to the second half.
"This year's group definitely has its characters, as did last year's," Gwillim said. "Everyone plays a different role on and we all gel. I believe a good portion of our success this season has been because of our chemistry."
Gwillim is also part of a net tandem with Andrew Kormos, Brian Tallieu and Nick Barrett and says that, along with the Jets' staff, helps him improve daily.
"Our situation is unique," said Gwillim. "We all four get along great and practice is always competitive. Ultimately, we all have the same goal of winning the Silver Cup National Championship, so pushing each other is key.
"The staff has been crucial in my development. They've given me all the help to further myself as a player and person. I owe a lot to the organization. Randy, specifically, I've worked with dating back to when I was 10 years old. He's always pushing me to further myself. I know he wants the absolute best from me and it's my job to obtain his coaching and put it to use. It's a privilege to have a guy like him working with me every week. His experience and knowledge of the game is unmatched."
Having tasted the NAHL and even a bit of the USHL a couple years back with the Muskegon Lumberjacks, Gwillim wants to earn another chance to move up, possibly this season.
"Having been around for a bit, I know what it takes to play at the next level," said Gwillim. "You have to come to the rink every day willing to work on and refine your game. If an opportunity comes to move back up, I'll handle it then with the help of the coaching staff. As long as I'm here, I'm focused on one thing and that's giving the team a chance to win every night and ultimately win the Silver Cup National Championship.
"Short term, I want to keep this train rolling here and enjoy my time being a part of something this special. Winning a Silver Cup National Championship is the ultimate goal for this season. At the end of it all, I want to take hockey as far as I can and have no regrets. Junior hockey is an unforgettable experience and I've been blessed to play it longer than most. Wherever it takes me is just an added bonus. I really can't thank the whole Metro organization enough, especially the coaching staff for giving me this opportunity to fulfill my dream of college hockey. They are constantly preparing us for the next level."