Wichita Falls goalie Moyse makes NCAA DI commitment
December 19, 2016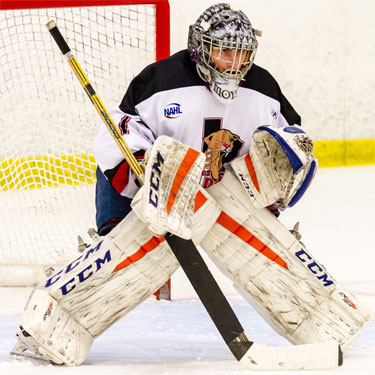 By Alex von Keudell, Wichita Falls Wildcats
The Wichita Falls Wildcats, proud members of the North American Hockey League (NAHL), are pleased to announce that goaltender Evan Moyse has committed to play Division I NCAA Hockey at The Ohio State University of the Big Ten Conference. He will begin his college hockey career at the start of the 2017-2018 season.
"Being an Ohio kid, it's obviously a dream come true to go to Ohio State," Moyse said. "The academics and athletics are world class, and being close to home is always a plus. Coach Nelson and [Tom] Speer have been a big part of my development. I can't thank the Wildcats enough for giving me the opportunity to come in and prove myself, as well as everyone in the organization for all their hard work that has helped me get to this point."
The Olmsted Falls, Ohio native was the anchor which kept the Wildcats afloat for the first two months of the season. He played in 13 consecutive games while the Cats searched for a suitable backup goaltender. Taking on such a heavy extended workload never seemed to take its toll on Moyse, who managed a .913 save percentage over the demanding stretch.
"He was a kid who went from the NA3HL to working his way up to becoming a big part of the Wildcats," Goaltending Coach Tom Speer said. "He's the type of goalie who's got good skill but an even better work ethic. He's also a 'glue' guy; everybody likes him and everybody can go to him in the locker room. There's no doubt the qualities he has will serve him well at Ohio State."
Moyse is another great example of a true ladder of development story, which encompasses all three of the family of leagues of the NAHL.
Moyse played his midget hockey in the NAPHL for the Cleveland Jr. Lumberjacks for two full seasons from 2012-14. He then went onto play in the NA3HL for two seasons with the Wisconsin Whalers from 2014-16. This is his first year playing in the NAHL.
Only five goalies in the NAHL have played in more games this season than Moyse (19 GP), who is finally being challenged internally with the addition of Jared Dempsey. Both netminders have proven they can be top starters, and the healthy competition seems to have inspired Moyse to fine-tune his game further. He is 3-1-1 since Dempsey came on board and was the biggest reason the Wildcats were able to win their road series over the Odessa Jackalopes last weekend despite being heavily outshot.
As the season has gone on, Moyse has shown to be an iron man with an impeccable work ethic and an endless desire to continue improving. He would never hesitate to go to Dallas for a few hours on his own time and pick up any tips he could from Speer. He has backstopped the Wildcats to a 10-4-2 record along with a 2.89 goals against average and a .914 save percentage this season.