NAHL Central Scouting talks about NAPHL All-Stars
December 15, 2016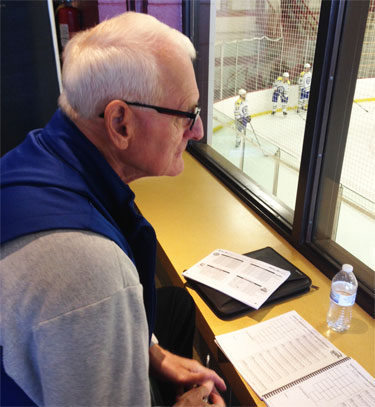 Many a NAHL player has come from the NAPHL.
Now in its 8th season, the NAPHL has established itself as one of the premier grounds for development and exposure. The success of teams on the National stage, as well as, the success of NAPHL players at the next levels of hockey, is further proof that the NAPHL is redefining exposure and has elevated itself to one of the premier training grounds for development and opportunity.
In 2016, the NAPHL set a new standard for player movement and recognition of its alumni. A record number of seven NAPHL alumni were selected in the 2016 NHL Draft, a record number of 64 NAPHL players were either tendered or drafted into the NAHL and 18 NAPHL players were selected in the 2016 USHL Draft.
In addition, a record total of 83 players that played in the NAPHL are currently on NAHL rosters to start the 2016-17 season.
This week's interview was with Gary Harker, who is the head scout for NAHL Central Scouting. Harker coaches in the recent 2016 NAPHL 18U and 16U All-Star Games and talked about what it takes for the NAPHL player to get to the NAHL and beyond and what he is looking for in an NAHL-caliber player.
The NAHL Central Scouting system is used to evaluate NAPHL players at all events and then with hundreds of evaluations collected and organized, a Mid-Season and End of Year report are sent to all NAHL, NCAA and NHL teams and programs in an effort to assist NAPHL coaches in promoting their top prospects.
Coming off a 25-year NHL scouting career, which included the past eight years with the Toronto Maple Leafs, as well as, stints with the Colorado Avalanche, Ottawa Senators and Los Angeles Kings, Harker is now in his second season with NAHL Central Scouting.
Harker's impressive hockey background doesn't end there as he was also inducted into the Wisconsin Hockey Hall of Fame after a nine-year head coaching career at University of Wisconsin-Superior and a seven-year career at Superior High School.