All-Star Games impress scouts with offense
December 5, 2016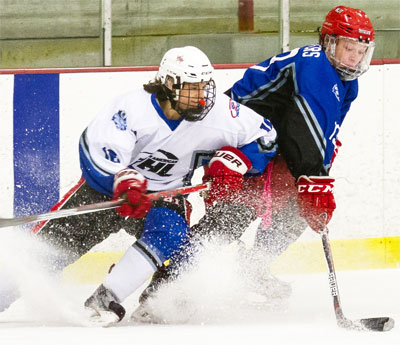 For the first time, the NAPHL held its annual All-Star Games in cooperation with one another on Sunday night in Blaine, Minnesota. Both games features plenty of offense and great plays, showcasing the talent that was on display.
Dozens of junior and NCAA scouts were on hand to watch both and a nice crowd watched along at the Schwan Super Rink. In addition, a quartet of NAHL coaches were on hand as Kyle Grabowski (Austin Bruins), Alex North (Coulee Region Chill), Michael Benedict (Minnesota Wilderness) and Gary Harker (NAHL Central Scouting) were behind the benches for both teams.
The All-Star teams were selected based on nominations from coaches and player evaluations from NAHL Central Scouting throughout the first three months of the season. Additionally, some consideration was given to the overall standings when determining the number of players selected from each team.
16U All-Star Game
Team Suter 6 vs. Team Dixon 2
– Christian Gorscak (Esmark) scored twice and Dawson Butt (Everett), Ty Black (Rocky Mountain) and Shane Miller (New Jersey) all had multi-point games as Team Suter cruised to a 6-2 win in the 16U All-Star Game. It as an active 1st period with Team Dixon getting on the board first with a goal from Uri Lurie (Northern Cyclones). Team Suter then dominated the middle portion of the game, which included goals from Gorscak and Alex Konovalov (New Jersey) in the 1st period and Nikita Krivokrasov (Rocky Mountain) in the 2nd period to jump ahead 3-1. In the 3rd period, Team Suter put the game on ice with three goals in a three minute span, including the second from Gorscak and others from Owen Belisle (Thunder Bay) and Joe Winkelman (St. Louis). Team Dixon managed to score in the final seconds on a tally from Logan Will (Omaha). In goal, Hunter Adams (HC Dallas) was credited with the win, allowing just one goal on eight shots. Christian Cicigoi (Thunder Bay) also only allowed one goal, facing nine shots. For Team Dixon, Henry Graham took the loss, making seven saves. Jacob Sibell (Omaha) allowed three goals on 15 shots.
Boxscore
18U All-Star Game
Team Suter 4 vs. Team Dixon 3 (OT)
– Team Suter came from behind late to tie the game and then won it in overtime in an exciting 4-3 win. It was all Team Dixon in the first half of the game. Sacha Guillemain (Meijer) got the scoring going in the 1st period and then less than three minutes later it was Aaron Swanson (Madison) added Team Dixon's second goal to make the score 2-0 after one period of play. In the 2nd period, Grant Ledford (Meijer) increased Team Dixon's lead to 3-0 with a nice goal. The break in the middle of the 2nd period seemed to spark Team Suter as they came out from the lockerroom and scored right away and Jacob Marti (Rocky Mountain) lit the lamp, which was followed by a goal from Kendrick Frost (Omaha). In the 3rd period, the goaltending took over, as both Alec Coakley (Washington) and Cisco Clark-Silva (Rocky Mountain) made several highlight reel saves. Late in the 3rd period with the goalie pulled, Team Suter tied the game with under a minute remaining as Brandon Wilky tied the game. In a 3 on 3 overtime, defenseman Shawn Philipps (Valley Forge Minutemen), picked up a loose rebound and fired a shot over the shoulder of Coakley for the game-winner. Clark-Silva got the win and stopped all 16 shots he faced. Thomas Lalonde (Shattuck St. Mary's) started the game and made 7 saves. For Team Dixon, George McBey started in goal and stopped all 11 shots he saw, while Coakley made 14 saves in the loss.
Boxscore