Colorado Springs 16U forward O'Hearn signs NAHL tender
November 30, 2016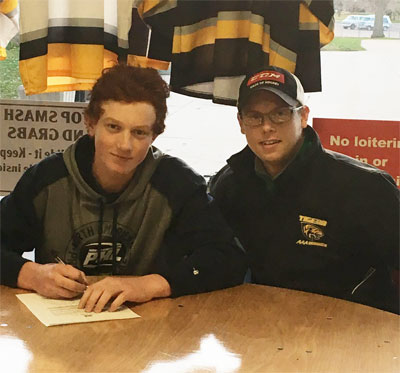 The Colorado Springs Tigers, proud members of the NAPHL, are pleased to announce that forward Collin O'Hearn (6'2/195) of the 16U team has signed an NAHL tender to play for the Odessa Jackalopes, who compete in the NAHL's South Division.
O'Hearn, 16, is the team's leading scorer and has amassed 20 points in 22 games for the 16U AAA team this season. He was selected to play in the 2016 NAPHL 16U All-Star Game, which is being held Sunday, December 4th at 6pm in Blaine, MN.
Former Tigers 16U Head Coach, Cody Campbell has this to say, "Collin is a big, strong kid who does a great job of protecting pucks and getting to the scoring area. His size and grit will allow him to compete in the very tough South Division of the NAHL. Having coached for Odessa under current Head Coach Greg Gatto, I feel Collin will be a great fit for a program that is committed to winning and moving players on to the NCAA Division 1 level."
"Odessa is a great organization with a long track record of producing NCAA Division I players. I had the opportunity to go down and skate with them for a week of practice and felt right at home. When Coach Gatto offered me the tender it was a no brainer, everything just felt right," O'Hearn said.
O'Hearn continued to say, "I owe a lot to Coach Campbell and the Tigers organization as a whole. Playing here gave me the opportunity to be exposed to coaches and scouts at the next level, while playing for a coach that has both played and coached at the next level, and knows what I need to do to ensure that I am successful in Odessa and beyond."
Collin, a native of Coppell, Texas, becomes the first ever 16U AAA player in the CSAHA organization to sign a NAHL tender.
A tender is a contract, of sorts, a player signs announcing his intentions to play for that particular NAHL team and that NAHL team only. Once a player signs a tender with an NAHL team, his playing rights belong to that team within the NAHL and he may not be recruited by any other NAHL team. Each team is granted ten (10) tenders, which include two (2) tenders exclusively used on players from the NAPHL - plus or minus any trades - which became active on Nov. 1. Tendered players are not eligible for the NAHL draft, which will be held in June of 2017.