Colorado Springs 16U coach Campbell accepts USHL position
November 29, 2016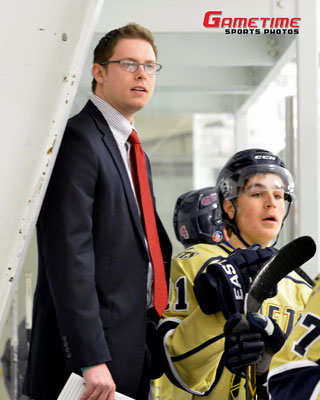 The Cedar Rapids RoughRiders of the USHL have announced that former goaltender Cody Campbell will join the team as an assistant coach.
Campbell joins the RoughRiders after being an assistant coach in the NAHL between the 2013-14 and 2015-16 seasons with Odessa & Janesville. Most recently in 2016-17, he was the Head Coach of the Colorado Springs Tigers 16U team participating in the NAPHL.
"The NAPHL is one of the premier midget leagues in the country. The competition, the professionalism and the exposure for players is second to none. Having the opportunity to coach against some of the best coaches in midget hockey has been invaluable for me," said Campbell. "The league continues to produce high-end players and I am excited to continue to watch and scout the league for Cedar Rapids. Additionally, I would like to thank everyone in the Colorado Springs Tigers organization. The Tigers have helped me advance to the USHL twice now in my career, once as a player and now as a coach. I cannot thank them enough for the opportunities they have provided for me over the course of my hockey career."
Campbell played for the RoughRiders during the 2009-2010 & 2010-2011 seasons. "The RoughRiders organization is very excited to welcome Cody and his fiancée Jessica back to Cedar Rapids," said RoughRiders Head Coach Mark Carlson. "Cody has gained some quality experience over the past three seasons scouting and coaching in the NAHL as well as this season with the Colorado Springs Tigers. His experience as a player in the USHL and with the RoughRiders will be an asset to our team. We look forward to Cody's arrival this week," added Carlson.
Campbell, from Colorado Springs, played in the USHL for three seasons, beginning with the Fargo Force in the 2008-2009 season. He was traded to the RoughRiders during the 2009-2010 season where he appeared in 17 games, going 10-4-1. He played in four games for the RoughRiders during the 2010-2011 season before heading to Niagara, where he played for three seasons.
"I'm extremely excited and honored to come back and be part of an organization that has been a very large part of some of the best memories in hockey for me," continued Campbell. "My time there as a player was tremendous. We want to focus on getting better every day and improving day by day. The team is trending in the right direction and we need to continue to build on that as we come together as a team."