St. Louis 18U defenseman Dahl signs NAHL tender agreement
November 17, 2016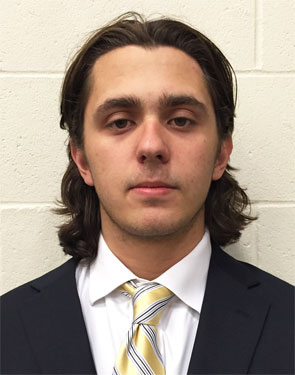 The Corpus Christi IceRays, proud members of the North American Hockey League (NAHL), are proud to announce the signing of defenseman Christian Dahl from the St. Louis AAA Selects of the North American Prospects Hockey League (NAPHL) to a tender contract for the 2017-18 season.
"I'm excited," said Dahl. "I already had a trip down there and got to experience everything the players do. The fans are great down there. I'm just really excited to be part of a good organization like the IceRays."
Dahl, 18, has played nine games with the Selects 18U squad to kick off the 2016-17 season, recording one goal and two assists for three points with 16 penalty minutes and one power play goal after being named team captain this year. This is the third season for the St. Louis, Mizz., native and second with the 18U team. In those three seasons, Dahl recorded two goals and 11 assists for 13 points with 44 penalty minutes through 54 games between the 18U and 16U teams.
The 6-foot-5, 235-pound defenseman already made a trip to Corpus Christi for one week between October 10-15 to practice with the IceRays and observe home opening weekend with two other St. Louis AAA Selects. Dahl earned first-hand experience on what it's like to be a player in Corpus Christi, including the team's season ticket holder kick-off party. Outside of the weather, he wasn't sure exactly what to expect in that trip to Corpus Christi but came away with a strong appreciation for the organization and has taken what he's learned back to St. Louis.
"Everybody in the organization seems to be really dedicated to what they do. From the fans, the players, the coaches, the staff ... Pat [Dunn], the General Manager, is always down at the rink with the guys. I just like how everybody has bought in to the organization. Coach [Brad] Flynn and Coach [Kyle] Christensen were showing us pointers and giving us tips on how to improve our game to play at the junior level. Using those in the Triple-A game, it's helped me out tremendously. It's made the game a lot easier on myself, I've simplified it, and I've been able to produce more on the ice."
"We are extremely excited to add a player and person like Christian," said IceRays Head Coach Brad Flynn. "Christian came to Corpus Christi and skated with us earlier in the season, and he made big impression on me. He has good size, hockey sense, grit and leadership. Our regional scout, Kyle O'Kane, speaks very highly of Christian and his character as a captain of the Selects. Big puck moving defenseman that can skate are hard to find at any level."
"Christian is a strong stay at home defenseman," said O'Kane. "He's very smart with the puck, has a very good stick, skates well for a big defenseman and has exceptional size and strength. He's a good leader that shows great character both on and off the ice. I know Brad was impressed."
Dahl becomes the third player to be tendered by the IceRays for the 2017-18 season, joining goaltender Chad Veltri of the Pittsburgh Penguins Elite U18 (T1EHL) and defenseman Trevor Wilhelm of the St. Louis Jr. Blues (NA3HL) on the 2017-18 protected list. Dane breathes a sigh of relief knowing he gets a chance at junior hockey after years of tryouts and patience.
"I've been going to camps for the last two years now," said Dahl, "and to finally have an option as good as I'm going to have down in Corpus Christi, I'm just excited to have a chance to play for the IceRays."
A tender is a contract, of sorts, a player signs announcing his intentions to play for that particular NAHL team and that NAHL team only. Once a player signs a tender with an NAHL team, his playing rights belong to that team within the NAHL and he may not be recruited by any other NAHL team. Each team is granted ten (10) tenders, which include two (2) tenders exclusively used on players from the NAPHL - plus or minus any trades - which became active on Nov. 1. Tendered players are not eligible for the NAHL draft, which will be held in June of 2017.